Leadership Initiatives
Ted Bauer Leadership Certificate Program
If you are bold and eschew the mundane, you can become leaders. So far as I know, we only come this way one time. Give yourself a chance. Meet the challenges. Enjoy the excitement that comes with accomplishment. Pay the price. Allow yourself to dream. Give your dreams a chance to come true. And when you are firm in your convictions, don't let others tell you it can't be done." Charles T. "Ted" Bauer
Program Overview
The Ted Bauer Leadership Certificate Program accepts a new cohort of leaders at the beginning of the fall semester. Applications are reviewed starting in September and selected candidates will be interviewed for admission into the yearlong leadership program. The chosen cohort members will complete an initial assessment of leadership knowledge and abilities and will receive feedback throughout the program on how to improve and grow. TBLCP participants will receive feedback from staff, peers and several assessments throughout the year. Upon completion of the program, each student will have a solid leadership foundation, the ability to make decisions with integrity, as well as an understanding of personal strengths and the value of working with a team.
The goals of the program are to provide practical knowledge of professionalism; tools for effective decision making and communication; to help students discover their strengths and how to leverage their personal leadership talents to be effective and influential; and to enhance students capacity to lead ethically and effectively all while being in the service of others. The program is based on well known programs such as StrengthsQuest by Gallup and the Leadership Challenge, a widely recognized leadership model based on qualitative research with middle and senior managers. This model is outlined in the book Leadership Challenge by James M. Kouzes and Barry Z. Posner.
---
---
Want More Information?
Sarayu Sundar
ssundar@bauer.uh.edu
MH 330H
---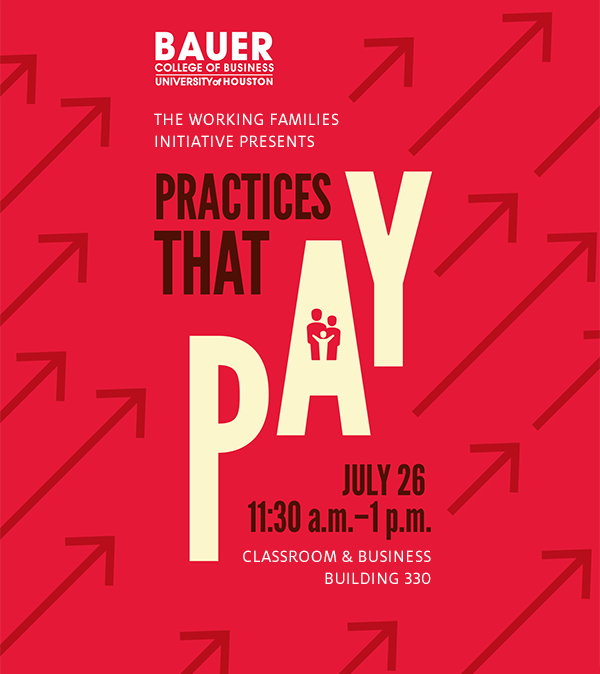 Join us on campus 7/26 for a conversation on best practices for working families. Lunch will be provided. Learn more.
---