Bauer Excellence Scholars
Sarah Burge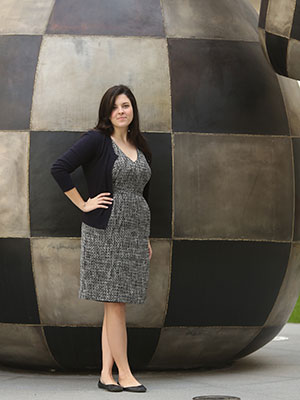 Classification - 1st year full-time MBA
Expected Graduation Year - May 2014
Major/Area of Focus - MBA
Hometown - Allen, TX
Undergraduate School - Bachelor of Architecture and Bachelor of Science in Environmental Design from the University of Houston
About Me
Enjoy cooking and trying new cuisines, traveling, and art/design.
Campus and Community Involvement
V.P. of Technology for MBA Women International (future elected President of MBAWI)
Member of RDG (Relationship Development Group with Rex Humphries)
Member of Bauer MBA Society
Member of American Marketing Association - Houston
Awards and Honors
Highschool:

Girl Scouts of America Gold Award (equivalent of Eagle Scout)
Undergraduate:

University of Houston Academic Excellence Scholarship
Intuit Scholarship
Christopher L. Knapp Scholarship
Autrey, Lynette Endowed Scholarship
Graduate:

Bauer Future Leader Scholarship
Study Abroad
Study Abroad to Italy with Gerald D. Hines College of Architecture - Summer 2010
Research
Possibly a second Master's Degree, depending on my career path outside of the MBA program.
Future Endeavors
After graduating, I hope to begin my career in the Houston area, somewhere within the broad scope of marketing. Someday further into the future, I hope to get an opportunity to move to another city with my husband in order to work within a new context outside of Texas.
Bauer Excellence Scholars
Contact Us:
---
---
See Also
---
Latest News