News Center | Office of Communications
Latest News May 3, 2021
The C. T. Bauer College of Business recently recognized faculty members for their contributions in teaching, research and service. College leadership honored awards recipients during a virtual celebration on April 30.
---
April 30, 2021
In April, the C. T. Bauer College of Business recognized faculty whose research articles were published in a top tier academic journal in 2020. This inaugural Bauer Research Star Award recognizes all Bauer faculty who have published one or more research papers in leading academic journals.
April 28, 2021
This spring, the University of Houston recognized the Cougar Investment Fund Program from the C. T. Bauer College of Business for excellence in group teaching during the 2020-2021 academic year.
---
---
---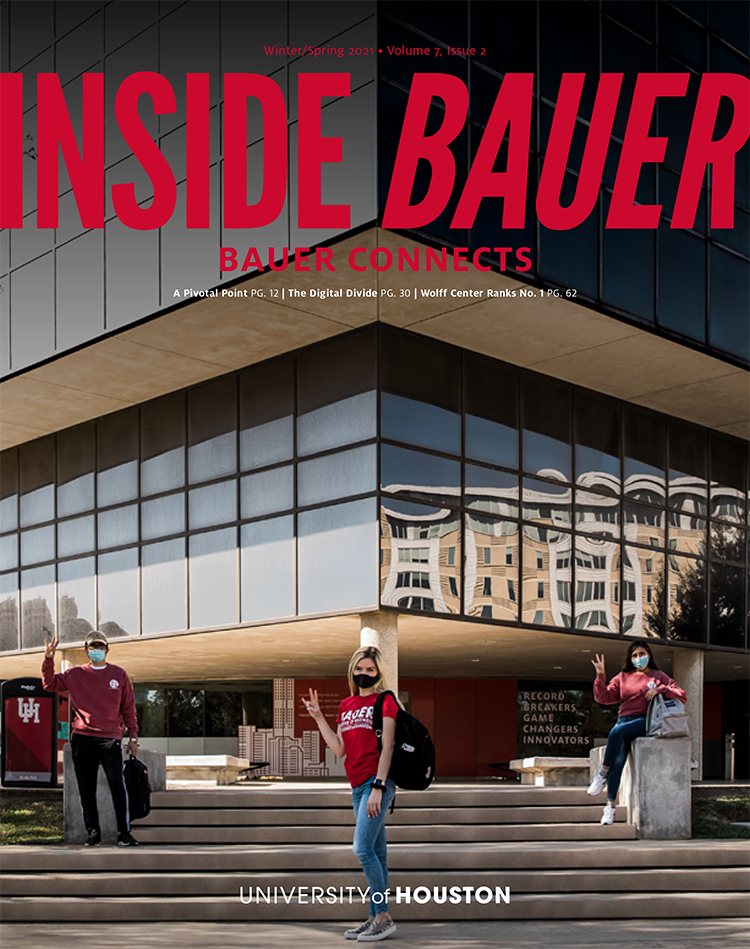 Inside Bauer
In this issue of Inside Bauer, we highlight the idea that "Bauer Connects," whether that is through person-to-person connection, the college's innate connection to the city of Houston, or the emerging global connection that the college is building through collaborative outreach, research, and programming. This digital-only issue includes exciting video content as well as related links to other stories, podcasts and virtual interviews!
This sense of connection became even more important and apparent in the face of the COVID-19 pandemic, as the Bauer community created opportunities together by facing the challenges presented over the last year. In this issue, we've highlighted a number of ways that Bauer students, alumni, faculty, staff and partners worked together to find innovative solutions to issues in health care, technology, teaching and connecting.
In addition to the pandemic, our community has come together over the last year to create a venue for conversation and change related to social injustice issues. You'll read stories about the college's focus on diversity, equity and inclusion over the last year, including an interview with Derek Avery, Bauer's first Chair of Inclusive Leadership, as well as alumna Celia Fraser, who was recently recognized by Yahoo! Finance as an emerging D&I leader.
We are also highlighting the many successes of our programs in 2020, in spite of the COVID-19 pandemic, including a second consecutive Number 1 ranking for the Cyvia and Melvyn Wolff Center for Entrepreneurship, a leap of 21 places for our undergraduate program in the Poets&Quants ranking, and a look at how students from the Program for Excellence in Selling supported local nonprofits over the summer by generating $35,000 in revenue, with a pipeline of an additional $100,000.
Please take a moment to explore this issue of Inside Bauer, and let us know what you think. You can also share your thoughts and favorite stories on social media, using #BauerConnects.
Email us if you have questions, would like to be added to the mailing list or would like to suggest a story.
---
---
Contact Us
For direct media inquiries and to interview a faculty expert, contact:
Jessica Navarro
Executive Director, Communications
713-743-4348
jnavarro@bauer.uh.edu
(Email preferred)
---
Office of Communications
Melcher Hall Room 320G
University of Houston
Houston, TX 77204-6021
---
See Also