Network and connect with Bauer College this month.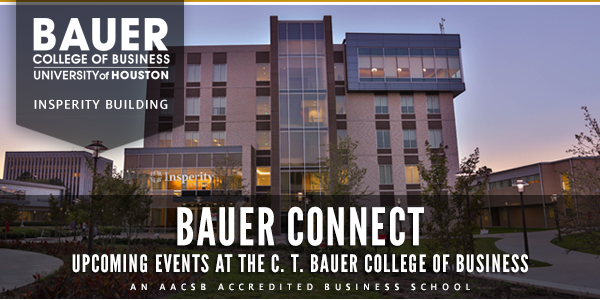 | | | | | | | | |
| --- | --- | --- | --- | --- | --- | --- | --- |
| Connect with Bauer | Share. Network. Watch. | | | | | | | |


TED BAUER GOLF CLASSIC
May 20, 1:30 p.m., The Golf Club of Houston
The Ted Bauer Golf Classic (TBGC) is an exciting opportunity for us to gather on Wednesday, May 20 from 1:30 - 6:30 p.m. at the Tournament Course at the Golf Club of Houston, one of Houston's elite golf courses, and network with our alumni and celebrate being a Cougar. We will also take time to honor four of our own. These individuals have given of their time, their resources, their energy and their spirit to make Bauer College and our university, Houston's University, better.
New this year: Golf Clinics (limited spots available) at 11 a.m. and 4 p.m.
Visit the event page for more information.
Event Details:
Date: May 20, 2015
Tournament Time: 1:30 - 6:30 p.m.
Clinics: 11 a.m. and 4 p.m.
Location: Tournament Course at the Golf Club of Houston,
5860 Wilson Rd., Humble, TX 77396, 281-459-7820


INSTITUTE FOR REGIONAL FORECASTING
Spring 2015 Symposium, May 12, 11 a.m., Hyatt Regency Hotel
Registration is now open for our spring symposium, "Good Times or Bad? Oil Still Makes the Difference for Houston." The symposium is scheduled for Tuesday, May 12, 2015 and will be held at the Hyatt Regency Hotel, 1200 Louisiana Street, Houston, Texas. Bill Gilmer, director of the Institute for Regional Forecasting, will be our speaker. For more information regarding the topic of discussion, please visit our symposium information page. Register online or call us at 713-743-3869.
Event Details:
Date: May 12, 2015
Registration: 11 a.m.
Luncheon and Presentation: 11:30 a.m. - 1:30 p.m.
Location: Hyatt Regency Hotel (Imperial Ballroom), 1200 Louisiana,
Houston, TX 77002


BAUER CONVOCATION & UH COMMENCEMENT
May 15, Bauer Convocation: 2 p.m., UH Commencement: 6 p.m.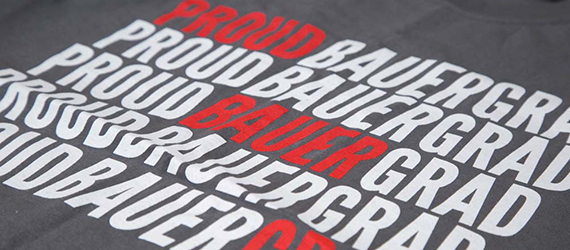 The University of Houston begins a new tradition this year and will host two separate components of the Spring 2015 Commencement Ceremony: The University Commencement and the College Convocation. The University Commencement is the formal university-wide celebration at which President Khator officially confers degrees upon graduating students. College Convocation is a celebration recognizing individual graduates whose names will be called as they walk across the stage to receive their accolades.
For the complete commencement experience, graduates and their families are encouraged to attend both ceremonies. For additional information on the Spring 2015 University Commencement, please visit www.uh.edu/commencement.
Bauer College Spring 2015 Convocation Ceremony:
Friday, May 15, 2015
2 - 4:30 p.m., Hofheinz Pavilion
Information: Bauer Convocation
Spring 2015 UH Commencement Ceremony:
Friday, May 15, 2015
6 p.m., Student Processional | 7 p.m., Ceremony
TDECU Stadium, 3750 Cullen Boulevard, Houston, TX 77204
Information: UH Commencement


BAUER TO HOST 'SHARK TANK' AUDITIONS
May 29, 10 a.m., Insperity Center, Suite 536
Open to UH students, faculty, staff and alumni: If you've got a great product or business and need an investment to propel you forward, Bauer College and the Wolff Center for Entrepreneurship is providing you the opportunity to meet the casting team of Shark Tank. Come by the Insperity Center, Suite 536 on Friday, May 29 from 10 a.m. until 1 p.m. to audition at a special UH private casting call. Please bring your completed application with you which can be downloaded at http://abc.go.com/shows/shark-tank/applications.
Event Details:
Date: May 29, 2015
Audition Time: 10 a.m. - 1 p.m.
Location: University of Houston Main Campus, Insperity Center, Suite 536


Join Cougar Power Hour on Wednesday, May 13 from 6-9 p.m. and spend a fun and enjoyable evening networking with UH alumni, students and Cougar supporters.
This is a great opportunity to network and reunite with former classmates. If you haven't made it to one of our power hours, bring business cards and be prepared for an entertaining evening of mix and mingle. Show your COUGAR PRIDE, wear something RED, and bring a COUGAR FRIEND! This event is open to Alumni and friends, and is FREE to attend. We'll have door prizes and drink specials.
Event Details
Date: May 13, 2015
Time: 6 p.m.
Location: Revelry on Richmond, 1613 Richmond Ave., Houston, TX 77006


MBA/EMBA HAPPY HOUR
May 28, 6 p.m., Churrascos - Champions
Join us and your fellow MBA Alumni May 28 at Churrascos-Champions. We're going to get together to have a drink, a laugh, and network. Door prizes! Gifts! Free appetizers provided by Churrascos. Extended happy-hour pricing will be provided for UH Alumni.
Event Details:
Date: April 30, 2015
Time: 6 - 9 p.m.
Location: Churrascos - Champions,
7877 Willow Chase Blvd, Houston, TX 77070


At the Bauer College, your story is our story. We'd love to capture your success story through photo, video or a written piece, so please connect with us and share the details.




The University of Houston is an EEO/AA institution.