News and highlights from the C. T. Bauer College of Business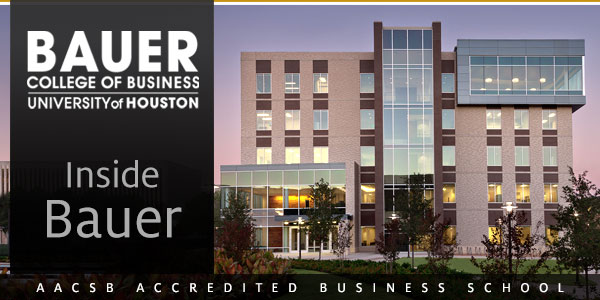 The Cyvia and Melvyn Wolff Center for Entrepreneurship at the University of Houston C. T. Bauer College of Business has been recognized as one of the best nationally for educating entrepreneurs, landing at the No. 2 spot on the list of Top 25 Undergraduate Schools for Entrepreneurs in Entrepreneur magazine, The Princeton Review announced in September.

Bauer College came in as one of the top 50 MBA programs according to the College Atlas "A-List: Best Business Schools 2015" rankings.

Bauer College improved its ranking with U.S. News & World Report as the publication released its 2015 Undergraduate Business Rankings in September, listing the college four
spots higher than last year.

Bauer College Assistant Professor of Marketing Melanie Rudd discusses her research and how it impacts both consumers and the way she teaches in the classroom.

A class of Executive MBA students at Bauer College underwent the ultimate global test recently, applying classroom knowledge to real-world experience, by bringing potential solutions to leaders of an energy-challenged northern European nation.

In October, Bauer College will host the annual meeting of the Council of Texas Business Deans for a two-day session of collaboration and networking. They will also participate in updated AACSB training sessions, hear from speakers covering the latest in online learning and new funding models, and get a flavor of Houston hospitality.





The University of Houston is an EEO/AA institution.