Join Us. Stay in Touch. Have Fun.


Join us for a seminar with Director of Accounting Programs and Clinical Professor Michael Newman who will conduct an ethics discussion of white-collar crimes. This event qualifies for 1 hour of CPE credit and will include an alumni networking opportunity.
Cost is $35. Dinner will be provided to all attendees. Questions? Please contact Anne Ness at aness@uh.edu or 713-743-4704
Event Details:
Date: April 27, 2015
Time: 6 - 8:30 p.m.
Location: French Corner, 1104 Old Spanish Trail, Houston, TX 77054


Join fellow Bauer alumni and supporters for our biggest event of the year, the BCAA annual meeting, where we will reconnect and share the latest successes from Bauer on Tuesday, Aug. 18. If you have any questions please contact Anne Ness at aness@uh.edu or 713-743-4704


The Ted Bauer Golf Classic (TBGC) is an exciting opportunity for us to gather on Wednesday, May 20 from 1:30 - 6:30 p.m. at the Tournament Course at the Golf Club of Houston, one of Houston's elite golf courses, and network with our alumni and celebrate being a Cougar. We will also take time to honor four of our own. These individuals have given of their time, their resources, their energy and their spirit to make Bauer College and our university, Houston's University, better.
Visit the event page for more information.
Tournament Details:
Date: May 20, 2015
Time: 1:30 - 6:30 p.m.
Location: Tournament Course at the Golf Club of Houston,
5860 Wilson Rd., Humble, TX 77396, 281-459-7820
NEW! Cougar Golf Clinics
By playing at the prestigious Golf Club of Houston, we have the unique opportunity to offer a golf clinic with some of Houston's best teaching professionals. For those players who would like a small tweak or a new swing, the professionals with the Dave Williams Golf Academy, in partnership with the University of Houston Golf Team, will provide a one hour golf session at a greatly reduced rate prior to the tournament. For those with more serious coaching in mind, a one hour session is available in the afternoon at 4 p.m.
11 a.m. - 1 Hour Golf Clinic (Before tournament play)
4 p.m. - Cougar Golf Clinic for Beginners (During tournament play)


Join Cougar Power Hour on Wednesday, May 13 from 6-9 p.m. and spend a fun and enjoyable evening networking with UH alumni, students and Cougar supporters.
This is a great opportunity to network and reunite with former classmates. If you haven't made it to one of our power hours, bring business cards and be prepared for an entertaining evening of mix and mingle. Show your COUGAR PRIDE, wear something RED, and bring a COUGAR FRIEND! This event is open to Alumni and friends, and is FREE to attend. We'll have door prizes and drink specials.
Event Details
Date: May 13, 2015
Time: 6 p.m.
Location: Revelry on Richmond, 1613 Richmond Ave., Houston, TX 77006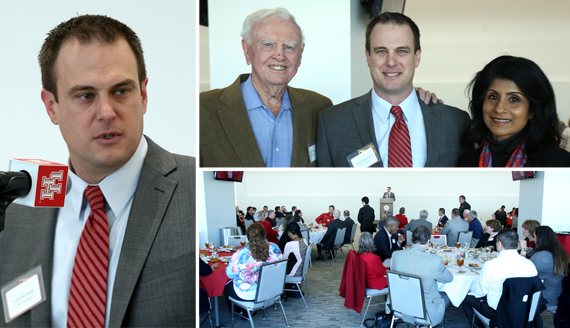 In February, the Bauer College Alumni Association (BCAA) hosted University of Houston Head Football Coach, Tom Herman, as he discussed the culture he is building to help his players succeed on the football field, in the classroom and in life. See photos and video from this event.




| | | | | | | | |
| --- | --- | --- | --- | --- | --- | --- | --- |
| Connect with Bauer | Share. Network. Watch. | | | | | | | |