Faculty
A Cultural Connection
Bauer Faculty Find Connection In and Outside the Classroom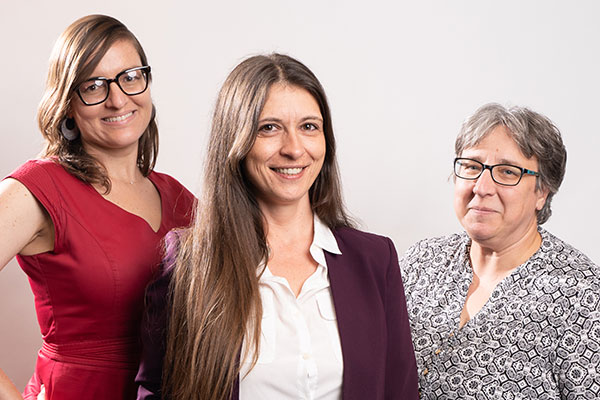 BAUER COLLEGE FACULTY MEMBERS OLIVIA MILJANIC, MARINA SEBASTIJANOVIC AND EMESE FELVÉGI HAVE FORGED A BOND FROM SIMILAR CULTURAL BACKGROUNDS THAT HAS EXTENDED INTO THEIR RESPECTIVE TEACHING AND RESEARCH.
It's not unusual for Bauer College faculty from a particular part of the world to create an informal alliance. But three faculty, who each hail from Central/Eastern Europe and who each teach mass lecture classes at Bauer, say their troika's mutual mentorship was critical to their ability to thrive as teachers during the pandemic.
More importantly, the relationship benefitted numerous others, from students in their classes to other teachers who also had to deal with a sudden, unexpected shift to online classes.
Mentoring students has proven a powerful tool both for students, and for us, in the face of the current public health crisis. With so much uncertainty in the world, it is comforting to know we can make a difference."
Olivia Miljanic,
Director, Full-time MBA Program and Professor of Practice, Department of Management & Leadership
The group includes Department of Management & Leadership faculty Olivia Miljanic, a Professor of Practice who is originally from Romania and Marina Sebastijanovic, an Instructional Assistant Professor who was raised in former Yugoslavia, now Croatia, as well as Department of Decision & Information Sciences Senior Professor of Practice Emese Felvégi, originally of Hungary. The connection amongst the three began soon after Miljanic and Sebastijanovic arrived to teach at Bauer in 2010 and 2011.
"Some of our earliest peer mentorship started with sharing knowledge and experiences on the task forces where we met. We continued those discussions informally, and we started collaborating on teaching and learning research projects, including conference participation," Felvégi said.
Over the years, each took on administrative roles in addition to their teaching: Felvégi is now Director of the Office of Digital Learning, Sebastijanovic is directing the Professional MBA Program, and Miljanic is directing the Full-Time MBA Program.
"We find that we face similar challenges in and out of the classroom and we have found it really helpful to share with each other solutions to these challenges that we have identified individually, while also coming up with creative solutions together," Sebastijanovic said.
In 2019, they participated in a roundtable titled "Empowering Women in Business Education" at the Southwestern Business Administration Teaching conference. In their first joint publication, "COVID-19 and Mass Sections in Business Education: Adaptation and Innovation Stemming from the Emergency Online Transition, published in the Southwestern Business Administration Journal, they offered creative teaching solutions that stemmed from remote learning challenges that arose during the pandemic. The three also presented "Moving Forward After COVID: Collaborative Solutions to Common Challenges," at the 35th Annual International Conference of the Phi Beta Delta Honor Society for International Scholars.
The three detail some of the most effective online teaching practices they documented amid the public health crisis in their published work. For instance, the instructors found students' ability to post online helped build a valuable online class community. They now plan to create groups at the start of each semester to create even more engaging discussions and connection among students.
They also noticed that individual student mentoring took on added significance during the pandemic.
Sebastijanovic kept in contact with an international student who was challenged to finish her UH undergraduate degree from outside of the United States. The student needed support with adapting to a different education system, navigating health challenges, and accompanying fears and isolation in the context of the pandemic.
Sebastijanovic also offered advice on post-college graduate and professional options, and the mentorship expanded further when the undergraduate became a student of Miljanic's.
"Mentoring students has proven a powerful tool both for students, and for us, in the face of the current public health crisis. With so much uncertainty in the world, it is comforting to know we can make a difference," Miljanic said.