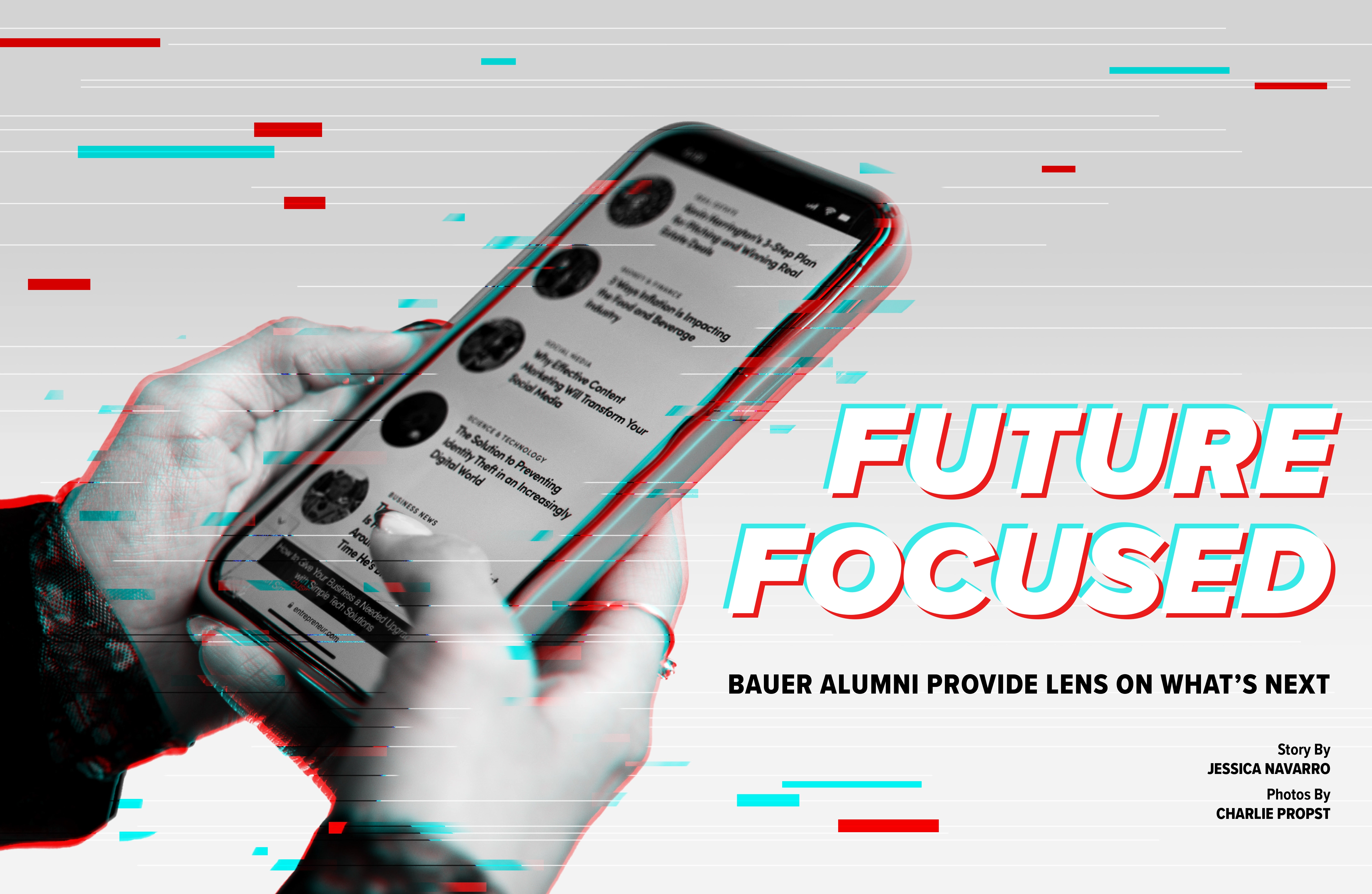 Community
Future Focused
Bauer Alumni Provide Lens on What's Next
The beginning of this decade will no doubt be remembered as a period of extreme societal transition, marked by uncertainty and a raging global pandemic. But as the world resets, aching to return to some sense of normalcy, the lens of business school leaders is now on issues like the future of work.
According to Gartner, the pandemic has redefined major work trends, demanding that HR leaders rethink workforce and employee planning, management, performance and experience strategies. A Gartner survey of 800-plus HR leaders shows nine major trends emerging as a result of the pandemic disruption, including increase in remote working, contingent worker expansion and other nonstandard work models, separation of critical skills and roles, increase in organization complexity, and emergence of new top-tier employers.
"Given this industry-altering shift, it is the role of business schools like Bauer College to explore every angle of the workforce of the future, from scholarly research on trends and changes to ensuring that our graduates and alumni are equipped with the new and expanding tools necessary to succeed in this environment," Dean Paul A. Pavlou said.
He added: "We launched a new strategic plan for Bauer College in 2020, just a few short weeks before the pandemic came to the forefront. However, we are fortunate that even before the pandemic, our strategy included a focus on harnessing the rapidly changing nature of business school education, with a demand for more specialized courses, distance education and on-demand learning, micro-credentials, and shifting student demographics. The pandemic has only accelerated the path that we were already on, with a mandate that 'The Future Is Our Business'."
Here, we share the stories and perspectives of two recent Bauer College alumni who successfully navigated higher education and the job market during the uncertainty of the last few years.
?

What do you think set you apart as a candidate during your interview process with BCG?
One of the things I read when I was practicing for the interviews was, "You just need to have a good attitude about things." And that stayed with me. While I was interviewing, if I made a mistake, I would just think, "Okay, no matter. Just take it and move on." I pride myself on the ability to bounce back quickly — being able to take feedback no matter how harsh it is, and instead of letting it shut me down, I take it and just keep moving forward. It's such a simple thing. But it's often those things that are the most important.
?

Tell us about your current job at BCG. Walk us through a typical day and tell us what kinds of things you do as an associate consultant.
After my first month at BCG, I knew I wanted to be with the company for a long time, and that is a result of the people who work there. Every single person is different, in their personalities, their upbringing and their talents, whether it's speaking with clients, working with teams, running the Excel dashboard or going on Tableau. That makes it a joy to come into the office every day because I'm always meeting new people with coffee chats or running into them in the office. I learn so much from everyone.
And that directly translates into the casework itself. Consulting is a great space to learn, and as an associate, I definitely have learned a lot already. It's a super feedback-driven culture.
The work I do on a daily basis involves talking with clients, understanding their needs and what they need to get from us to deliver value. There is also a lot of quantitative analysis, getting research from different areas, talking with experts in the field and compiling all the information to come up with key KPIs for the client. A big part of the job is interaction and understanding what the client needs, being able to present what you're doing and showing them how you're delivering value.
?

How would you define "the workforce of the future"?
A lot of people have redefined their expectation of work. I think the workforce of the future will be determined not just by the work people do but by the boundaries they set up. Working in the corporate world, there is this expectation to not set any boundaries and just work, work, work, and then to savor the weekend.
But as we go into the future, employees are really setting the standard for how we want to be treated, the hours we want to take on, the type of work we want to do, and being firm with that. People are understanding more their personal value at a younger stage, and it's really setting up the workforce of the future to be one that is more open and more inclusive, and companies are starting to understand that when they invest in their people, they do better.
?

As a Bauer student, you had the opportunity to intern with NASA. Tell us about the internship and what you gained from the experience.
Being from Space City, to represent and work in such a huge organization doing so many good things around the world was a golden opportunity. Amongst some of the most brilliant people, working on some of the most complex situations, there was little old me with my internship.
NASA really taught me about the importance of the mission. We're all in it for the mission. Everyone came around that singular thing to do well for mankind, and they cared about what they were doing. Amongst some of the most brilliant people, working on some of the most complex situations, there I was contributing with my internship.
?

Tell us about your current job at Microsoft. Walk us through a typical day and tell us what kinds of things you do in your role.
It's been so cool to learn how a global company like Microsoft runs and how we provide value to our customers from all the different business units we have. We all have, again, that mission of helping the customer at the end of the day.
Within the Aspire program, they put you into a lot of training, not just on the company's side but for you to learn about yourself and how you function. And it helps them as a business, so they're producing people who know the business really well, who feel comfortable and confident.
I'm also helping out a lot within Blacks at Microsoft (BAM), which has a program dedicated to helping students learn coding concepts and get IT certifications. This is especially impactful in communities that don't usually get these opportunities. Additionally, with BAM, I have the opportunity to participate in initiatives focused on diversifying and expanding the recruiting process.
?

Are there aspects of your job that you think represent a more non-traditional approach to work?
I love my hybrid role. I love being able to stay at home when I need to focus, but I also enjoy coming into the office because I get to meet people and learn more about the company.
?

Did your younger self imagine that this is the type of work you'd be doing?
I was always interested in technology, but representation matters. I didn't see a lot of people who looked like me in those spaces, so I would question, maybe it's not something for me. But through seeing and hearing so many people's experiences and getting encouragement from others, you never know what's going to happen. You can get so many no's, and you just need that one yes at the end of the day. Rejection's part of the game.
So, I wanted to get in there and do my best so maybe I could be that representation for someone down the line to see themselves in this space. We all deserve to be here. Put in the work, and it'll pay dividends in the end.