Community
Paint the Town
Bauer MBA Alumna Explores Houston as Map & Mural Artist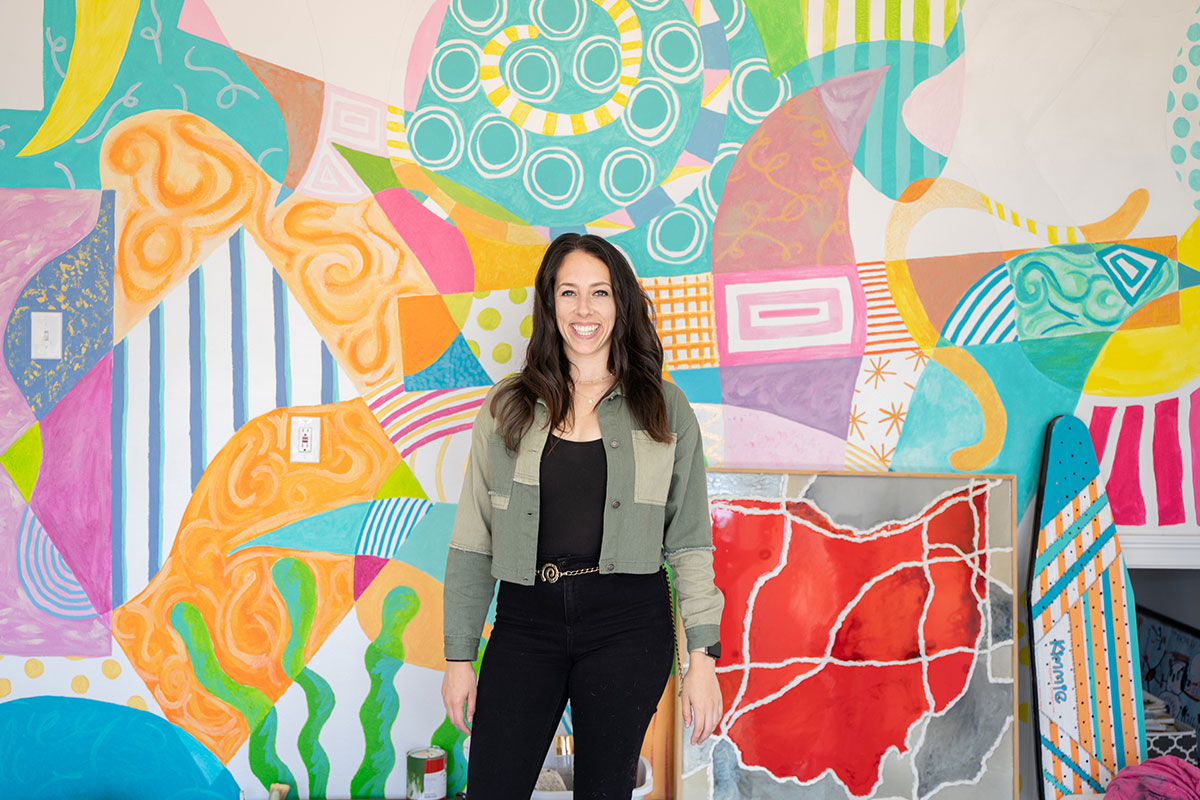 The Bauer College MBA program was vital for alumna Kimberly Gillespie (MBA '18) to develop the business acumen to launch her own mural and map design business.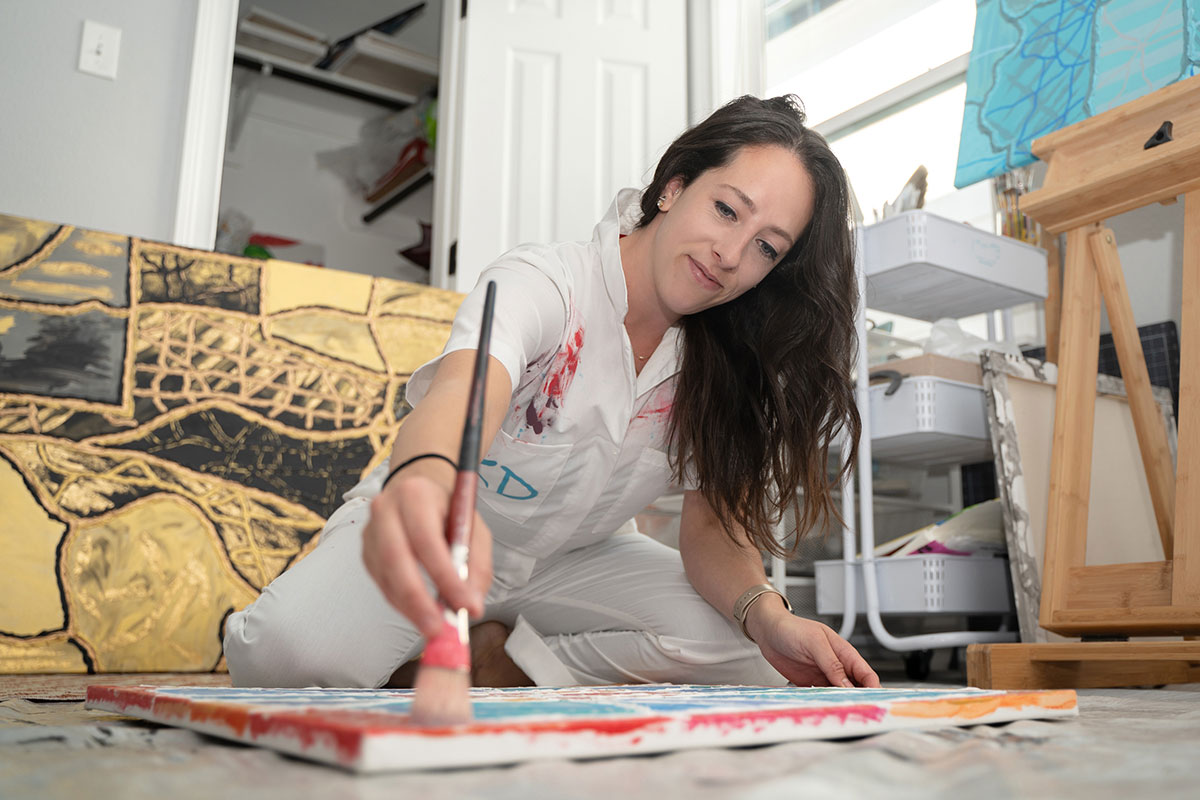 Whatever I put my mind to, I can do it, and the Bauer MBA gave me that confidence."
Kimberly Gillespie (MBA '18)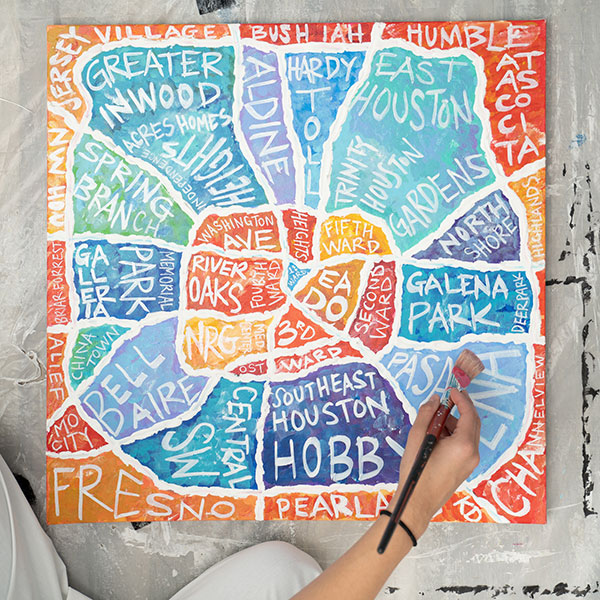 For as long as she can remember, Kimberly Gillespie (MBA '18) has seen beauty where others might not. Take the tangled loops of concrete that make up Houston's freeway system. Learning to navigate the city typically frustrates drivers, but Ohio transplant Gillespie (known to just about everyone as Kimmie) stepped back and saw art.
"I was just playing around with materials, wanting to do something with 3D texture in my painting, and everything just flowed," she said. "If you're from Houston or have been to Houston, if you see the iconic 610 and Beltway 8 loops and the 45 and 59 highways, you know it's Houston."
Using acrylic paint and modeling paste to form the abstract lines and patterns of the map, Gillespie inadvertently started a journey that led her to open her own business, Kimmie Designs. But her relationship with art began much earlier.
"Art has been in my life forever," Gillespie said. "My mom would always tell me to color outside the lines, and even if I thought something wasn't right, she'd say, 'How can you take that, whatever you just did, and turn it into something new?'"
That guidance stayed with Gillespie as an adult, as she transformed her life throughout challenging circumstances. Near the end of her undergraduate program in Ohio, she applied for a special program to move to Houston to escape an abusive relationship and to further what she thought was her dream job, teaching.
"I was chosen for a teaching program, and I felt like it was going to be my way out, to cross the country and finally be safe," Gillespie said. "It was such a blessing, and I fell in love with Houston right away."
The city charmed her so much that she painted a new beginning for herself in Texas, figuratively and literally. She began her professional career in Houston as a kindergarten teacher, transitioning after two years into the role of art teacher at the same school. But soon, Gillespie found herself thinking of other career options.
"I had no idea what I wanted to do," she said. "My whole life, I wanted to be a teacher, but I wanted to open some more doors for myself."
During this time, Gillespie enrolled in the Bauer College MBA program and decided to shift her career to marketing after taking a search engine optimization (SEO) course that allowed her to work directly with a company to improve its standing on Google.
"I was coming from being an art teacher, a very artistic brain with wild thinking," she said. "I felt like marketing was the creative side of business."
After graduating, Gillespie worked as an SEO specialist for a marketing agency but ultimately felt a lack of creative freedom in the new position.
"I would go home during my lunch hour and just started painting," she said. "It was my way to release."
Gillespie took her business school background, along with the marketing and web development skills she gained in her SEO job, and launched her business.
"I was able to see a lot of quick success because I knew what to do to be seen online," Gillespie said. "I started getting asked to participate in weekend markets and art shows, and companies were finding me to do murals."
Since launching in 2019, Kimmie Designs has expanded to offer commissioned maps and murals for homes and businesses, along with a product line of items featuring Gillespie's art on magnets and hats.
"Every mural has a story based on whatever the client wants to have for their space," Gillespie said. "It's like when I moved to Houston and made my very first Houston map, it was in honor of myself and my new journey of Houston as my saving grace."
In addition to her artistic endeavors, Gillespie also explored an interest in real estate, which she now balances with her design work of map making and mural painting. She currently works as a real estate agent at Only 1 Realty Group, helping new and veteran Houstonians to find their perfect place.
"Real estate has become my forefront career, but art will definitely always play a role in my life," Gillespie said. "One thing the Bauer MBA program did for me was instill confidence. Now, I can do anything. The world is my oyster."