Students
HOUSTON'S HELPING HANDS
Bauer course focuses on experiential learning in surrounding areas.
The economic impact of the University of Houston on the city of Houston is estimated to be more than $1 billion from the thousands of graduates entering the workforce each year.
Bauer College students contribute to the university and community as early as their freshman year when they enroll in the required "Connecting Bauer to Business" course, GENB 3302. Unique to Bauer, the course explores the programs offered by the college and how they relate to business careers.
Students are also assigned to team projects sponsored by the college's nonprofit and corporate partners. The teams serve as consultants to find solutions for actual challenges the organizations are facing. This course has been recognized by the National Association of Colleges and Employers for its innovative approach to experiential learning.
The map below shows a bird's eye view of the broad impact that Bauer students make on the city they call home, with a selection of just a few of the projects completed by GENB 3302 teams.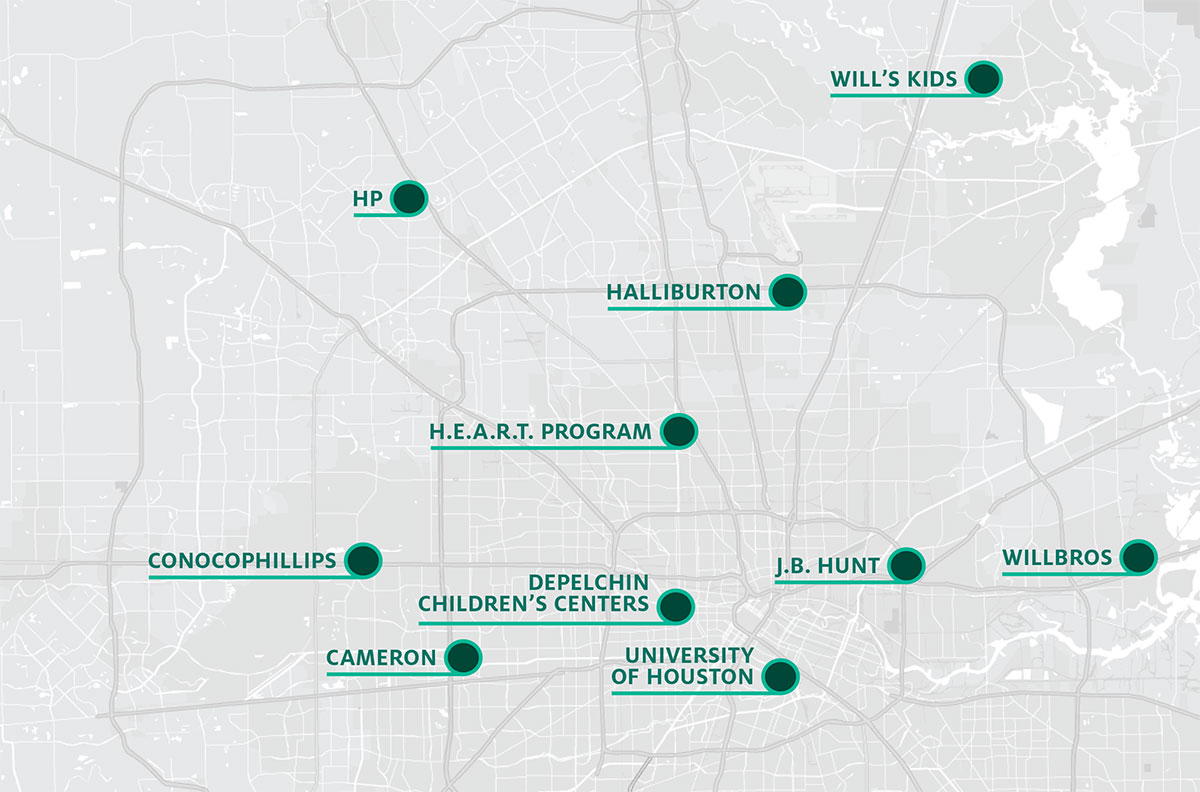 THROUGH GENB 3302, BAUER STUDENTS AREN'T JUST MAKING AN IMPACT ON CAMPUS, BUT THE CITY OF HOUSTON.
Halliburton: Headquartered in Houston, Halliburton is one of the world's largest oil field services companies, with operations in more than 80 countries. Bauer students have worked on a variety of projects every semester since 2009 on topics relating to the recruitment and retention of recent college graduates.
Will's Kids: This nonprofit organization paves the way for students to pursue scholarships for higher education by providing access to sports and fine arts activities. Student teams have worked with the organization for several years on various projects, from creating marketing materials to planning an event to distribute baseball equipment to low-income youth.
University of Houston: With over 45,000 students to serve, the University of Houston has found valuable insight from GENB project teams. Students have brought findings to various offices across the entire campus, from increasing the university's following on Snapchat to marketing alternative transportation methods to the campus community.
H.E.A.R.T. Program: The H.E.A.R.T. (Housing, Entrepreneurship And Readiness Training) Program was founded to create new opportunities for adults with developmental disabilities to achieve their potential. Students have continued to find new and innovative ways for the nonprofit organization to market its volunteer program.
DePelchin Children's Centers: DePelchin has been making a difference in the lives of children and families for more than 120 years through mental health, foster care and adoption services. Student teams have worked on a variety of projects on topics including child abuse awareness, foster care awareness and overcoming mental illness stigma.
Cameron: Headquartered in Houston, Cameron is a leading worldwide provider of flow equipment products, systems and services to oil, gas and process industries. Students have worked with the company on wide-ranging topics from supply chain strategy and improving lead time communication to increasing market share in the Permian Basin region.
ConocoPhillips: Headquartered in Houston, ConocoPhillips is a multinational energy corporation that explores for, develops, and produces crude oil and natural gas globally. Student teams have worked with the company on programs to develop newly recruited top talent and diversity initiatives.
HP: The technology corporation has sponsored projects on topics from supply chain business continuity management to online conferencing technology.
JB Hunt: J.B. Hunt is a Fortune 500 transportation company dedicated to helping customers move freight efficiently. Students have worked with the company on several projects including studying the use of flex-time as a recruiting tool and recruiting and retaining millennials.
Willbros: Headquartered in Houston, Willbros is a specialty energy infrastructure contractor providing leading services to worldwide oil, gas, refinery, petrochemical and power industries. Student teams have worked with the company on human resources topics relating to recruitment and retention of new hires.