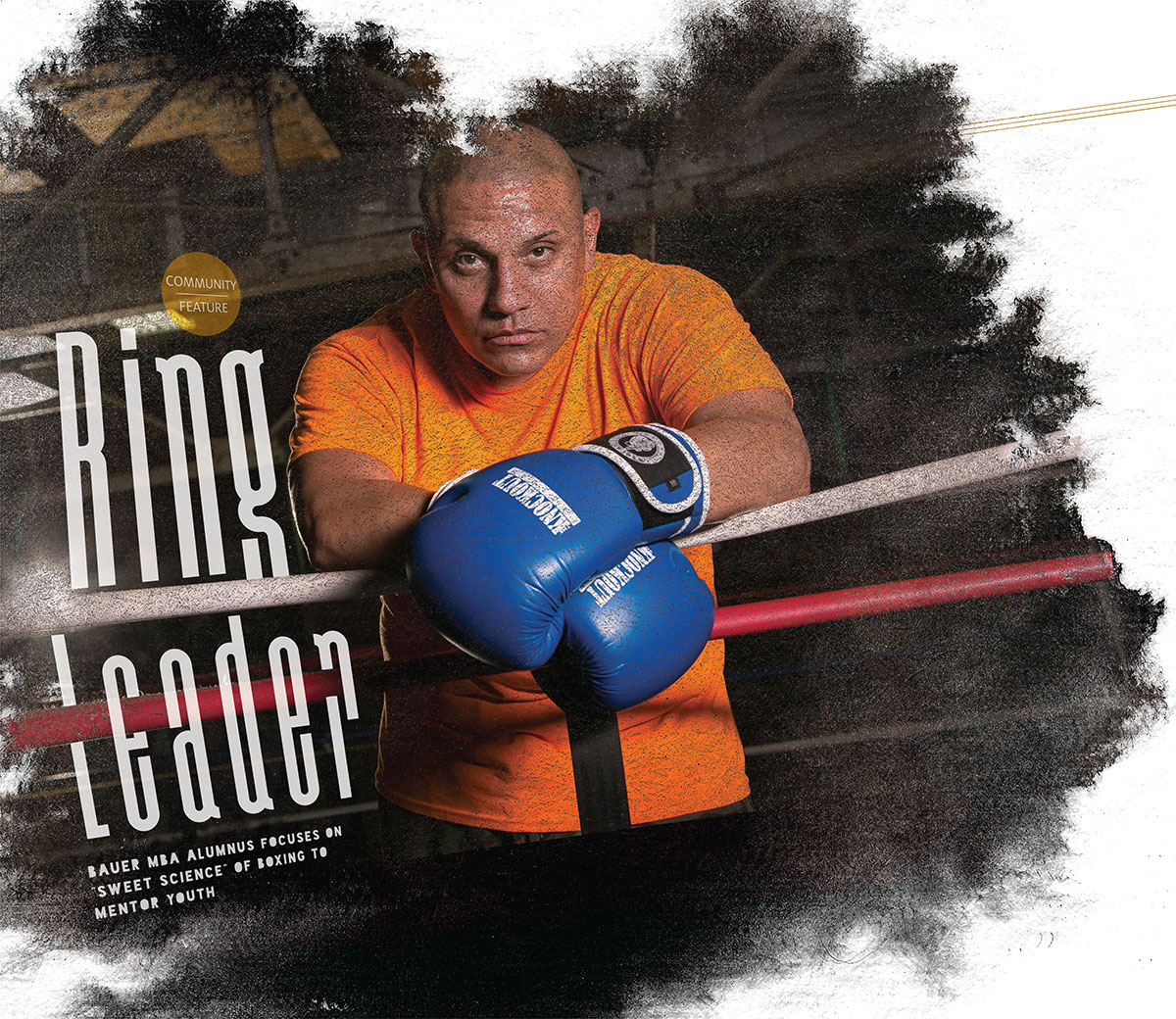 Bauer Executive MBA alumnus Michael Garza uses the principles of boxing to mentor children with The Knockout Factory, a grassroots nonprofit organization and gym in Houston's East End.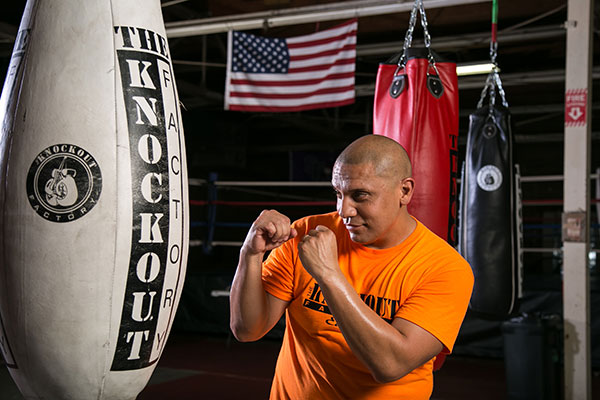 LEARN MORE: The Knockout Factory on Facebook→
In the ring, you're going to get knocked down, and it's the exact same thing in life. It's about getting up and back into the game. You brush yourself off and get back into the fight.
Inside the boxing ring, Michael Garza is a fierce competitor. He's determined, focused and disciplined. His Marine Corps training and experience with Brazilian Jiu Jitsu coupled with his athleticism and quick thinking make him an ideal opponent.
Outside the ring? Garza, who earned his Executive MBA from Bauer College in 2010, brings those qualities to his passion for community service and mentorship. Through The Knockout Factory, a gym he runs with his business partner Angel Herrera, Garza provides a safe haven for children and families in Houston's East End.
"This is a place where the community can gather to have fun and exercise and learn from one another," he said. "We're more than just a boxing gym. We like to say that we're a family. We're here to inspire you to take the next step, whatever it may be — whether it's to move forward in your education or just to come in here to have fun and get away from whatever may be happening in your life."
The Knockout Factory provides an afterschool program through its nonprofit, The Knockout Factory Youth Leaders. There, students come to the gym to work with volunteers who provide help with homework and tutoring in STEM subjects.
"I'm a big fan of education," Garza said. "No one can take that away from you. We share the idea with the kids out here to stay in school and that school can take you wherever you want to go. You work out your mind, and then you come to the gym and work out your body."
This mission is personal for Garza, who grew up in the East End community that now surrounds The Knockout Factory.
"My parents had separated, and my dad lived down the street," he said. "I would come here on the weekends and spend a lot of time here."
As a child, Garza remembers finding comfort in the sense of community and family he felt in the neighborhood.
"My mom and my sisters would say I was a mischievous kid — always the loud kid, the leader, never holding my tongue," he said. "I got into some fights growing up, but all of that taught me lessons in my life, and now I can share that upbringing back with the neighborhood."
Garza often sees himself when spending time with participants at The Knockout Factory's afterschool program.
"We have a lot of kids in this neighborhood who come from single parent homes, who have never had a father or grandfather in their life to serve as a role model," he said. "Some of the kids have had disruptive issues at school. Our program aims to mitigate that and do a lot of preventative maintenance. We work with the kids to make sure they're on track at school, and if we hear that one of our kids is acting up, we'll have the teacher call us so we can sit in their class. The students don't know who we're there for, but the kid will know. Sometimes it takes a village to raise a kid, and we like to consider ourselves that village."
In the gym, Garza and the team at The Knockout Factory teach students what he calls "the sweet science" of boxing — both sport and art, he said.
"Boxing is a lot like life," he added. "In the ring, you're going to get knocked down, and it's the exact same thing in life. It's about getting up and back into the game. You brush yourself off and get back into the fight."
When he shares this perspective with kids in the gym, he's speaking from experience. At 15, Garza became a parent and faced an uncertain future.
"I was a father at a young age," he said. "My daughter's 23 now, and I have another daughter in college and a 13-year-old. My wife and I have a four-year-old grandson as well. We want to leave a legacy — for my children and grandchild, for my business partner's children, for our neighborhood children. We want to be able to have an impact on our city and nation, to be able to get these kids at The Knockout Factory to places where no one really thought they could go."
Garza himself pushed through early challenges, serving eight years in the U.S. Marine Corps as a platoon squad leader, recruiter, supply chain representative and regimental administration chief before transitioning into a career in industry, working for several companies, including Shell Oil, Merrill Lynch and BP.
During his time at Shell, he decided to pursue a childhood dream to earn an MBA.
"As a kid, 7 or 8 years old, I remember hearing someone say they were going to get an MBA," Garza said. "I heard 'NBA' and asked my uncle what that was. He of course corrected me and told me it was a Master of Business Administration (degree). I said, 'That's what I want.'"
The program at Bauer College provided the perfect training to launch The Knockout Factory, he said."It was the best experience," Garza added. "I met a lot of good people, and it's similar to the Marine Corps, where you have this brotherhood and sisterhood. We stay connected."
The opportunity to network with classmates who were working in a range of different industries was invaluable, he said.
"We all had our little piece of what we brought to the team, and it gave the lessons real life meaning and understanding," Garza said.
Courses on contracts, sourcing, and marketing and advertising were immediately applicable in building The Knockout Factory and securing the East End location, he added.
"Having that business background, I was able to work with my business partner's idea and apply the principles of what I'd learned, and here we are today, one of the largest boxing gyms in Houston," Garza said. "Our goal is to build The Knockout Factory into a sanctuary where kids can have fun and grow at the same time, intellectually and physically."