Inside Bauer 2017/2018 Media Kit
---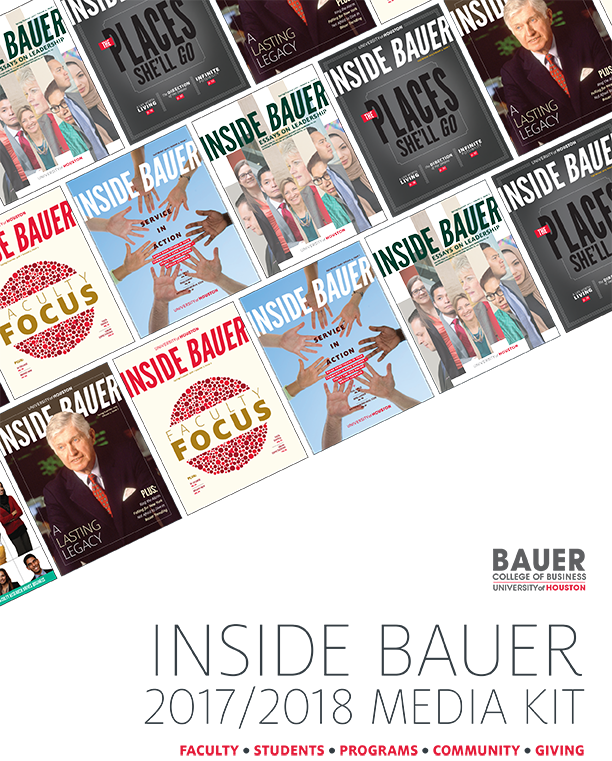 OVERVIEW
INSIDE BAUER IS THE OFFICIAL MAGAZINE FOR THE C. T. BAUER COLLEGE OF BUSINESS AT THE UNIVERSITY OF HOUSTON.
Published twice a year, the magazine is distributed in both print and digital formats. The magazine is produced in-house by the college's Office of Communications and includes content on faculty research and thought leadership, student success, innovative programming, donor and community support and alumni achievement.
The biannual magazine has been recognized nationally and locally for strategy, design and content, with awards and honors from the Public Relations Society of America (PRSA), the International Association of Business Communicators – Houston, PRSA Houston and the American Marketing Association – Houston.
DOWNLOAD the Media Kit PDF.
---
READERSHIP AND REACH
INSIDE BAUER REACHES NEARLY 50,000 READERS EACH ISSUE.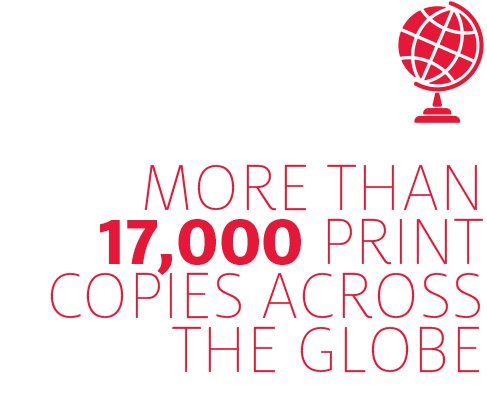 Print copies sent via mail reach all current students (undergraduate, MBA/MS and doctoral), peer institutions, selected alumni, recruiters, board members, opt-in subscribers and prospective students (undergraduate and MBA).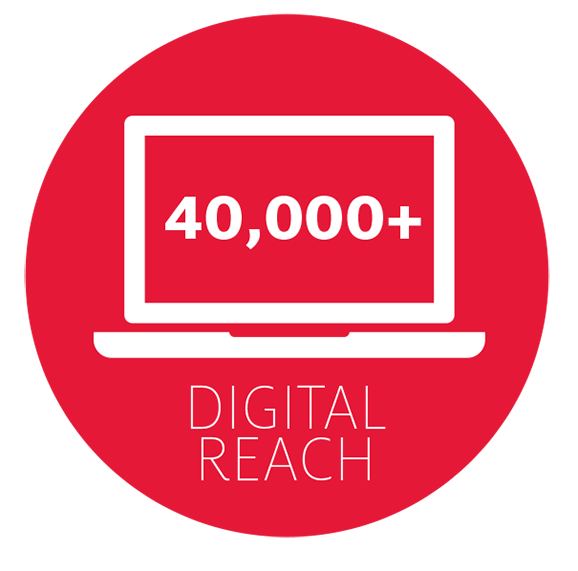 Our digital reach includes our entire print mailing list, along with Bauer College faculty and staff and all alumni.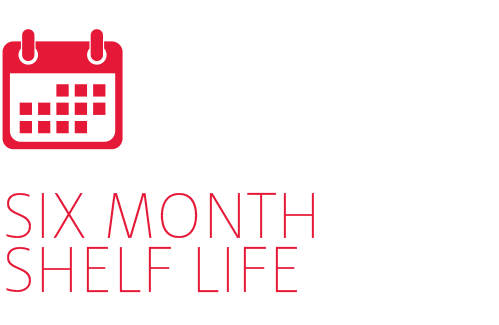 We also distribute each issue at Bauer College events, both on campus and off. We keep our newsstands on campus stocked with the current issue (shelf life: approximately 6 months) and share the magazine with guests to our events, including working professionals, executives, government officials, alumni and parents of current students.
---
PRODUCTION SCHEDULE
FALL/WINTER 2017
Space Reservation: 10/3/17
Materials: 10/13/17
Date to Readers: Week of 12/11/17**
SPRING/SUMMER 2018
Space Reservation: 4/4/18
Materials: 4/18/18
Date to Readers: Week of 6/11/18**
Note: advertising is currently available only for our print product. In addition to our digital web-based magazine, we will make a PDF available on the Bauer College website, which will replicate the print magazine including ads.
*In order to maintain the integrity of our magazine, we are offering a limited amount of space for advertising. Requests for ad space are notguaranteed, although we will make our best efforts to accommodate. Advertisers will be notified 1 week after our space reservation deadline of their status for the requested issue.
**This date reflects our best estimation and may vary based on press issues, USPS, etc. We will notify advertisers if our anticipated mail drop date varies by more than 1 week.
---
RATES
1x
2x*
(-5%)
2-page spread
$10,000
$9,500
Full page, inside covers
$7,500
$7,125
Full page w/ bleed
$1,250
$1,150
Full page w/o bleed
$1,250
$1,150
Half page horizontal
$1,000
$950
Half page vertical
$1,000
$950
Quarter page
$750
$715
*2x rate is a discount for placement in both issues. All ads are 4-color. Changes to submissions will be charged at $250 each. Advertisers will be invoiced after the issue is mailed, with full payment due 30 days after invoice date. We reserve the right to reject or cancel any advertising for any reason at any time.
STANDARDS OF ADVERTISING ACCEPTABILITY
The Publisher expects that all claims, guarantees or representations made by advertisers regarding performance, quality and other characteristics of products or services can be substantiated.
---
CONTRACT AND COPY REGULATIONS
Customer may terminate agreement after 30 calendar days' written notice to the University of Houston. Customer must pay all obligations in full, as of the effective date of termination.
Customer may terminate agreement after 30 calendar days' written notice to the University of Houston. Customer must pay all obligations in full, as of the effective date of termination.


The University of Houston may terminate agreement with 30 calendar days' written notice to customer. The notice is considered delivered and received (i) when actually received by customer if personally delivered or delivered by facsimile, or (ii) if delivered by mail, whether actually received or not, at the close of business on the third business day following the day when placed in the federal mail.


The University of Houston is an independent contractor and not an employee of the customer.


Customer agrees that its sole recourse for unsatisfactory performances of the services is at the discretion of the University, for University to either re-perform the services or refund the compensation paid. The University will under no circumstance be liable for consequential or indirect damages, even if made aware of the potential for harm to customer.


Advertisements are accepted upon the representation that the advertiser and its agency have the right to publish the contents thereof.


Positioning of advertisements is at the discretion of the Publisher except where a request for a specific preferred position is acknowledged by the Publisher in writing.


All insertion orders are accepted subject to provisions of the current rate card. Rates are subject to change upon notice of at least 60 days from the Publisher.


Conditions other than rates are subject to change by the Publisher without notice.


The Publisher shall have no liability for errors in key numbers.


Mechanical production charges incurred on behalf of the advertiser or its agency in the preparation of advertising material will be rebilled at net cost.


Payment must be made by check in 30 business days of invoice date. Send checks made payable to University of Houston to



4250 Martin Luther King Boulevard




Houston, TX 77204-6021



In addition to the items above, the customer must sign the University of Houston Services agreement to officially book an ad space.
---
---
AD SPECIFICATIONS
DIMENSIONS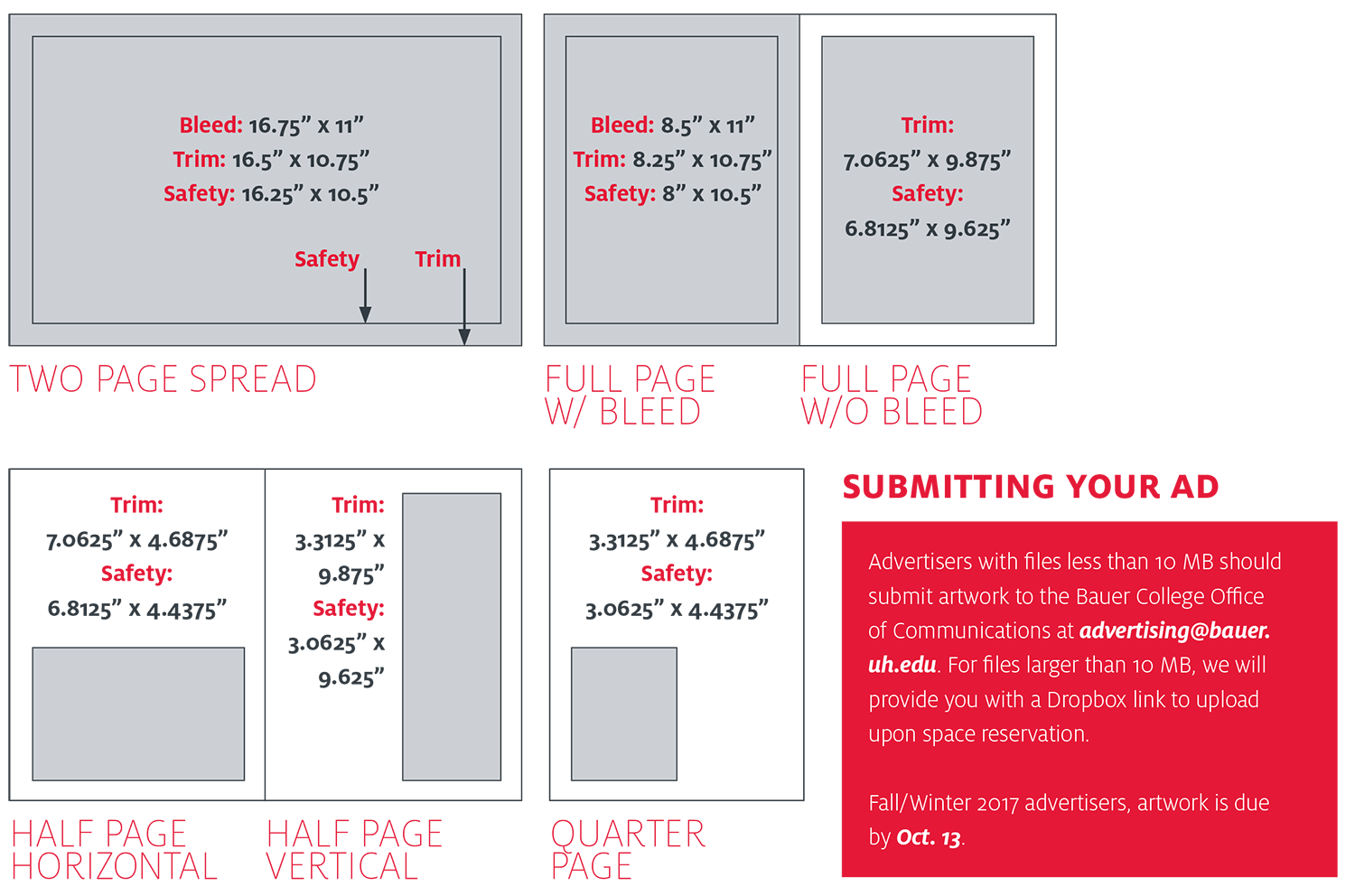 PRODUCING YOUR AD
File type
Please submit all final artwork as a print-resolution PDF (Acrobat version 4 or higher) with crop marks. If you cannot provide a PDF, a high resolution TIFF file (Photoshop) or an EPS file (Illustrator) is acceptable. We do not accept .docx, .page, .pub or .jpeg files for print production.
Fonts
When finalizing your ad, please be sure to embed or outline ALL fonts. You may also supply the font files in addition to your ad if using an EPS file. Please utilize bold and italic fonts when needed as opposed to applying bold and italic styles, which can alter the output of your ad.
Transparency
If your PDF contains a transparency, please save the file with flattened transparencies within the options window when exporting.
Color Mode
All ads must be process (CMYK) mode. Any ads containing RGB or Pantone/Spot colors will be converted by Bauer College and may cause slight color shifts.
Image Resolution
All images need to be saved at 300 dpi or more. Bauer College will print images at less than 300 dpi at their discretion.
---
CONTACT INFORMATION
ADVERTISING REP
Jessica Navarro
Executive Director of Communications,
C. T. Bauer College of Business
713-743-4348
jnavarro@central.uh.edu
PAYMENTS
Terrolyn Gunter
Assistant Business Administrator - Finance,
C. T. Bauer College of Business
tgunter@uh.edu
SUBMISSIONS