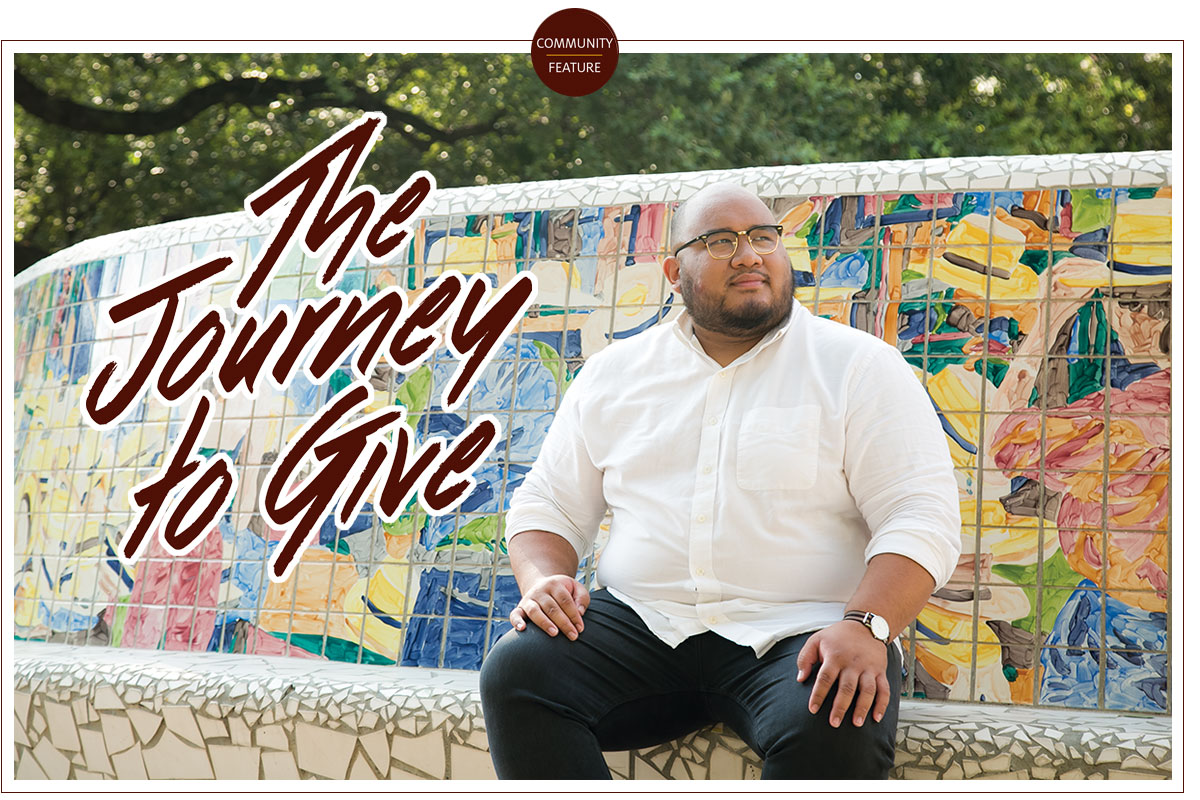 Bauer alumnus Ralph Xavier Degala (BBA '12) lives and works in Los Angeles as a senior accountant for TOMS, but says he'll always have an affinity for Houston, his adopted hometown.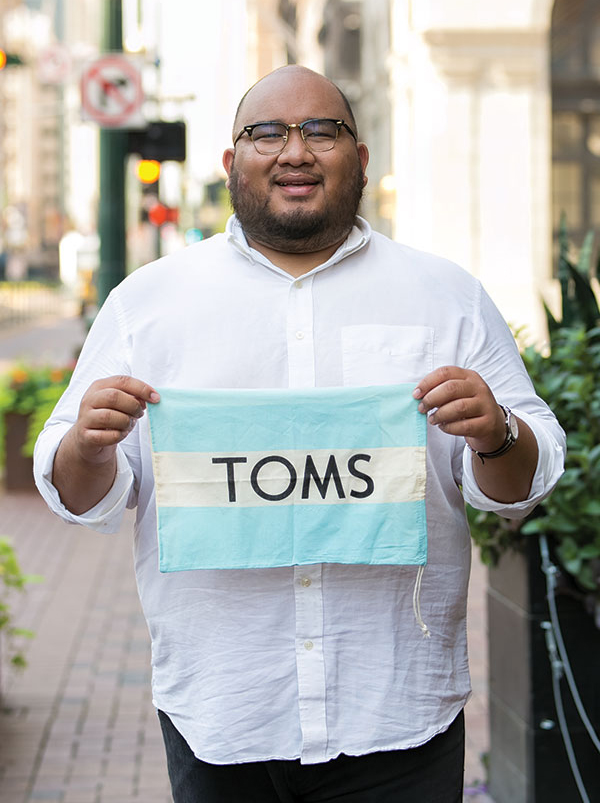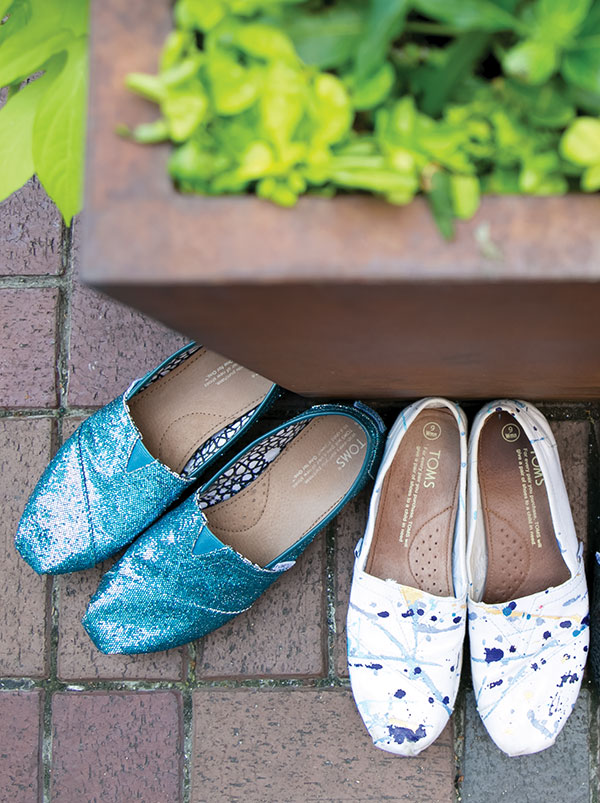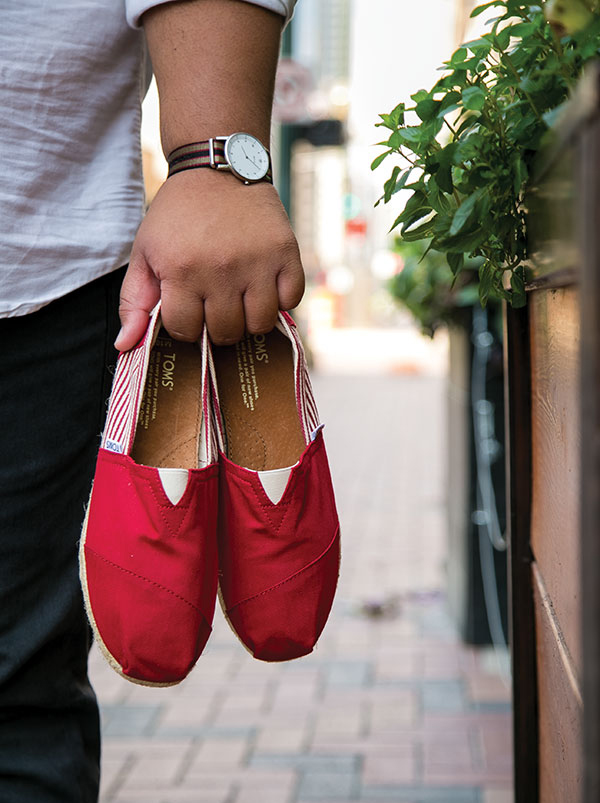 TOMS, a company that sells shoes, eyewear, apparel and bags, provides a "one-for-one" matching gift to someone in need.
Each shoe doesn't represent a shoe. It represents hope, the future and everything that goes along with our mission.
Small Steps
Advice for new Bauer students:
"Give it a chance, and have fun. That's the biggest key. Just have fun. As long as you show enthusiasm, excitement and interest in what you're doing, it'll speak for itself."
On California living:
"I live about two miles from the TOMS corporate office, so I usually bike to work. We have a barista there every morning, and I get a white mocha iced latte and then go straight to work. Communication is such a big part of working at TOMS. We believe in collaboration, where we'll meet with designers, people in supply chain and other roles, and work together to come up with initiatives to push product to consumers."
And Texas dining:
"In L.A., I have barbecue withdrawals. I'm not sure anybody there knows what a moist brisket is, or the difference between lean and fatty brisket. Texas barbecue is irreplaceable."
Reppin' H-Town:
"Houston's a city of hard work. There's a grit and a swagger that goes along with being from Houston. It's the sentiment that we're all on the come-up. We've worked our way through college, and like the university, we're building ourselves up. We're building careers, building families and building ourselves."
Alumnus Applies Bauer Education as Senior Accountant for TOMS Shoes
As a Bauer College student leader, Ralph Xavier Degala could often be heard repeating the adage, "Success isn't a destination — it's the journey."
It was that philosophy that made Degala the perfect fit for the corporate culture at TOMS, where he now works as a senior accountant. The company sells shoes, eyewear, apparel and bags, with each purchase providing a "one-for-one" matching gift to someone in need.
Degala joined the TOMS team earlier this year, relocating to the Los Angeles area to work in the Playa Vista corporate office. For Degala, it's an exciting time to work for the company, which melds the corporate culture of a startup, the goals of a nonprofit and the business of a for-profit.
"Our whole vision is to give back," he said. "Each shoe doesn't represent a shoe. It represents hope, the future and everything that goes along with our mission."
Degala earned a bachelor of business administration degree from Bauer in 2012, studying accounting and finance after an initial plan to major in pre-pharmacy."
I took my first financial accounting class and just got it," he said. "It hooked me in — if I can understand accounting, I think I can understand how businesses flow. It's exciting. You see the cash flow, you see the assets, you see how things are paid, and you have the understanding of how a company makes money."
Degala quickly embraced the life of a business student and took on a leadership role among his classmates by starting a student organization."In 2010, I cofounded the UH Asian Business Student Association," he said. "We wanted to give back to the community and make sure that we bettered ourselves. We were focused on three things — peer networking, public service and professional development. Those three pieces still stand in the organization today, and it's also very much in line with the mission at TOMS. It's about developing as an organization but always giving back."
During his time as a Bauer student, Degala prepared for his future career by strengthening his skillsets in collaboration, teambuilding and leadership.
"You have the chance to work with people of different cultures and backgrounds, just by walking the hallways and connecting in class," he said. "Bauer College was probably the most diverse setting I'll ever experience."
Born in Riyadh, Saudi Arabia, Degala moved to the Houston area with his family when he was 10.
"Being an international student gives you a lot of empathy," he said. "Moving to Houston was amazing. I met a lot of great people, and that's really when I developed the mindset that I wanted to work hard to earn success. Houston is a city where if you try hard and are determined, you're going to be successful."
Degala brings to his role at TOMS that sense of drive and ambition coupled with a passion for service and helping others, an intangible quality he attributes to the culture on campus and describes as part of the "#HTownTakeover."
"There's no substitute for my experience at Bauer," he said. "Being part of student organizations, going to football games and supporting other UH sports, meeting people from all over the world — I understood that I was working toward my own potential but also for everyone around me."