Community
A Sure Thing
Oil & Gas Executive Finds Meaning in Helping Entrepreneurs
Problem Solve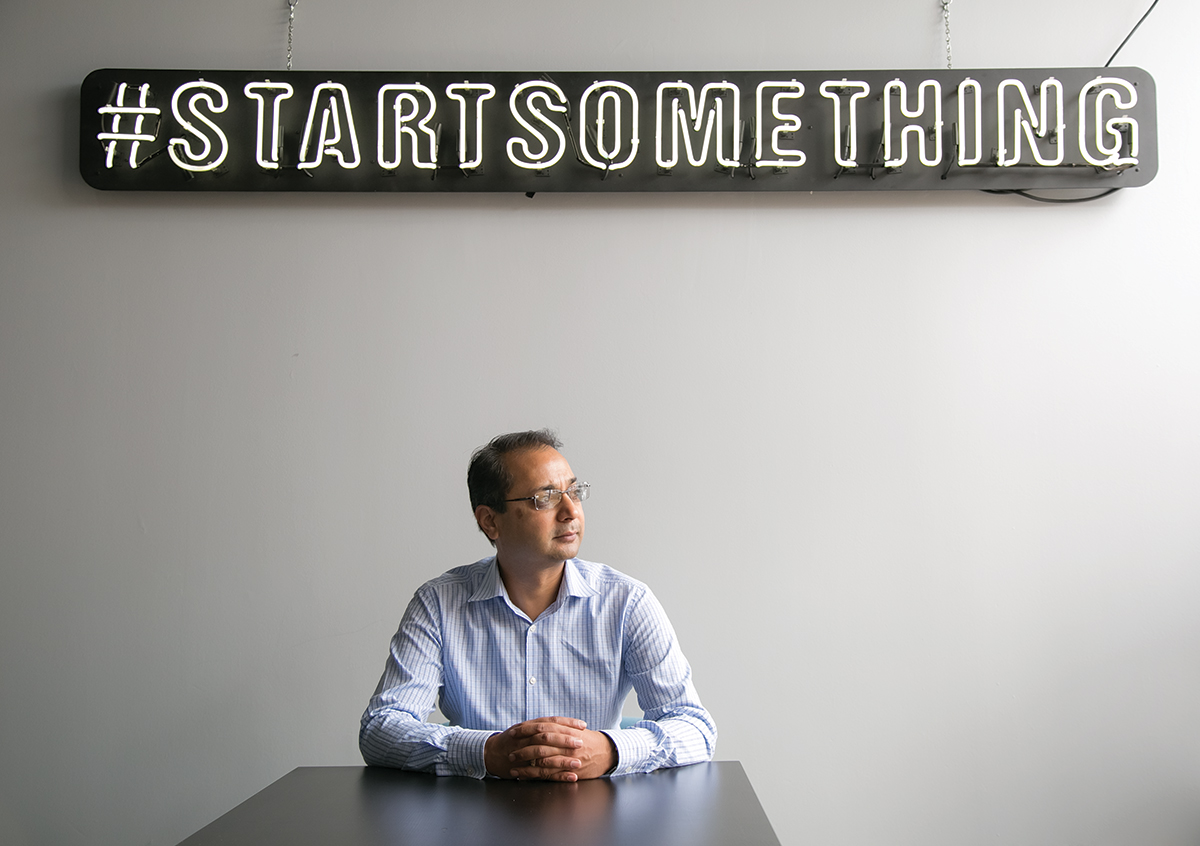 OIL-AND-GAS EXECUTIVE, CONSULTANT AND ENTREPRENEUR AJ JAIN (MBA '04) BRINGS A DIVERSE SKILL SET TO HIS ROLE AS A MENTOR IN BAUER COLLEGE'S SURE™ PROGRAM, WHICH HELPS FLEDGLING ENTREPRENEURS IN UNDERSERVED COMMUNITIES TURN THEIR IDEAS INTO BUSINESSES.
AJ Jain (MBA '04) spent the early part of his career earning his stripes as a senior leader in the oil and gas industry. Always on the move, he lived in Singapore, Kuala Lumpur, Thailand, Dubai and Bahrain. This was all good for his résumé, but he never felt like he had a chance to put down roots.
In 2001, the Indian native with a degree in civil engineering took a job transfer to Houston with two distinct goals: He wanted to earn his MBA, and he wanted to create a home for his family. Bauer College's MBA program made perfect sense for Jain. After finishing up his day job as an offshore project manager, he could do coursework in the evening.
Being more involved with the university, for me, is very important. The university has given us so much, and I think it's our place to give back.
AJ JAIN (MBA '04)
The payoff was immediate.
"For every single course, I could see where it would help me in my job," says Jain, who focused on finance and organizational behavior at Bauer. His company was in the process of restructuring financially, and his studies mirrored his work. "What I was learning in school was what I was seeing happening in real life."
Soon after graduating, Global Industries, Ltd. made him a vice president; later, he was promoted to senior vice president for the Middle East and Asia Pacific regions and, ultimately, chief operating officer.
Today, Jain is the Houston-based director of Ethos Offshore Limited; runs his own independent consulting company, SubSea Consult; and is a partner in Varya & Vivaldi LLC., a company that imports and distributes high-end porcelain tiles from India.
Jain's wealth of experience, both as a manager and entrepreneur, makes him an ideal mentor for the college's Stimulating Urban Renewal through Entrepreneurship wealth of experience, both as a manager and entrepreneur, makes him an ideal mentor for the college's Stimulating Urban Renewal through Entrepreneurship (SURE™) Program, which seeks to educate and empower aspiring business owners in Houston's underserved communities.
"The University of Houston over the last couple of years has done a good job of reaching out to the alumni and trying to figure out how we can help each other," Jain says.
For him, donating money seemed like the easy way out. He wanted to be "more involved" and make personal connections. "For me, the SURE™ Program was an obvious fit. I'm a senior executive. I love solving problems and helping people solve problems."
Though Jain came up through the corporate world, he says he can relate to struggling entrepreneurs. "You run into issues. You don't know how to progress, and you're struggling to find ways to resolve problems."
Jain leaves it up to his mentees to decide how the relationship will work. Some are proactive and want lots of guidance; others check in when they need help.
One of his more interesting mentorships was with an entrepreneur who provides online education for preachers. The idea started as a non-profit but eventually switched to for-profit. The interesting thing, Jain says, is that he mentored a person whose business focuses on mentoring!
"Every business owner has problems and issues to be resolved," he says. "Having somebody on the founding board to help guide them is very helpful. So with my experience and knowledge, I can be a resource both to the university and to these entrepreneurs."