In Every Issue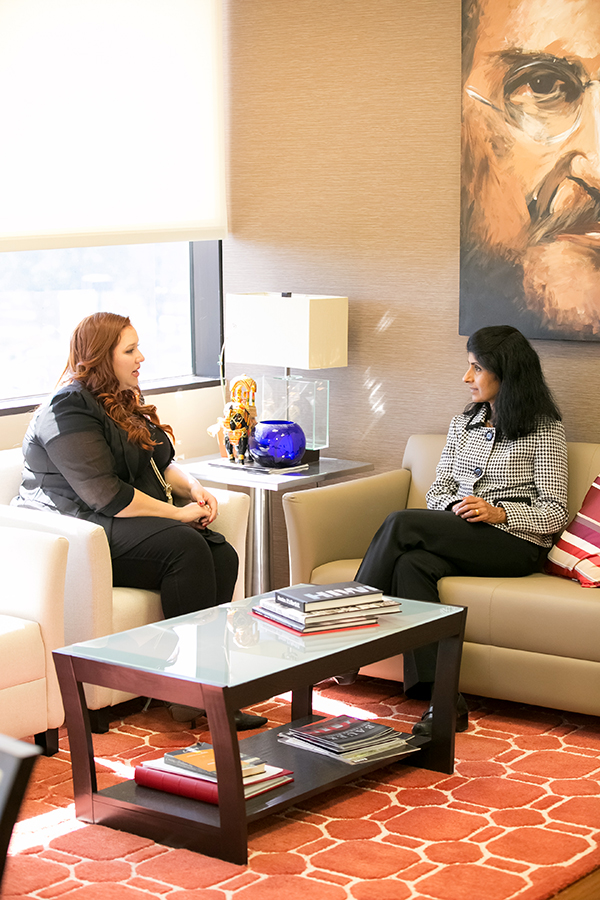 Bauer College alumna and A Status Construction owner Raquel Boujourne, left, chats with Dean Latha Ramchand.
Letter from the Dean
GREETINGS,
August 25 will be a day Houstonians will not forget. Harvey — Hurricane Harvey — made landfall, and the damage and devastation that followed was unprecedented.
For many however, Harvey made us realize that we are stronger than we imagined. Harvey demanded action and reminded us that we are all here to serve. More importantly, Harvey brought home the fact that most of us care to serve, that we want to serve, and that service done the Houston way, knows no color, gender, race or ethnicity.
The university cancelled classes for a week as faculty, staff, students and the city tried to put together what was left of homes, cars and really, lives. Classes were set to resume on Tuesday, September 5. While the Insperity building and Cemo Hall were not affected, Melcher Hall had a leak on the second floor in the Starbucks area. Water flooded the computer lab in the adjacent room and leaked through the floor and into classrooms on the first floor. Several rooms on the first floor flooded as did the tutoring area on the first floor.
Bauer College Associate Dean for Student Affairs and Professor Richard Scamell and I had been monitoring these developments and had been on campus to watch the cleaning crew complete the cleaning and drying. The repair process while underway was not complete by any means. As of 7 p.m. the evening of Monday, September 4, the floors on the first floor remained carpet-less, sheetrock work was incomplete, and the dust and materials piled up at the entrance to Melcher Hall left me concerned about classes scheduled for 8 a.m. the next morning. There was really not much we could do other than hope the crew in charge knew what they were doing and could be trusted to complete the work by the following morning. And on Monday evening, that looked like a tall order to say the least.
And then she appeared.
She was dressed in a bright neon orange shirt and was leading the crew, giving directions and walking around. She came up to me and her first words were: "Dean Ramchand, I am so excited to be here doing this."
Simply appreciating this young woman's enthusiasm at the end of a long tiring day, I smiled, remaining clueless about who she was. Then I learned that she — Raquel Boujourne, owner of A Status Construction — was a Bauer alumna who had graduated a few years ago with an MBA. She was the owner of a construction business along with her mother, and they had received the contract for this job starting the previous day. She promised me that they would have the rooms, hallway and everything in between back to normal by 8 a.m. the next morning. I wanted to believe her. I really did. But the rational left side of my brain laughed at this thought. Faculty sometimes question my belief that Bauer is "Where Awesome Happens." On Monday evening I questioned myself. Raquel and I talked for a while and toured the rooms. We made sure her crew had enough food and coffee (also delivered by another gracious Bauer alumnus, Derek Shaw who is an entrepreneur and owner of The Nook, the coffee shop on Calhoun Street. Thank you, Derek). And after thanking Raquel and making alternative room arrangements for classes scheduled for Tuesday, we left.
On Tuesday morning, we arrived on campus at 6:30 a.m. with about 600 bottles of water and 600 granola bars. While my staff reminded me that granola bars were not exactly "comfort" food, I made the executive decision that they were better for my students than serving pizza at 8 a.m.! As we entered the lobby area I was stunned. I could not believe the transformation that had taken place in the last 12 hours. What leak? Which Harvey?
Raquel and her team had done an awesome job. They came back the next day to fix corners that they felt had not been "perfectly" sealed and painted and put the finishing touches. Thank you Raquel — you reminded us that deadlines can be met, even in the aftermath of Harvey. You showed us that quality work can be completed by capable hands. You reminded us that the best practices we share in business school are not confined to textbooks and classrooms. Thank you for being here to serve your alma mater.
This issue of Inside Bauer is full of stories of alumni, friends, students, staff and faculty who serve and do it with gratitude. For this we are deeply grateful. We hope you enjoy every one of these stories as much as we enjoyed bringing them to you.
Sincerely and with warm regards,
Latha Ramchand
Dean and Professor, Finance
C. T. Bauer College of Business
University of Houston
A Carnegie-designated Tier One research university