Faculty
Critical Decisions
Marketing Professor Tackles Medical Decision-Making in Research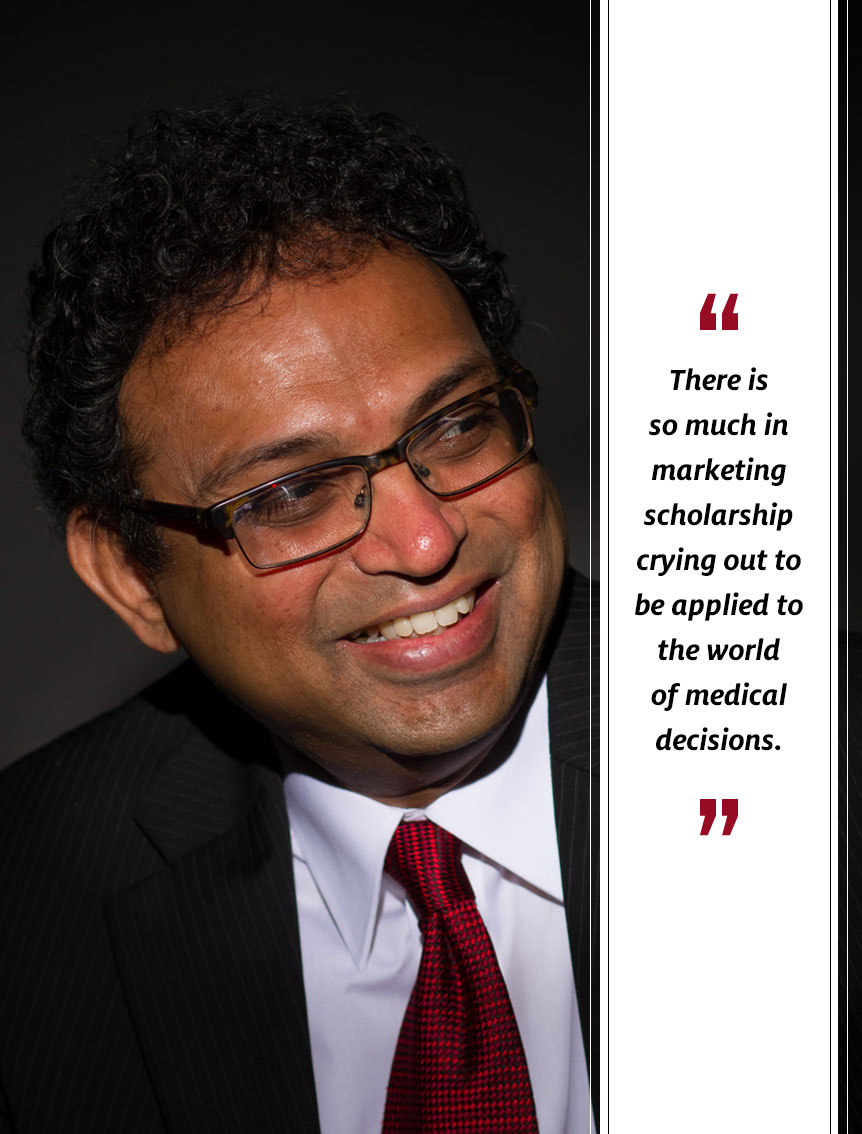 AS DIRECTOR OF BAUER COLLEGE'S INSTITUTE FOR HEALTH CARE MARKETING, PROFESSOR PARTHA KRISHNAMURTHY IS LEADING RESEARCH THAT COVERS THE GAMUT OF HOW ETHNIC/RACIAL DIVERSITY IMPACTS THE WAY PATIENTS RESPOND TO COMMUNICATIONS RELATED TO COLORECTAL SCREENINGS, TO DETERMINING WHETHER PEOPLE ADDICTED TO PAIN MEDICATIONS ARE LESS LIKELY TO RETURN FOR CLINIC VISITS IF A URINE DRUG SCREENING IS INVOLVED.
Decision-making has been a topic of academic research for several decades, and the reasons for that seem fairly obvious.
Anyone selling a product, a practice, or a way of life can appreciate the science of how decisions are made, hoping to capitalize on findings that might help advance whatever goals they have, be it making money or making the world a better place.
But what if the potential outcome of a decision is life or death, or at minimum, impacts quality of life?
What if that decision is critically important, but must be made relatively quickly and with a minimum of information?
Is medical decision-making as good as it can be, and is it based on the accumulated wisdom around the science of how people best make decisions? And if it could be improved, what are the significant implications not only for patient outcomes, but for reducing health care costs and the angst and apprehension patients may experience when asked to make tough decisions for themselves or loved ones, especially in a short amount of time or with limited guidance?
Those are some of the questions that drive marketing Professor Partha Krishnamurthy, director of Bauer College's Institute for Health Care Marketing, and a Bauer Faculty Fellow, as he focuses on the research realm of medical decision-making.
For many years, research in health care has primarily centered on improving drugs and devices, Krishnamurthy says. While those elements are critical, in the last decade or so, more researchers have begun to explore decision-making on the part of patients and medical practitioners.
In every interaction behind the closed door of an exam room, or as medical personnel consider best and worst case projections, or as they look at a lab result or MRI image, "there is an interpretation that takes place," Krishnamurthy says. "The question is, how good are these interpretations, and can they be improved upon? Not only by using a better device. Not only by changing the training of the physician … but also by looking at the decision psychology."
Krishnamurthy's interest in the field was sparked by a family medical experience, but as his inquiry has deepened, he's forged relationships with interested physicians and institutions such as Texas Children's Hospital, The University of Texas Medical Branch and the Society for Improving Medical Decisions. In addition to his role at Bauer, he is an adjunct faculty member at UTMB and is affiliated with the Center for Research, Innovation and Scholarship in Medical Education at Baylor College of Medicine.
Those connections are invaluable, he says, expressing gratitude for the collaboration with doctors, nurses and administrators who've given considerable time and insight.
"There are those who were, understandably, perplexed why a marketing professor would come and talk to them about medical decision-making," he says.
In fact, Krishnamurthy says, "There is so much in marketing scholarship that is crying out to be applied to the world of medical decisions. That is the hope and the plan for the Institute for Health Care Marketing."
The research conducted by Krishnamurthy and others at Bauer through IHCM has covered a wide gamut of issues. Recent topics he has contributed to include how ethnic/racial diversity impacts the way patients respond to communications related to colorectal screenings, to determining whether people addicted to pain medications are less likely to return for clinic visits if a urine drug screening is involved. A pair of Texas Medical Center-based studies examine techniques for making doctor diagnoses more accurate.
An appointment to the Federal Drug Administration Risk Communication Advisory Panel has given Krishnamurthy a front row seat for both observing and impacting governmental oversight, specifically, "how it should be communicating risk information as part of its messaging to physicians and to the public."
While his appointment term is coming to an end, Krishnamurthy will continue to advise the FDA as a consultant and has been heartened by seeing the commitment of other panel members. "There are people who genuinely care about the health of the nation and they're really trying their best to put together policies that be beneficial to society, and that's very humbling to be a part of," he says.