Community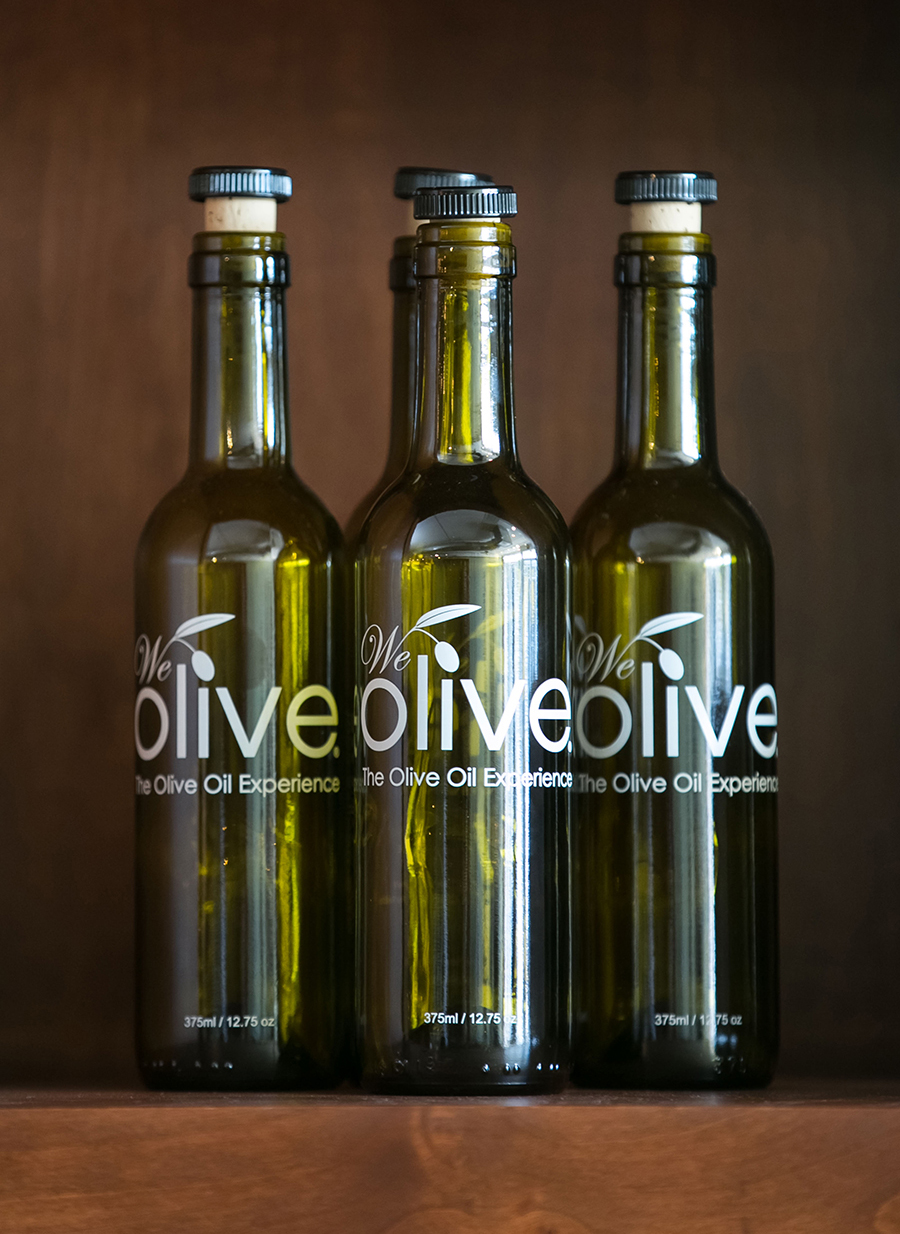 Great Heights
Bauer MBA Husband & Wife Plant Roots in Trendy Houston Neighborhood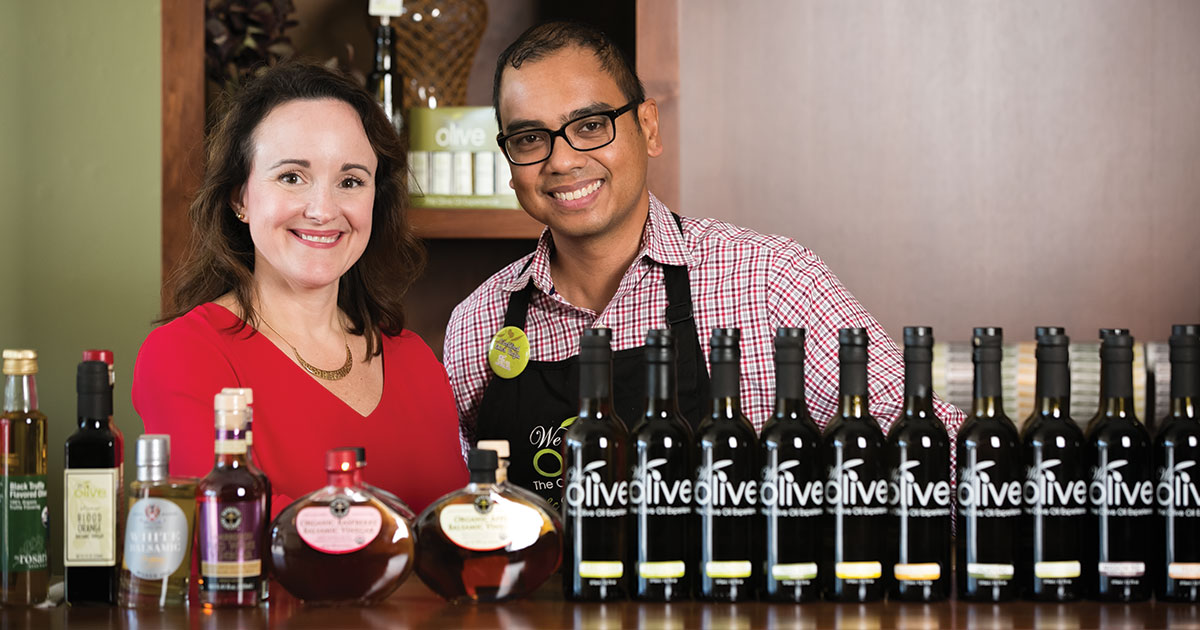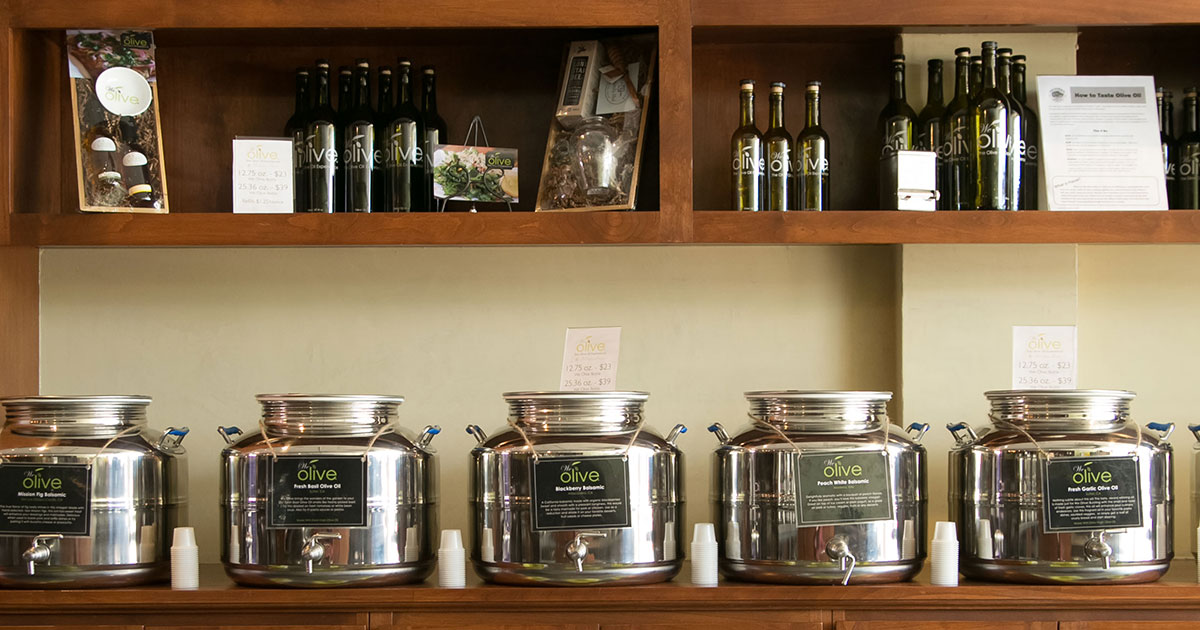 We Olive is a franchise, with the Rabos opening the first location in Houston. The business is part gourmet food store, specializing in dips, spreads, spices and giftware, and part wine bar.
WEBSITE: We Olive & Wine Bar →
Along 19th Street in the historic Houston Heights neighborhood, there's a record store, a few funky coffee shops and a theater built in 1929.
You'll see folks biking down the street, eating at outdoor patios and carrying bags full of treasures unearthed from antique and specialty shops.
And, at the corner of 19th and Rutland, you'll find a new addition to one of Houston's most beloved neighborhoods — We Olive & Wine Bar.
Led by husband-and-wife owners and Bauer College MBA alumni Luis and Amber Rabo, the combination specialty goods store and wine bar opened its doors in mid 2017, but it feels like it's been part of the Heights for much longer.
"We live right down the street," Amber Rabo said. "This is a community we chose for our family. Our children go to school here, we like to ride bikes here, our friends are here…so to find a great retail location here for our store and this dream of ours, it seems like it was meant to be."
Amber, who earned a dual MBA/MS Social Work degree in 2000, works full-time as head of talent acquisition and organizational effectiveness at Cheniere Energy. She applies her people skills to her role at We Olive as well.
"I consult regularly with Luis about our employees," she said. "We want to treat them really well and give them the training they need to be effective in their jobs."
Running a business like We Olive seems like a natural career evolution for her husband, Luis, who has a long history of jobs in the hospitality business coupled with a Bauer MBA degree earned in 2002.
"One of my first jobs was working at (Six Flags) AstroWorld — that's where I learned about customer service, connecting with a bunch of different people from all walks of life, and entertaining and hosting people," he said.
From there, he held roles with Pappas Restaurants and in the stadium and casino industries, moving with Amber across the United States to Las Vegas, Reno, Kansas City and Philadelphia before settling back in Houston.
"I've served everything from hot dogs to filet mignon," Luis said. "Serving beer, wine and great food with great hospitality is something that really prepared me for this type of business."
We Olive is a franchise, with the Rabos opening the first Houston location. The company appealed to them as a family business.
"We Olive is based in California, where a husband and wife run the business and operation side," Luis said. "The reception to our store has been awesome. The neighborhood and folks here have been so supportive."
The gourmet food side of the store specializes in dips, spreads, spices and giftware — all of which are used in the menu for the wine bar in the same building. Luis lends his culinary creativity to create perfect pairings for customers, dreaming up surprisingly tasty concepts like ice cream topped with jalepeño olive oil and fresh pineapple.
"The typical We Olive customer is a foodie, someone who really enjoys cooking and eating food that is well made," he said. "They understand the healthy option of cooking with olive oil, and they appreciate wine and local beer, which we have plenty of here."
The couple has navigated business obstacles as they prepared to launch We Olive, relying on their Bauer MBA education to overcome each challenge.
"The Bauer MBA helped me to think strategically," Luis said. "My undergrad degree in hotel restaurant management gave me a good background for operations, but going to grad school at Bauer showed me the bigger picture in terms of marketing, finances and running this business."
Luis and Amber, who married in 2001, met as Bauer MBA students, often paired together for group projects.
We chose Houston and the Heights as where we wanted to live. It's so diverse, and Bauer College epitomizes that. There are so many people here from different backgrounds and experiences.
Amber Rabo
"It worked well because what Amber brought to the table and what I brought complemented each other," Luis said. "Our deficiencies were covered up by each other's strengths."
After becoming a couple, they had the opportunity to travel together through Bauer's Chile Study Abroad program, where they learned about the culture, cuisine and business climate of the area.
"We were able to speak with owners of different businesses and industry leaders in Chile to understand their issues and have almost a roundtable discussion," Luis said. "To have access to that level of leadership in the area was an awesome experience."
Now, together, they're navigating business ownership and family as parents to 13-year-old Gemma and 8-year-old Blaise.
"In the industry Luis is in, and I knew this when I met him, it's not one that is entirely conducive to work/life balance," Amber said. "I think the better philosophy is to try to be as effective as we can with what we're doing day-to-day. We've created these divisions of responsibility where there's flexibility on both sides, but we stay in constant communication as we get things done."
As they grow their business, with an eventual goal of opening more We Olive locations around the state, they're appreciative of their home base in the Heights and Houston.
"We chose Houston and the Heights as where we wanted to live," Amber said. "It's so diverse, and Bauer College epitomizes that. There are so many people here from different backgrounds and experiences."