Students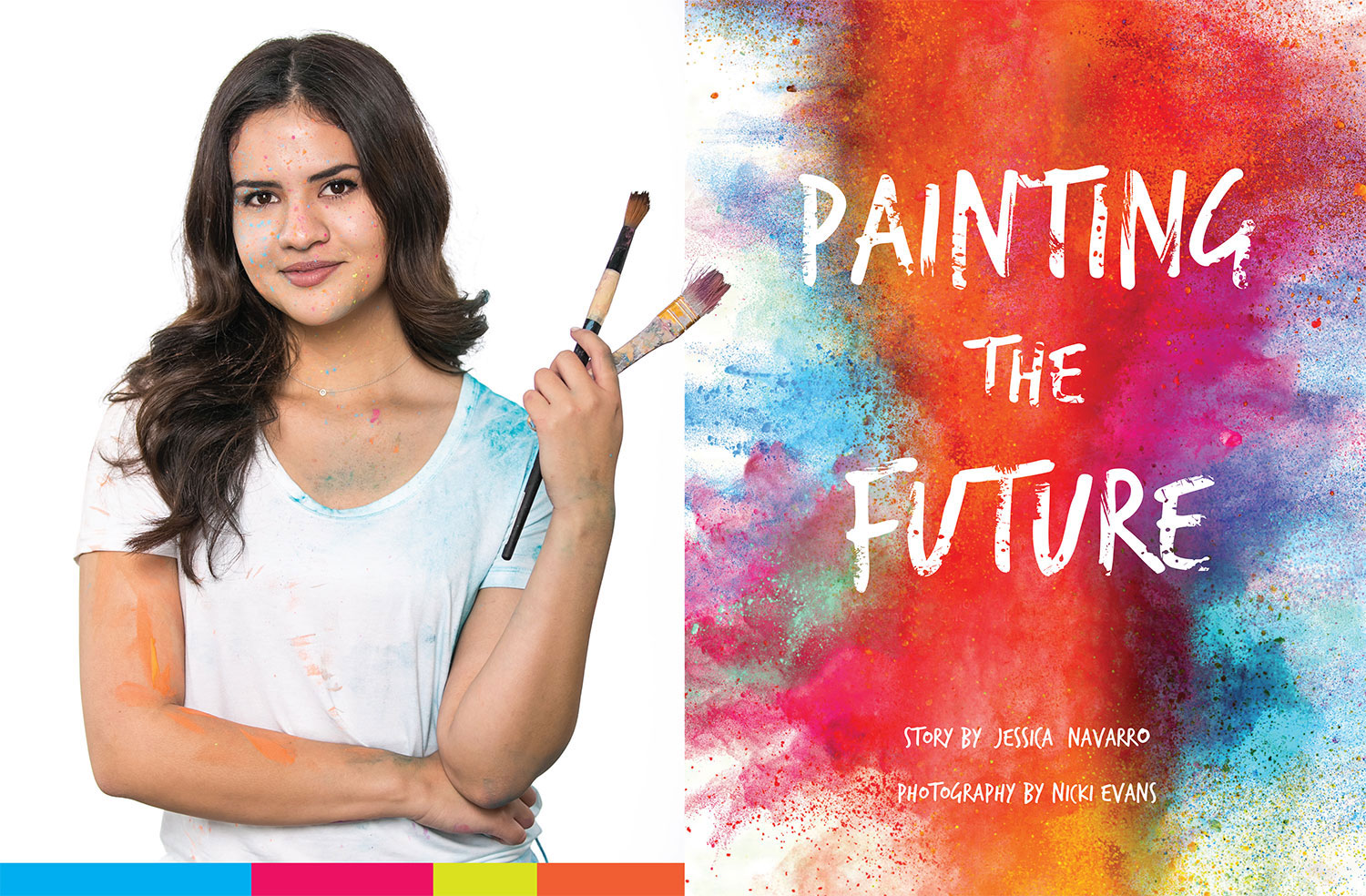 Painting the Future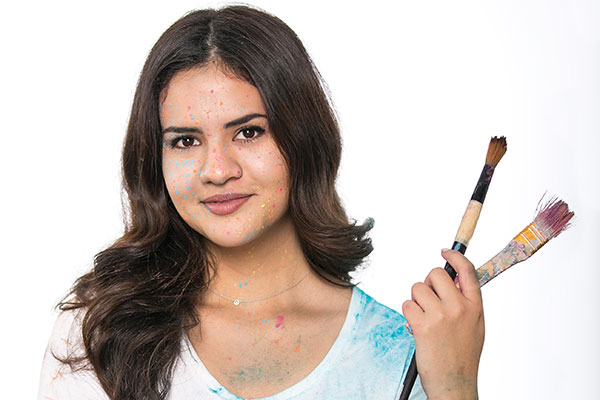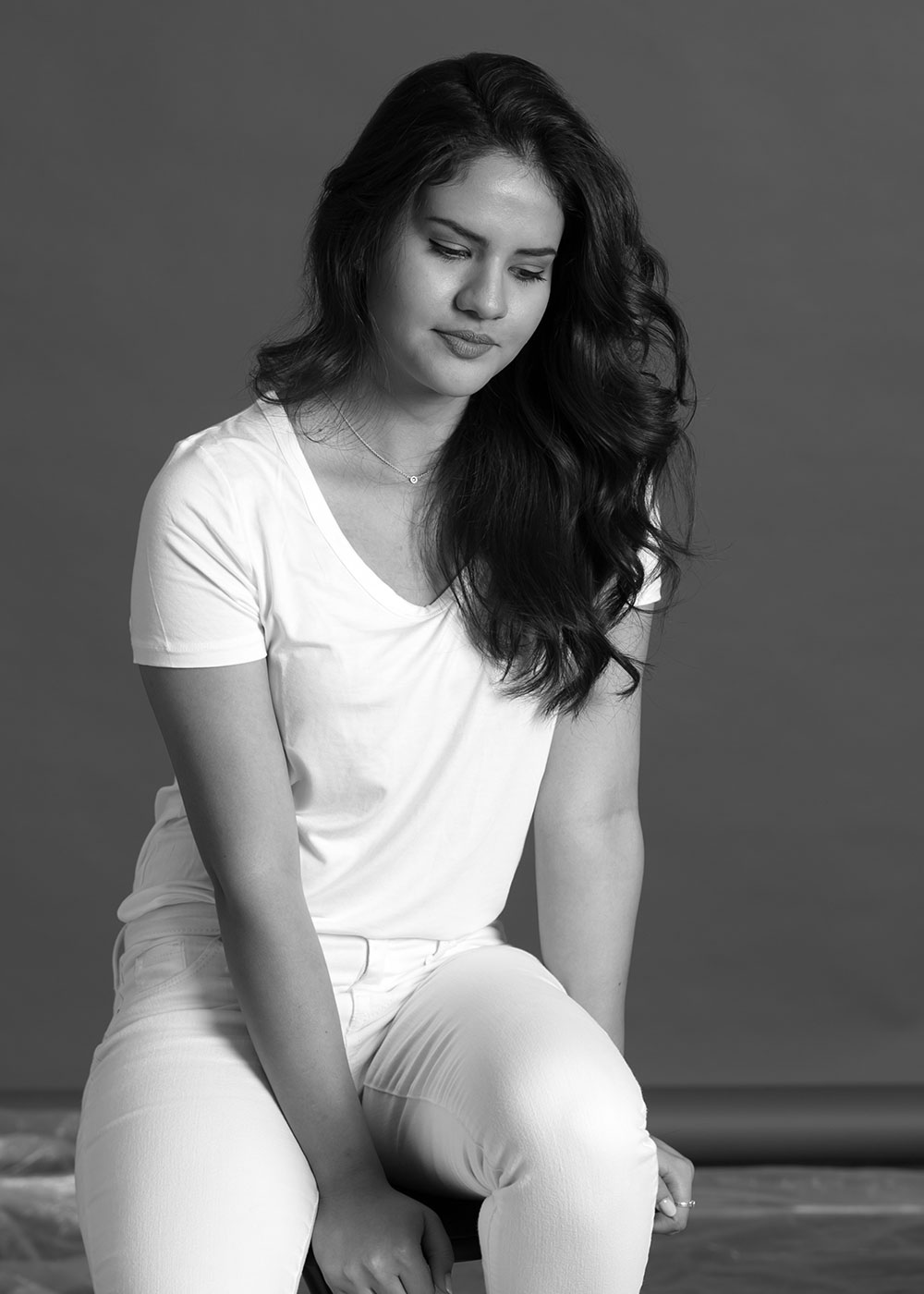 Bauer College accounting senior Edith Rubio uses her artistic skills to serve the community as a volunteer for local school districts and student organizations.
WHENEVER YOU FIGURE OUT THAT YOU HAVE A TALENT, YOU SHOULDN'T KEEP IT TO YOURSELF."
Edith Rubio, Accounting Senior
Accounting Senior Applies Artistic Talents To Service
For Edith Rubio, a challenge is no more than a brush stroke waiting to be put to canvas, a new color to brighten the scene or a beautiful vision to be realized in a painting or photograph.
The 21-year-old Bauer College student has been interested in art since she was a child growing up in Puebla, Mexico, inspired by the people and scenery around her. Now, she's pursuing a business degree and aspires to use her artistic passions to serve others.
"What motivates me is not really thinking about personal success but more about how to be successful enough to help others," Rubio said. "You want to be able to give back to the community you grew up in and to the people who raised you."
Rubio, who moved to the Houston area with her family at age 9, took an art class as a high school freshman that solidified her creative inclinations.
"I fell in love with everything about it," she said. "It was the freedom you had to create anything you wanted."
Her teachers acted as mentors, encouraging Rubio to develop her skills and create a professional portfolio. She started with drawing and painting before adding sculpture, photography and graphic design to her talents.
"What motivated me the most to pursue art and to get better were my teachers in high school," she said. "Having them help and guide us made me want to teach and let others know they could be creative, too."
Rubio is balancing her accounting coursework at Bauer with service to the community — she tutors high school students, provides free face painting to local school districts, shares her skills as a henna tattoo artist with student organizations in the college and volunteers as a street painter for Via Colori, a fundraiser for the Center for Hearing and Speech.
"Whenever you figure out that you have a talent, you shouldn't keep it to yourself," she said. "I really like making people smile and seeing them realize that art is a beautiful thing, maybe even inspiring them to do it themselves."
Rubio, who describes herself as "a little lost" when she came to Bauer as a freshman, is now an actively engaged student leader. Last year, she served as director of corporate relations for Bauer Women Society, helping to connect members to employers.
"It was really rewarding," she said. "In a way, it was like I was giving back to other students. In a student organization, you develop your professionalism, learning how to talk to an employer or go into an interview. These are skills you might not have had coming in to college, but you grow so much from being involved."
Rubio counts her classmates along with members of the college's faculty and staff among her support network.
"There are people here who are willing to listen and help you with whatever is going on. They genuinely care about you and want you to succeed. That's something you don't get at any other college," said Rubio, who leveraged her connections with staff from Bauer's Rockwell Career Center during a particularly challenging semester last year.
As she works to finish the undergraduate program at Bauer in 2018 and ultimately earn a master of science in accountancy, Rubio hopes to have a professional career in public accounting before transitioning to consulting, with a focus on helping the global creative community.
"It's a passion of mine to give back to where I'm from and communities that might not have the opportunities I've had. I want a career where I can help people," she said. "You have artisans who are getting underpaid for their work, and with a strong background in accounting and business, I can help them grow their businesses."
Whether encouraging a classmate before a job interview or guiding a fellow artist to use their skills to start a business, Rubio sees it as her mission to give back the support and encouragement she's received.
"My mentors have made such an impact in my life," she said. "And now I'm getting to do the same for others. Sometimes you don't realize you've been doing things right until someone says, 'Hey, I want to be like you.' You want to give the best advice you can. The more you care about people, the more they can get out of their comfort zones and achieve their dreams."