Community
Digital Purpose
From Social Media to Social Impact, Bauer Alumna CEO Counts Mentors, Not Likes
The fun part about being a social entrepreneur is that when you live your life true to your fullest purpose, on the clock or off the clock — everything else falls into place. I never meant to co-found Goodspero, the social and digital media business I now run alongside my husband full-time. It just sort of happened naturally after I was accepted in the Wolff Center for Entrepreneurship (WCE) at Bauer College and met Monte Pendleton, a stakeholder and mentor for WCE.
Monte came in on one of our first days of class and gave all 40 of us that'd been accepted that year, a 16-page document with the words, "The Personal Purpose Process" typed in red letters at the top. The first thing it said was: "You now have the opportunity to live a life of PURPOSE, fully expressing who you are, your authentic Self, to the world around you…"
By the time it was all said and done, I had a step-by-step plan on how to reach goals I'd never even thought to aim for in all areas of my life, not just my career. I printed a copy for my business partner, Nelson Vanegas, who was my boyfriend at the time, and now my husband, so that he could go through the same process. Afterwards, we compared results, combined our goals and were left with a detailed blueprint down to the hours in a day we'd work on each thing we wanted to achieve, along with measureable action items for the next year and for the next five years to come. That's how Goodspero was born.
The entire experience of going through a business school is completely different without mentors and professionals who donate their time and contributions towards experiences and scholarships for students. Mentors play a life changing role in preparing students in business school not only to succeed in business, but to make an impact within our communities.
I received scholarships and invaluable mentorship while I was a student at Bauer, so since I've graduated, my husband and I have both come back as mentors and wrote a check towards the launch of a new scholarship fund started by the director of the WCE program a few years ago, with the goals of providing scholarships for every student accepted into WCE.
When I first applied for the entrepreneurship program at Bauer, the goal was to grow my first business, which was a multimedia production company I'd also cofounded with Nelson two years after we met. Around that time he was a production assistant at Univision Radio in Houston and had just been promoted to creative production director at 22 years old. We met through mutual friends at the radio station when I was part of their hip-hop station's morning show and he was producing English and Spanish commercials.
Back then I was also an independent freestyle hip-hop dancer, a brand ambassador, spokesmodel and a marketing manager for multiple national marketing agencies and brands who would hire me out as an independent contractor. I was touring with campaigns and working with artists of all trades doing everything from promotions, music videos, concerts, selling albums at shows and eventually started marketing on MySpace before social media marketing for businesses even existed. But once I met Nelson and he bought me my first "real" camera — it was game over. I went from being in front of the camera to being behind the camera and never looked back. I figured out pretty quickly that the money and respect was much more appealing on the other side of the lens, especially as a woman in the entertainment industry.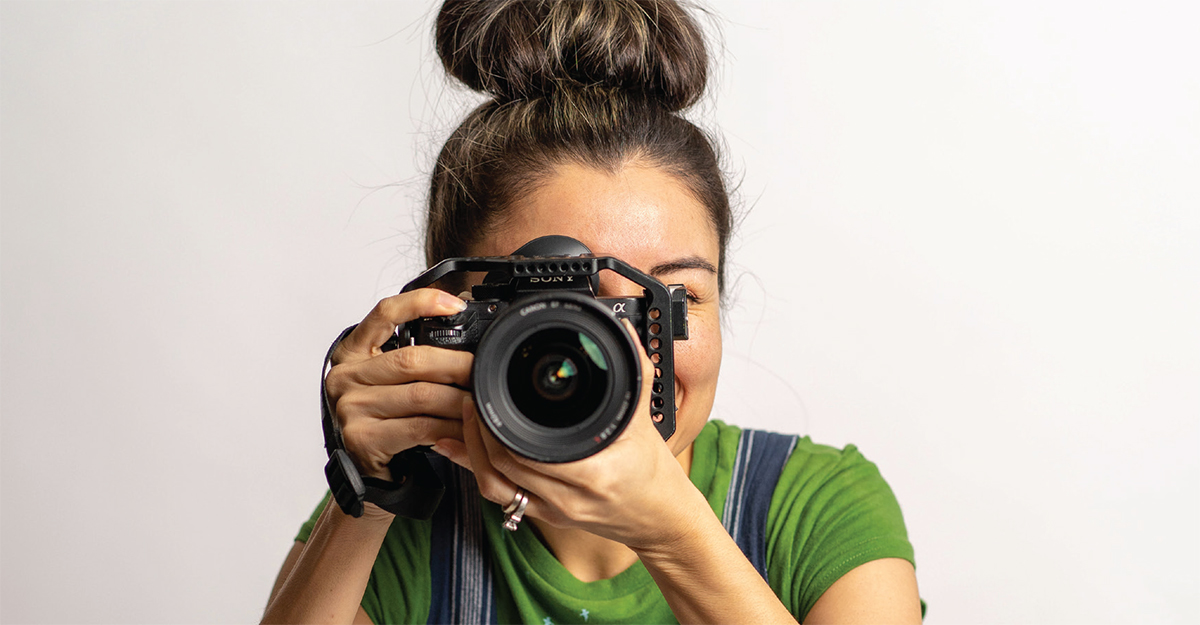 When I graduated from WCE in 2013, we started working on Goodspero full-time. We signed our first major contract with BakerRipley, a roughly $300 million non-profit organization with over 70 locations in Houston that will forever hold a special place in our hearts. We were first brought on to teach 200+ people on their leadership team how to use Facebook, Twitter, Instagram, LinkedIn and Pinterest within their respective departments. For example, how Workforce Solutions could use LinkedIn to find prospective hires and how to help the people they serve find jobs through the platform. Their Head Start teachers started using Facebook groups to communicate more efficiently with parents. We even hosted social media workshops in Spanish for small business owners in their entrepreneurship program.
In the years that followed, we essentially created an internal social media brand ambassador training curriculum for professionals with no experience whatsoever using social media, all the way through advanced level users of social media. From there we taught teams how to shoot and edit videos on their phones and also helped capture and produce some of their videos for larger projects and campaigns that called for more professional equipment and teams. We still work with BakerRipley, which was founded as part of the Settlement House movement to welcome people to the United States and provide holistic support through opportunities in education, health, work and civic engagement 112 years ago. It's such a small world in such a big city because our families immigrated here from Colombia and El Salvador in the late 70s and early 80s, and they remember coming to BakerRipley's Ripley House Campus in the East End. We didn't even realize until after we started working with BakerRipley that it had all come back full circle.
This will be Goodspero's sixth year in business and although we started as an idea for a non-profit crowdfunding organization building micro-libraries in remote parts of Latin America, we've morphed into a for profit digital and social media company that works alongside organizations dedicated to making a social impact in the world. We don't just provide digital services, we teach organizations how to fish, how to use video and social media to its fullest potential, support marketing teams with storytelling, capturing and publishing content. We use everything we learned from the mentors at Bauer to create high level, multi-channel branding and capital campaigns that resonate with online audiences.
As for my personal goals for the future, this year I started writing a non-fiction book about entrepreneurship, immigration, introversion, living the child-free life and other reoccurring topics of interest in my life. I'm also determined to direct and produce a short documentary film on one of those topics. I've been filming moments I feel are of importance for several years now and have been itching to make a film that makes as much of an impact in people's lives as some of the documentaries that have impacted my life. As for Goodspero, our goals include working on more national and international projects, traveling more with brands and agencies invested in social impact, and continuing to create opportunities that other people want to emulate — ultimately spurring more good in the world.