Like many
Houstonians,
Justin Hutto spends
a fair amount
of time
behind the wheel.
Students
Driving Change
Bauer Marketing Student Brings Business to the Race Track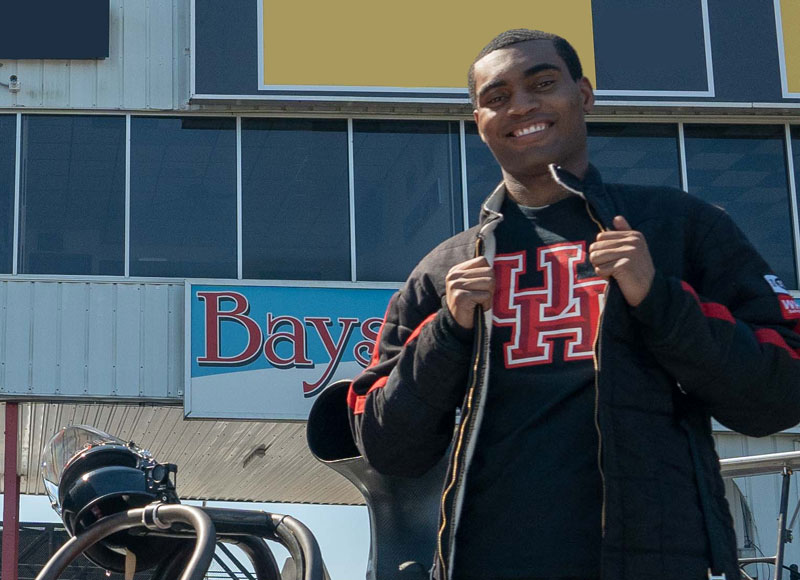 Marketing Junior Justin Hutto is applying what he's learned from Bauer classes on personal branding, sales and marketing to his future career in racing.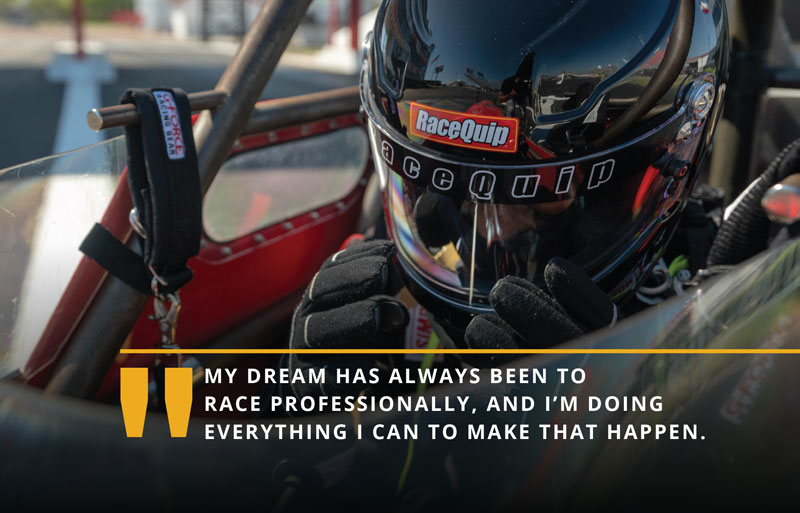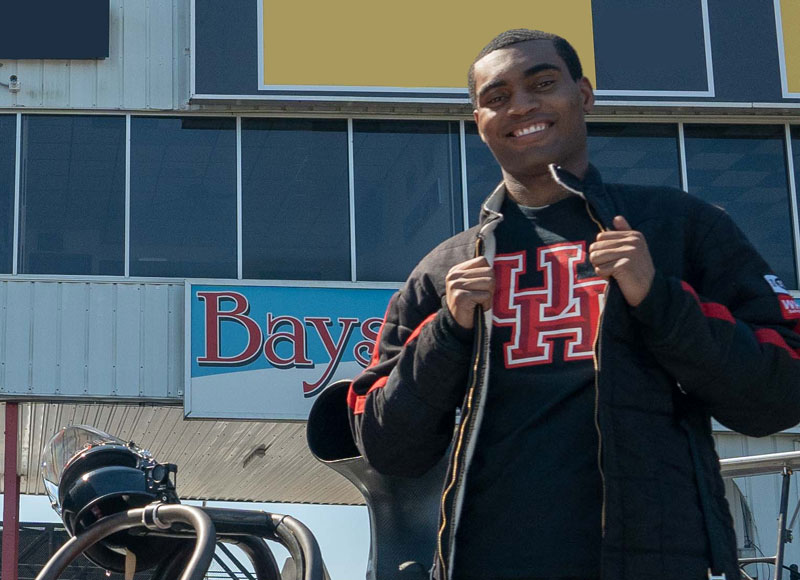 Marketing Junior Justin Hutto is applying what he's learned from Bauer classes on personal branding, sales and marketing to his future career in racing.
Like many Houstonians, Justin Hutto spends a fair amount of time behind the wheel.
But while his friends and neighbors are driving sedans and trucks on the highway, Hutto steers a dragster on racetracks across the country. The Bauer College undergraduate is part of a family tradition of racing — his father and grandfather both raced professionally in the National Hot Rod Association (NHRA), as he does now.
"I grew up around the sport," Hutto said. "I was always in love with it. It's like a circus, almost, when you go to a race. You've got TV cameras everywhere, fans in the stands, and it's just like an electric atmosphere that I grew up loving."
At age 10, Hutto got behind the wheel. In his first two races in a junior dragster, he finished runner-up, and in 2013, he raced in his first full points series, winning three races, the most improved driver award for the series and his first championship. The following year, he won six races, earned national recognition as the NHRA Jr. Dragster Top Performer and qualified for the IHRA World Finals, an invite-only event for the top 16 drivers in the world.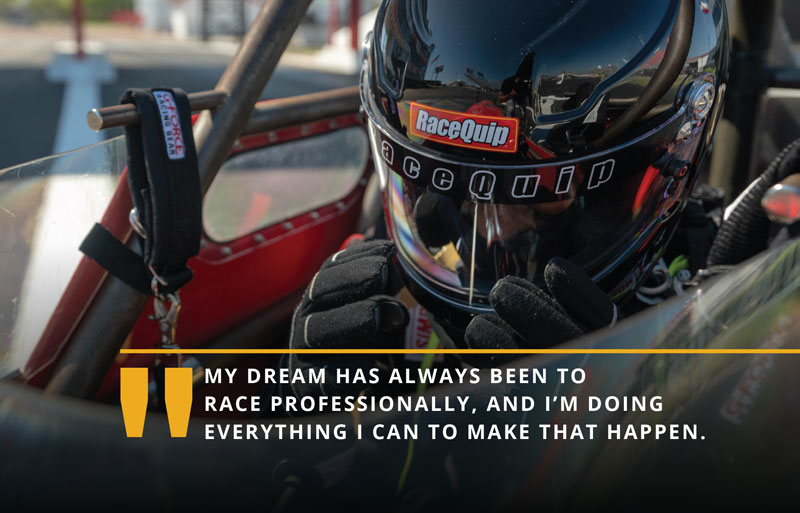 He continued to make strides in the racing world and moved up in 2018 to racing a 190 mile-per-hour Comp Eliminator dragster. Last year, he was chosen as a member of Drag Illustrated Magazine's 30 under 30 list.
Those successes didn't come without hard work, Hutto said.
"One of the key differences between us and a lot of professional racers is that we weren't coming into races with six-figure tractor trailers to go race with," he added. "A lot of times we'd come in with a truck and a trailer and a race car. We were — still really are — racers on a budget, just because we don't have the resources to throw a lot of money at the sport of drag racing without sponsorship."
But the skills Hutto is gaining through his coursework as a marketing junior at Bauer College seems to be changing his course as a driver. He's studying marketing and was selected for the prestigious Program for Excellence in Selling (PES) through the college's Stephen Stagner Sales Excellence Institute, where he serves as a key account manager.
"Racing is a business," Hutto said. "You're essentially a marketing agency who races cars. You're getting these different partners who are signing onto your team as sponsors, and based on pre-call planning and a number of meetings over time, you've got to figure out what that sponsor needs, then provide a business solution."
The lessons gained from Bauer courses in personal branding have been especially helpful, he added.
Hutto said: "Having a strong personal brand is critical in the drag racing industry. My dream has always been to race professionally, and I'm doing everything I can to make that happen."
That includes securing more sponsorships for Hutto Racing, his family's drag racing team.
"I've applied the skills from my Bauer courses already to some of the sponsorship deals I've got going on in racing," he said. "Bauer has truly been a blessing for me, and a blessing for my career. Without the marketing program, and especially the sales program, I wouldn't know what I didn't know. Thanks to Bauer and PES, I'm now able to execute on what I've learned, and bring in these sponsors so I can get to the top level of the sport, like I've been trying to do for years at this point."