Students
True Character
Bauer MBA Student Finds Success After Troubling Childhood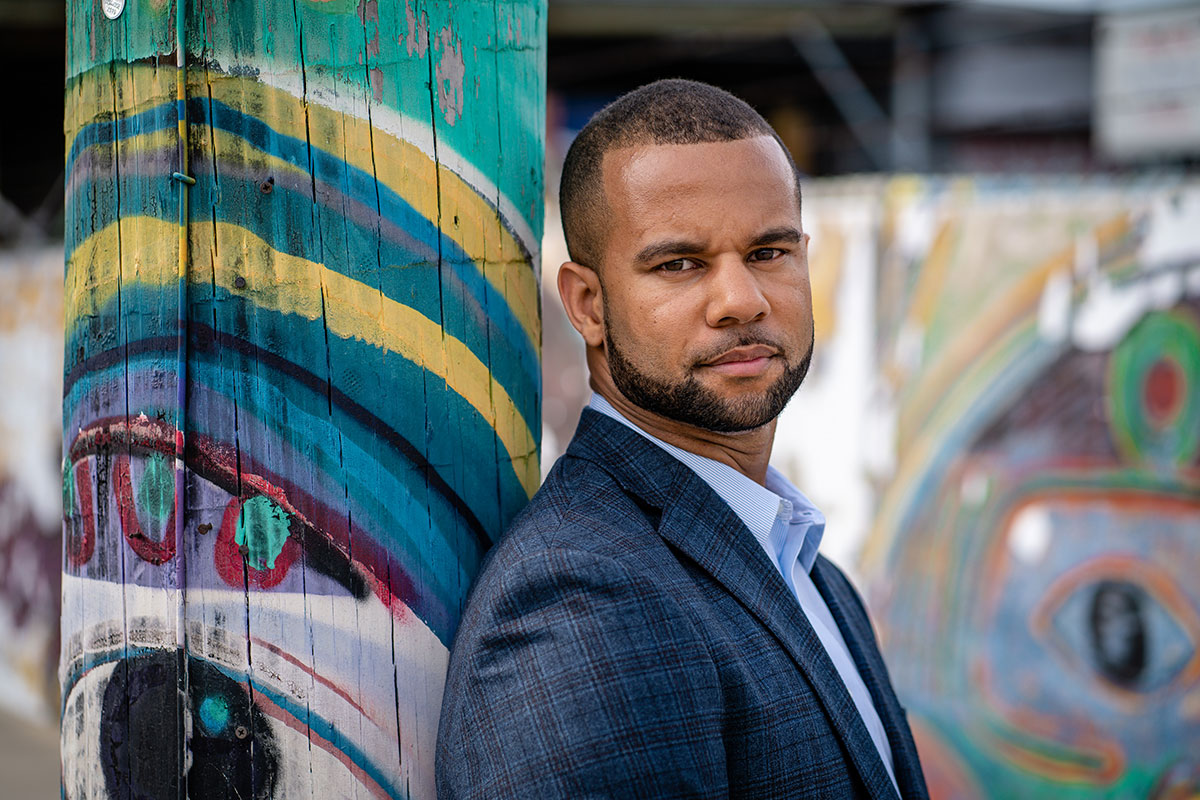 MBA STUDENT GEOFFREY BEAN SAYS NETWORKING IS A BIG REASON HE OPTED TO STUDY AT BAUER COLLEGE. "YOU ARE GOING TO BE INTERACTING AND NETWORKING WITH THOSE INDIVIDUALS FOR HOPEFULLY LIFELONG RELATIONSHIPS. SO YOU WANT TO BE SURROUNDED WITH INDIVIDUALS WHO HAVE THAT SAME MINDSET AND THAT SAME DRIVE."
When you first meet Bauer MBA student Geoffrey Bean, you encounter what he calls "the finished product." At 33, he is polished, articulate and ambitious, a supply chain manager with a golden athletic record.
The New York native played three sports in high school, parlayed that into a full athletic scholarship at Colgate University, and tried out for the Minnesota Vikings and the Montreal Alouettes before moving to Houston in 2007. As a Bauer graduate student, he traveled to China recently as part of the college's Learning Abroad program in Hong Kong and Shenzhen.
But scratch beneath this well-groomed surface and you'll see a man who has had more than a few challenges along the way.
When he was about 5, Bean's mother became addicted to crack cocaine.
During that time, Bean remembers he and his little sister's Christmas toys were sold to buy drugs. Even after his father intervened, the family was homeless. Bean remembers shuffling from hotel to hotel with his father and sister. They traveled by bike, their clothes in garbage bags.
Out of those struggles, however, Bean found the motivation to play hard and study hard. His goal was to improve his life.
"It forced me to grow up fast," he says of his youth. "Ultimately, all of these things I experienced built something in me that could never be taken away. Those things drove me. I was able to use sports and education as my outlet."
Even that would sometimes prove challenging, however.
Determined to play football at the first high school he attended, Bean lifted weights and ran up hills to build endurance. After making the team, he expected to be embraced as part of the group. Instead, he encountered racism.
After one victory, he was told to go to the back of the bus, and he recalls being heckled with offensive, racially charged comments. The bigotry just made him more determined to hold his ground and follow his dreams. He transferred high schools and continued to have a successful scholastic and athletic career.
Bean graduated Colgate with a degree in geography. In Houston, his first job was at a Sony electronics store. He saw it as a positive experience. It allowed him to learn about technology and get better at relating to people. "It wasn't just about selling things. It was about offering a complete solution and making people's lives better."
After that, he spent nearly five years as an agriculture specialist with the Department of Homeland Security. Since 2013, he's worked in supply chain for the energy industry: first in procurement for Chicago Bridge & Iron Co. and more recently as a subcontract manager for McDermott International, Inc., which merged with CB&I in 2018.
In recent years, Bean decided it was time to pursue his MBA.
With Bauer, he says he chose a school with a rich tradition and strong academic reputation. As a full-time business professional with a wife and two young children, he found the MBA program affordable and flexible, too.
"Education has always been a staple of my life," he says. "It's something that my parents and grandmother definitely instilled in me. So I've always had that desire and that passion to learn more, to grow and develop."
In case you're wondering, his mother's story has a happy ending, too.
She recovered from her addiction years ago, and they enjoy a wonderful relationship today. "She found a way out of it, and she's an awesome, awesome individual."