Students
Man With a Plan
MS Candidate Devoda Owens Fumbled Football Career, Woke Up in the Army and Discovered Future in Finance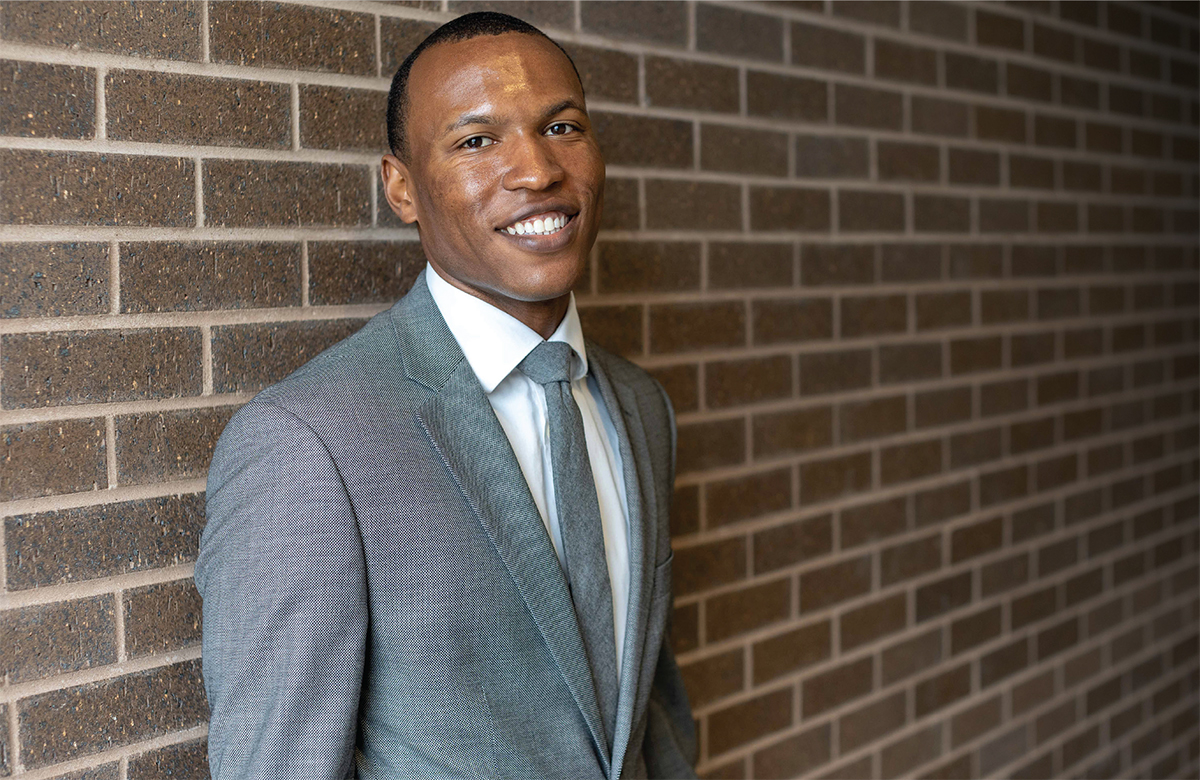 DEVODA OWENS SAYS HIS PLAN FOR THE FUTURE SNAPPED INTO PLACE WHILE SERVING IN THE ARMY. "I GREW UP IN IRAQ, BECAUSE YOU HAVE NOTHING BUT TIME TO THINK, AND I JUST STARTED THINKING ABOUT MY LIFE: WHAT I WANTED IN LIFE, WHAT WAS I DOING WITH MY LIFE. AM I DOING WHAT I WAS PASSIONATE ABOUT?" AFTER THE MILITARY, HE ENROLLED AT BAUER.
As a teenager growing up in Killeen, Texas, Devoda Owens (BBA '18) had it all planned out. Why worry with academics when a career in professional football awaited him?
"I was going to classes, and I would just sit there and not do the work, because I had the dream of making it to the NFL," Owens says of his glory days as a starting cornerback on his high-school football team. "I was about a C-average student. My mom would tell me I could do better, and I knew it. I just didn't want to."
Finance just came easy to me. Yes, I studied hard. But it just comes natural to me - I guess because I'm passionate about it.
DEVODA OWENS
(BBA '18)
In the end, college recruiters showed no interest in offering him a football scholarship. After an unhappy semester at a community college, Owens joined the U.S. Army and soon deployed to Iraq.
It was there, near Baghdad, that the rebellious youth had a wakeup call and decided to get serious about his education. By the time he left the Army in November 2014, he had earned an associate degree from Central Texas College (graduating with a 3.91 GPA) and risen to the rank of sergeant.
Today the 28-year-old Owens is on track to complete an MS in Finance from Bauer College in 2020 and pursue a career as a financial planner.
"Finance just came easy to me," he says of his Bauer undergraduate work. "Yes, I studied hard. But it just comes natural to me — I guess because I'm passionate about it."
Last spring, Owens was inducted into Beta Gamma Sigma, the prestigious international business honor society, and he was recently awarded a $1,000 scholarship from the Harold & Muriel Berkman Charitable Foundation.
In many ways, Owens' military path would seem inevitable.
He was born in Ansbach, Germany. Both his parents were career military. Still, his mom didn't want him to enlist.
"She felt that she had already sacrificed enough by being in the Army. She also wanted me to be able to experience college life."
In Iraq, Owens became a communications specialist and was fortunate enough to spend most of his time outside the combat zone. Funnily enough, his mom was in Iraq for part of that time, and they were able to visit on weekends.
"She would get like a vehicle, and she would come see me," Owens says. "She got to meet my whole platoon, all my senior command, and everybody was amazed, like, 'Oh, it's a son and a mother out here fighting the war.'" (After 13 months in Iraq, he was transferred to Hawaii, where he spent the remainder of his four-and-a-half years in service.)
Owens traces his interest in money and finance to his mother.
"My mom would harp on me and my brother about saving," he says. "Pick up this coin, and put it into a piggy bank and then into a savings account." While in the Army, he had money enough to invest in CDs. "I was like, 'I should do finance.'"
Now Owens, who recently spent a year as a wealth-management intern at Morgan Stanley, wants to get into real estate, and he and his girlfriend are thinking about starting a business that would sell beauty products and treatments to women. He's also applying for the Cougar Investment Fund, Bauer's multimillion-dollar private investment fund managed by select graduate students.
And somehow, through it all, Owens has made his way back to sports. He plays flag football with UH's intramural leagues. Though his team has won two championships, he's shed his youthful illusions.
Does he dream of being an MVP? Of course. As long as it's in finance.