Community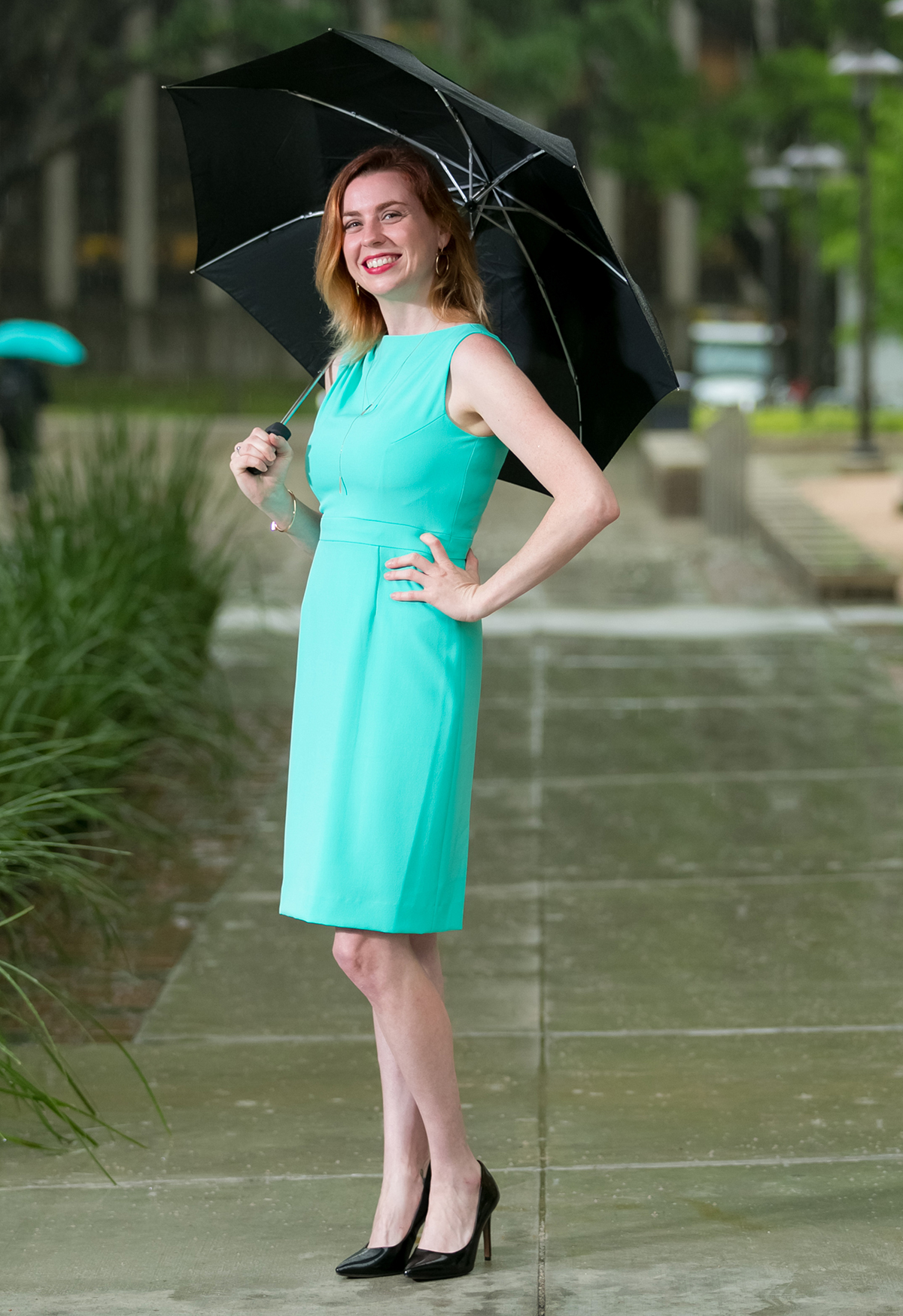 THOUGH PENNY DAVIS HAS AN UNDERGRADUATE DEGREE FROM DUKE UNIVERSITY, SHE SAYS, "I AM GETTING SO MUCH OUT OF MY MBA, I WISH I COULD HAVE SKIPPED UNDERGRAD AND COME STRAIGHT TO BAUER."
Marketing is both creative and analytical.
Lauren Davis (MBA '11)
Change of Heart
Bauer MBA Alumna Transitions From Fine Art to Digital Marketing
Penny Davis (MBA '11) graduated from Duke University with a double major in art history and visual art in 2008, which wasn't exactly a boom year for the economy or liberal arts majors entering the job market. She had hoped to find work in an art gallery but ended up in graphic design.
By 2010, Davis was back in her hometown of Houston, studying for her MBA at Bauer College and working as a web designer. Around that time, she discovered the appeal of digital marketing, a field where she could be both creative and analytical.
"The issue with graphic design is that when you send out a catalog or do a flyer, it kind of just gets lost out there. You don't know what's happening with them," says Davis.
"I think that's why digital marketing appeals to me so much. You actually find out what happens. You get to track people: Did they eventually become customers for a client? What happened? You're not like, 'OK, let's try it in red now. We tried it in blue.' That's kind of what we do with graphic design."
That insight into the power of Internet marketing has served her well.
Just as she was wrapping up her MBA, Davis and three Bauer teammates won the Google Online Marketing Challenge. The group's $200 AdWords campaign for the Houston Symphony beat out more than 4,400 teams from 68 countries. It also won them a week in San Francisco, where the global champs were treated like celebs and got to hobnob with Google execs. The experience opened doors for Davis and has had a big impact on her career.
During the course of the Google Challenge, the Bauer team, which happened to be all women, sought expertise from Houston marketing experts. That's how Davis met Anita Perez, the co-founder and director of operations for Houston-based TopSpot Internet Marketing, where Davis has worked since shortly after graduating and where she is now the Enterprise Paid Search Department Manager, charged with working with major clients.
Like many MBA seekers, Davis came to Bauer because she felt she needed to enhance her skill set. She was working as a graphic designer, yet she had little formal training in the field. "I wanted to have a little bit more credibility, have that marketing and business knowledge to be able to make all of those things I was already doing make more sense."
One course that was especially meaningful was an online marketing course taught by Steve Koch, now the assistant dean for Graduate and Professional Programs at Bauer.
"I don't know many MBA programs that have that," Davis says. "It was very special. And of course he developed it, and it kind of laid the groundwork for anyone who wants to participate in the Google Online Marketing Challenge."
Meanwhile, outside the halls of TopSpot, Davis has found other ways to combine her creative spark with her marketing flair.
A guitarist and singer-songwriter with two albums on iTunes and Spotify, Davis has developed a digital persona, PennyandPaper, to market her brand and her band, which she describes as folksy with a splash of country. She proudly notes that her Twitter account, @pennyandpaper, has 17,000 followers, while one of her videos has gotten nearly 12,000 clicks. (She's a pay-per-click pro after all.)
Penny is a nickname that Davis appreciates for its value in — what else? — search-engine optimization. "There are 1,000 Lauren Davises in the country, and most of them are pretty accomplished, cool people, which makes it all the harder to find one. As an aspiring Twitter poet, musical act and digital marketer, I'm happy to make it easier to find me online."
Before she was on the team that won the Google Online Marketing Challenge, Davis was a synchronized ice skater at Duke. (Her team went to nationals.) Even now in the work-a-day world, she has hardly lost her drive to compete.
TopSpot is big on celebrating Halloween, and Davis' costumes are legendary. She's picked up prizes for best individual costume (twice), funniest costume (twice) and creepiest costume. Along the way, she's dressed up as Progressive Insurance mascot Flo, a creepy clown with a real scary smile, and — her favorite — a yellow inflatable AirDancer. "I made it out of laundry hampers," she says. "It took me two months."
Best of all, the wacky, waving inflatable man was a marketing tie-in.