Students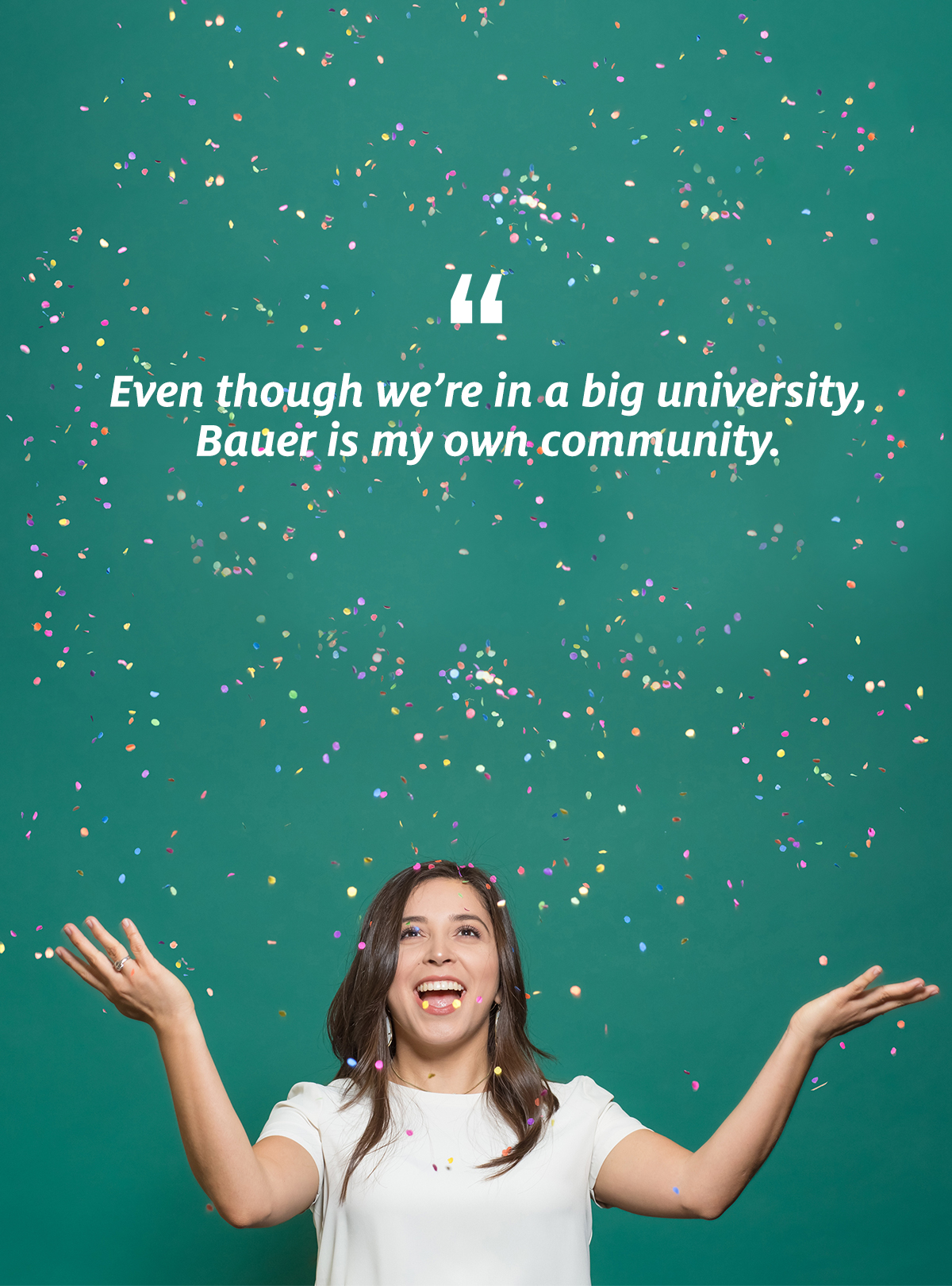 WITH EXPERIENCE FROM BAUER COLLEGE'S TED BAUER LEADERSHIP CERTIFICATE PROGRAM AND SHRM STUDENT ORGANIZATION, KEIRY HERNANDEZ WILL EARN A BACHELOR OF BUSINESS ADMINISTRATION DEGREE THIS FALL.
ON THE BRINK
Management Senior
Poised for Success
Keiry Hernandez has reason to celebrate.
The Bauer College management senior is preparing to graduate this fall as the first in her family to earn a college degree.
During her time at the college, she was admitted to the prestigious Ted Bauer Leadership Certificate Program and achieved an officer position in the Society for Human Resource Management (SHRM) student organization.
"It's always in my head — I'm setting an example for my siblings and cousins," Hernandez said. "My family is really what motivates me. They're the ones reminding me why I'm doing what I'm doing and to give my all in everything I do."
Just a decade ago, Hernandez's future was less certain. She was nearing her freshman year in high school and was zoned to a school in an underperforming district.
"My mother had entered the lottery for the KIPP Public Charter School every year since I was in fourth grade, and I got chosen that year," she said. "I don't know if I'd be here, preparing to graduate from Bauer today, if I had gone to a different high school."
The experience as a KIPP Houston High School student was transformative, Hernandez said, offering not only the opportunity to job shadow with professionals from companies like Shell and Accenture but also a community of teachers and peers focused on future success and college.
"I didn't know what college was until I got to KIPP, to be honest," she said. "Their mission is to get students to and through college, and they teach you about the importance of higher education."
Hernandez added: "KIPP entered at a time in my life when it was critical. I'm very passionate now about education, and being able to give back and help other students is a goal of mine."
After earning a high school diploma from KIPP Houston, she initially thought she'd find success away from home. "I left Houston for college, but I missed home a lot," Hernandez said. "The moment I left, I was homesick. When I started looking into schools, I knew I wanted to live in Houston, and with Bauer, I had the chance to attend a leading business school essentially in my backyard."
She added: "It's been a great adventure to come back to Houston and be a Bauer student. It's so diverse. You meet different people every day. The networking opportunities and resources are great. Even though we're in a big university, Bauer is my own community."
Hernandez has also connected with other KIPP alumni on campus, serving as a liaison last year between the group and the charter school.
"I helped the students with what they needed, from learning how to apply for FAFSA and TAFSA and navigating financial aid to organizing socials for networking and keeping them aware of internship opportunities," she said.
Paying it forward comes naturally for Hernandez, who cites her parents Jose and Fernanda as inspirations—they came to the United States from El Salvador when she was 2 to build a better life for their family, which includes two other daughters who are now also enrolled in KIPP schools.
"Being the first in my family to graduate from college and knowing that I'm setting that example is what drives me to work hard," Hernandez said.
After completing her undergraduate program this fall, Hernandez plans to go back to school in a few years to earn a master's degree and eventually pursue a leadership role in employee relations for an organization.
"To me, the qualities of a successful leader are authenticity, integrity and honesty," she said. "If you're able to have those three things, you can set a good example for others and motivate and empower them."