Students
Finding the Spark
Entrepreneurship Seniors Launch Nanotechnology Startup Through Wolff Center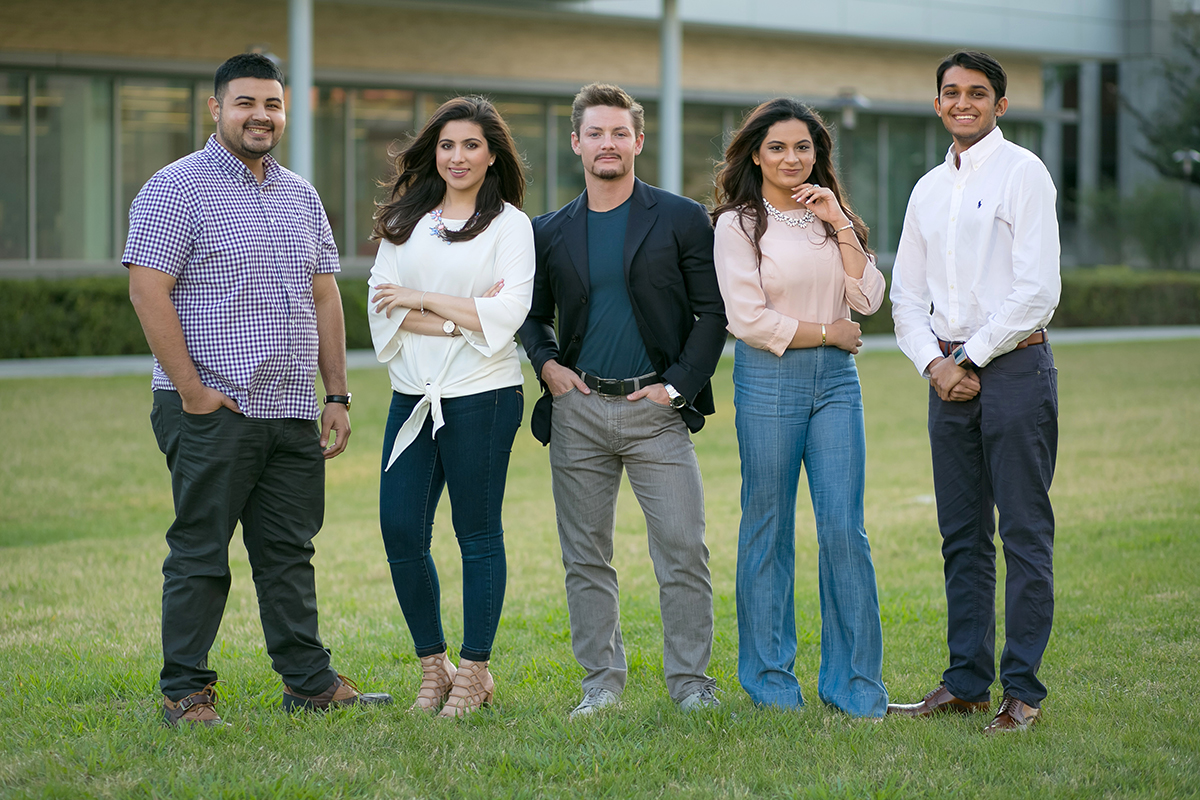 WOLFF CENTER STUDENTS (FROM LEFT—BRYAN MARTINEZ, KIRAN MEGHANI, EMMIT SCHULTZ, ARSHEEN MEMON AND RISHABH JAIN) ARE LEADING A STARTUP THAT HAS THE POTENTIAL TO REVOLUTIONIZE THE SOLAR INDUSTRY.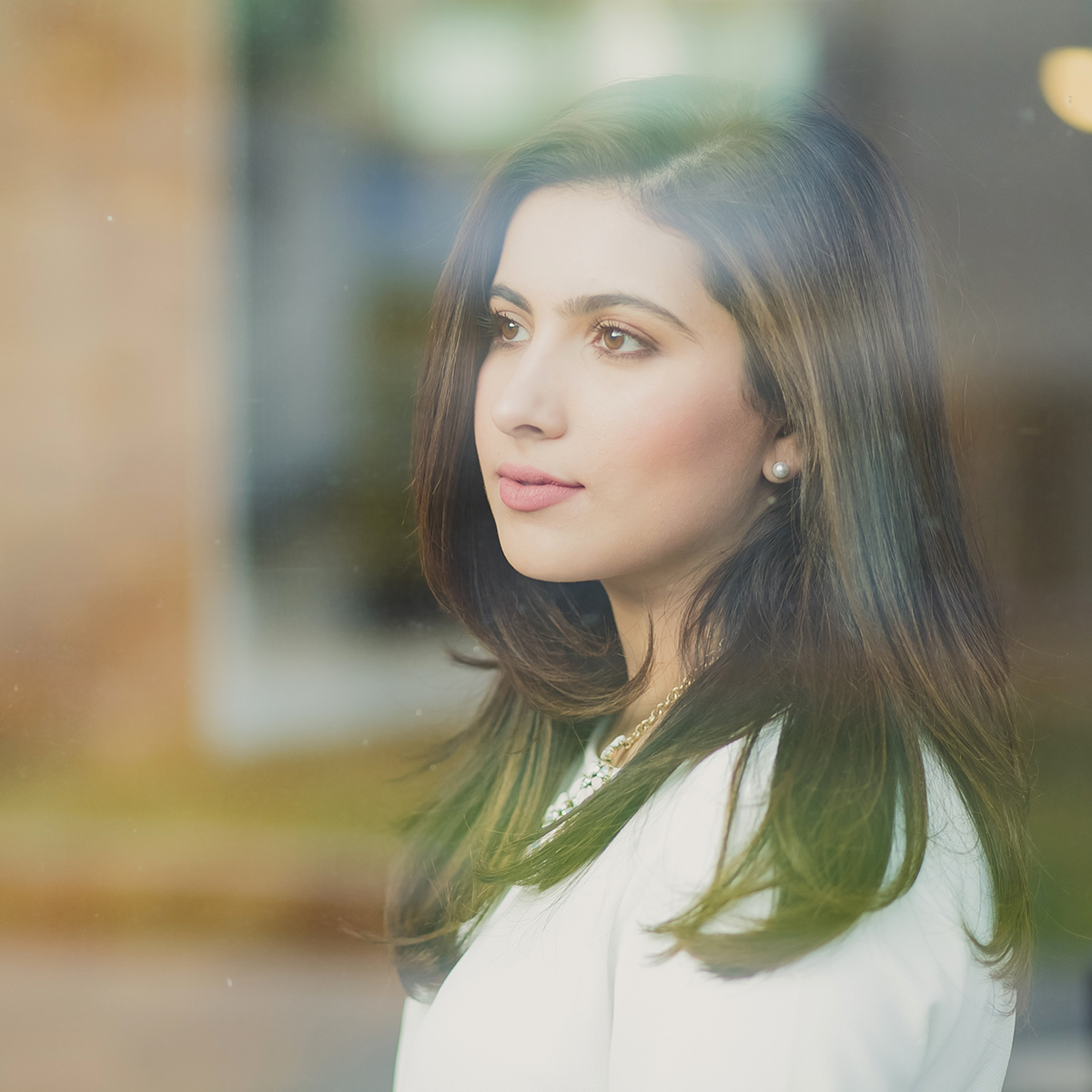 We were always the underdog team, but we used that perception to inspire us not to give up. Because we are entrepreneurs, we all have a natural motivation and desire to win.
KIRAN MEGHANI,
MARKETING & ENTREPRENEURSHIP SENIOR
LEARN MORE: Wolff Center for Entrepreneurship →
A team of undergraduate students from Bauer College's entrepreneurship program are leading a startup that has the potential to revolutionize the solar industry.
In collaboration with the University of Houston's Division of Research, students from the college's Cyvia and Melvyn Wolff Center for Entrepreneurship (WCE) are divided into teams and tasked with creating business plans around intellectual property developed by university faculty. That's how Bauer seniors Rishabh Jain, Bryan Martinez, Kiran Meghani, Arsheen Memon and Emmit Schultz first came together.
The five students were assigned a self-assembling nano-coating technology developed by Dr. Randall Lee, chair of the UH Department of Chemistry. The product, which provides a longer lasting coating alternative for solar panels, aims to transform the clean energy industry. With support from the Wolff Center, the team built a startup called Vescence around the technology.
"It's a great way to apply everything that we've learned at Bauer," Memon said. "Everything that I've learned in the past four years, whether it be from finance or management classes, I've been able to apply in some way during this process."
After fine-tuning their business plan and receiving guidance from mentors on their presentation skills, the team entered and won the Houston Maker Fair and UH business plan competitions, winning a total of $4,000. They were also named audience favorite in the UH competition, despite ranking near the bottom of their class in early evaluations.
"We were always the underdog team," Meghani said. "But we used that perception to inspire us not to give up. Because we are entrepreneurs, we all have a natural motivation and desire to win."
The team also credits WCE faculty and mentors for providing them with valuable feedback that helped them excel during the competitions.
"I think the WCE really gave us everything we needed," Memon said. "They never held back. For example, James Kane and Keith Rassin, faculty who recently joined the program, work really closely with us. (Former WCE director and current UH executive director for the Center for Industrial Partnerships) Ken Jones has also always given us any time we need. And (WCE director) Dave Cook has been very helpful in making sure the team gets along well."
The team received coaching on everything from improving their presentation slide deck to their posture and wardrobe while presenting — details that made the difference when it came to competing and putting their leadership skills to practice, the team said.
"Sometimes they would be extra tough on us in order to challenge our knowledge and tenacity to move forward," Schultz said. "But it challenged us in building that courage and confidence."
Jain added: "The Wolff Center showed us that every leader has stronger skills and weaker skills. We used that in our presentation by putting our stronger speakers first and last, and deciding which topic each person should cover."
Even though all five students on the team will graduate this year, they don't plan to stop working to launch Vescence anytime soon. They've got their sights set on more business plan competitions and are already in negotiations with international beta sites to continue developing the product.
"We're focusing on the solar industry, but this technology has so many industries that it could be applied to," Schultz said. "Once we're comfortable in this market, we plan to then diversify within other markets."
The team also hopes to someday use Vescence to give back to the global community, a passion they say they all share.
"If we can use this technology to improve how clean energy is produced and make it more efficient, maybe we can take it to countries that don't have electricity," Martinez said. "Not only is there a focus on profits, but there's a social aspect too."