Students
Leadership Without Limits
Marketing Senior Overcomes Obstacles to Pursue Passions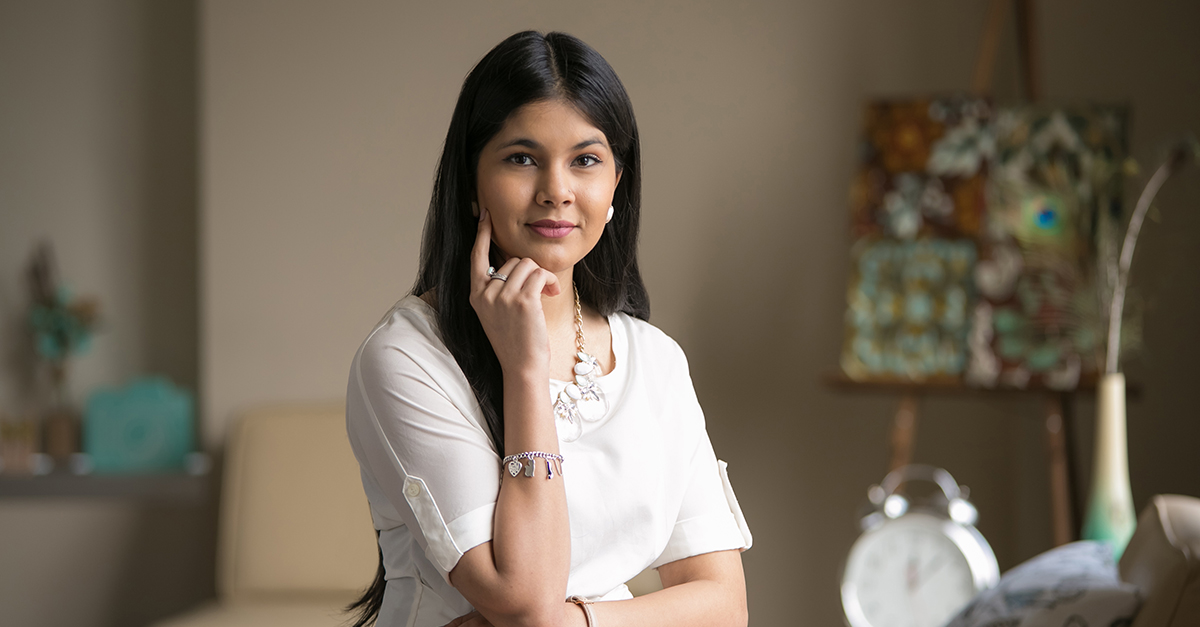 MARKETING SENIOR AISHAH ANSARI COMBINES HER LOVE FOR PHOTOGRAPHY AND WRITING WITH THE SKILLS SHE'S GAINED IN MARKETING FROM BAUER COLLEGE AS SHE PREPARES TO GRADUATE AND ENTER THE WORKFORCE.
Aishah Ansari's life had a rocky start.
Born two months early, suffering a brain hemorrhage and requiring a heart monitor for six months, the odds were stacked against her.
"Doctors said if I somehow survived, I would most probably live a life full of difficulties," Ansari said.
The baby given a bleak prognosis is now a young woman poised to graduate this spring with a bachelor of business administration degree in marketing from Bauer College. Although medical obstacles didn't stop her, the journey hasn't been a straight path for Ansari.
"I grew up in a traditional Indian-Muslim family. Early on, I was exposed to the usual question, 'What do you want to be when you grow up?' and expected to answer with something in the medical field," she said. "And with my experience as a preemie, I felt I needed to give back, so that's what I had my eyes set on."
Ansari began her higher education experience studying pre-nursing at a junior college but quickly realized she wasn't fulfilling her natural creative aspirations. During that time, she started a blog, which became an outlet for her creativity, but it wasn't enough.
"I just kind of took a step back and looked at what was going on in my life," she said. "I started a photography business in high school, and by this point in junior college, I had been running it successfully for a few years, photographing birthdays, graduation portraits, and weddings. I realized maybe medicine isn't for me—I have a more creative outlet."
She transferred to another Texas university but just spent a semester there before returning home to Houston and coming to terms with her decision to change directions and pursue a different degree, something she said she was a bit worried about how her family would respond to.
"The biggest thing was breaking that social norm of not going into medicine. My brother is a doctor and my sister is in public health, and a majority of my cousins are in the medical field," Ansari said. "All I ever knew growing up was medicine. I tried to follow in my siblings' footsteps, but that's where I lost myself and my identity, just trying to do what they had done."
From there, she enrolled in Bauer College and found an almost instant connection with marketing.
"I needed to stay true to myself and what I'm passionate about, and that was being creative," Ansari said. "Whether looking at the world through a camera lens or as a writer, I knew I had to hang onto that creativity and that element of my life. I needed to find a way to incorporate that into my life every day, and I realized marketing gave me that opportunity."
She has thrived as a Bauer student, joining student organizations including Bauer Ambassadors and the American Marketing Association and earning membership in Phi Theta Kappa Honor Society, the National Society of Collegiate Scholars, the National Society of Leadership and Success, and the Society for Collegiate Leadership & Achievement National Honor Society. Ansari continues to operate her photography business, and has held internships with ITW Insulation Systems, Wunderman and Mattress Firm.
"I'm really grateful to be on campus where professors have their doors open, and you can talk to them about everything from coursework to what's going on in your life," she said, noting particular thanks to Associate Dean for Student Affairs Richard Scamell, Clinical Assistant Professor Emese Felvegi and Clinical Assistant Professor Staci Smith.
Now far from her days as an infant on a heart monitor or a teenager unsure of her identity, Ansari is ready to navigate life as a young creative professional.
"I wouldn't change my life for anything—I realized I am different, and there's nothing wrong with that," she said. "I wanted to make sure I had a profession and a life that I was happy with."