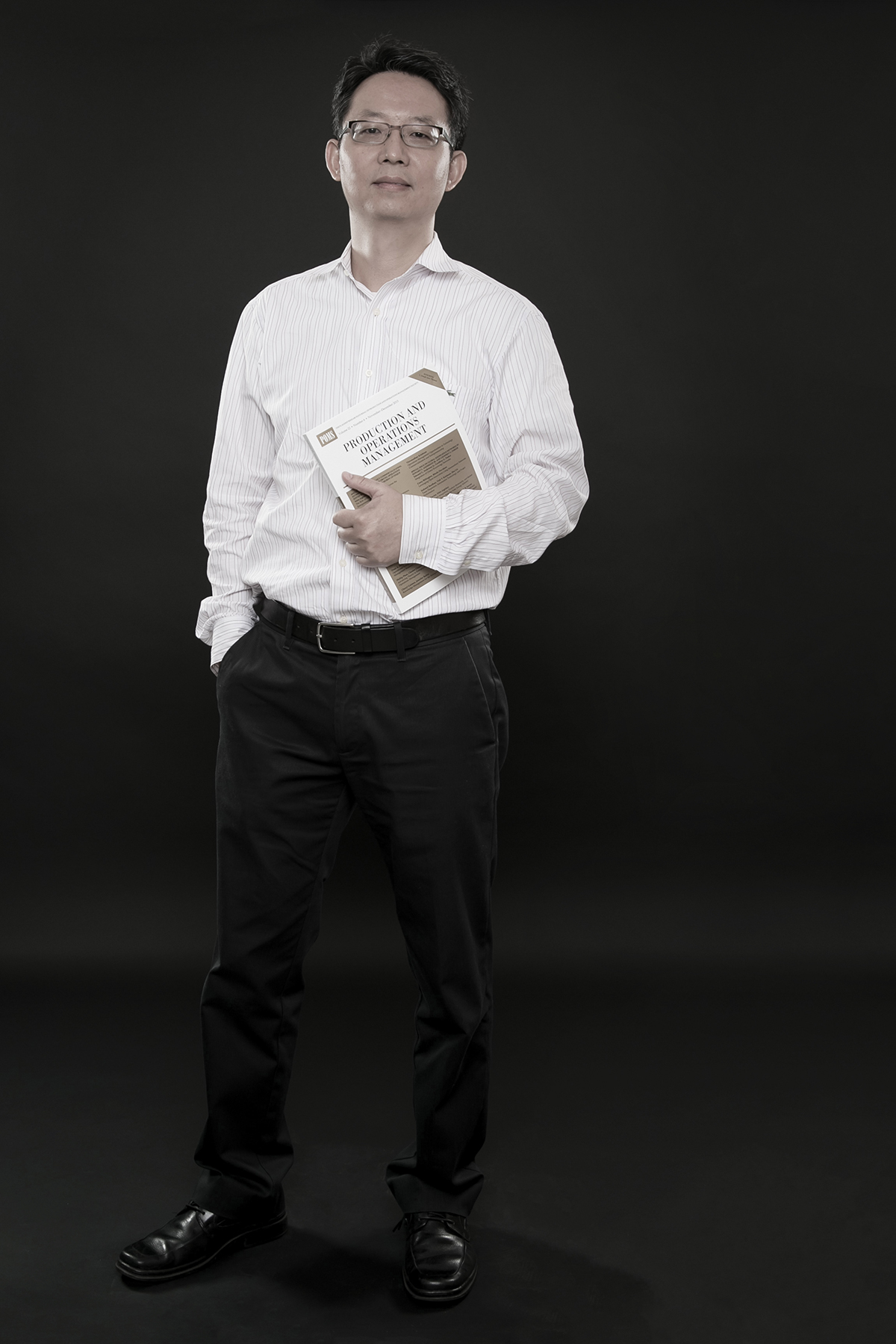 ASSOCIATE PROFESSOR DAVID PENG WAS RECENTLY SELECTED AS AN ASSOCIATE EDITOR FOR THE JOURNAL OF SUPPLY CHAIN MANAGEMENT AND RECEIVED THE PUBLICATION'S ASSOCIATE EDITOR SERVICE AWARD.
It's very possible (for our students) to get real world experience, be paid and finish a degree at the same time.
ASSOCIATE PROFESSOR DAVID PENG
Faculty
Deep Industry Ties
Bauer's Business Connections Bolster Research
To easily gain accessibility to industry professionals who serve as a conduit between academic theory and boots on the ground experiences bolsters research and understanding about what does and doesn't matter when it comes to the impact of supply chain in the real world.
David Peng, associate professor of supply chain management in Bauer College's Department of Decision & Information Sciences, has experienced firsthand the ways working in a college with deep ties to industry can enhance the ability to produce relevant research.
After Peng and a co-author submitted a research paper, "Exploring the Impact of Delivery Performance on Customer Transaction Volume and Unit Price: Evidence from an Assembly Manufacturing Supply Chain," to a top business journal, the journal's editors requested more information about industry context.
"They were requesting a lot of material that was challenging. Fortunately, we're at Bauer, and in Houston, which helps tremendously," Peng said, explaining that a call to the college's alumni office quickly yielded contacts in the air conditioning industry he had studied.
"Most were very willing to help, and we got a lot of useful information to enhance the information for reviewers," Peng said. Among those Peng connected with are Century AC Vice President Steve Fair, Goodman Manufacturing leader and Bauer alumnus Jason Wong, and Bauer College Sales Excellence Institute Director of Corporate Relations John Pingel.
Peng's final paper examining how operations and supply chain function affect industry customers' purchase behavior showed finegrained empirical evidence that providing faster and more accurate delivery of parts is a key factor in influencing customer behavior.
His paper was published in Production and Operations Management, which was named to BusinessWeek's list of premiere business journals.
Peng is an associate editor for several premiere business journals, including Journal of Operations, Management, Decision Sciences, and Journal of Supply Chain Management. He received Journal of Operations Management Associate Editor Service Award for his service to the publication from 2010 to 2015. Peng, who earned a master's degree in information systems management from Carnegie Mellon University and a Ph.D. in operations management from the University of Minnesota, previously taught at Texas A&M University and worked as a procurement manager for LG Electronics.
His research focuses on the impact of technology capabilities on operation and financial performance of manufacturing and service organizations.
"As products become non-differentiating, you differentiate through excellent service. I'm trying to demonstrate the effect of these things on the financial matrix," he said.
In addition to Bauer's reputation in the business community, its presence in one of the country's most populous regions that is a hub for manufacturing and world trade in industries ranging from health care to oil and gas, offers untold advantages to both researchers and students, he said.
"When students want to do an internship here, they can do it while studying full-time. It's very possible to get real world experience, be paid and finish a degree at the same time," Peng said, which isn't always the case for students attending school in smaller metropolitan areas.
For researchers, the access to large supply chain operations in a variety of fields offers advantages as well.
Peng said supply chain management may be one of the least easily visualized yet critical facets of business, and its intangibility can present challenges for those trying to interest students in the vital but lesser known field.
But one of its values is that it offers a very dynamic opportunity for professionals, he added. Challenges range from shortened product lifespans amid changing technologies to ever-fluctuating global circumstances influenced by changing politics, consumer tastes and natural disasters.
"It's a real attraction for students who aren't drawn to doing the same thing over and over," he said.