Greetings,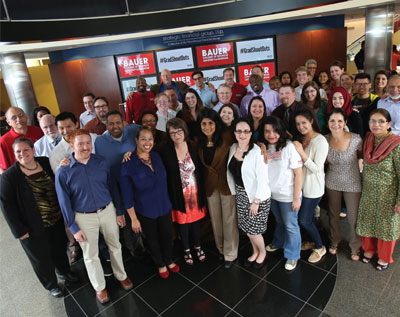 "The assets go up and down the elevator every day." David Ogilvy | Famed Advertising Executive
As part of the Bauer family, you help to shape the message and communications strategy of the C. T. Bauer College of Business at the University of Houston.
The work that you do impacts how the college is perceived — locally and globally, on campus and in the community. And, the way that you talk about the college has an impact, too.
Our goal in sharing this information with you is not only to provide you with tools to consistently convey the college message with one voice, but also to remind you how much you matter to the college and our mission.
Every interaction you have with prospective and current students, partners and employers, and peer faculty and administration has the potential to reflect the Bauer College. You are our most valuable asset, and you have helped to build this place and shape what has become the Bauer story.
I encourage you to read through this website and refer to it often. We have included a "Cheat Sheet" that you can print and keep near your workstation, as a way to easily remember some of the key points within the main site. And, if you have thoughts about how to communicate all of the exciting things happening here, don't hesitate to reach out.
Sincerely and with warm regards,
Jessica Navarro
Executive Director of Communication
C. T. Bauer College of Business
University of Houston
A Carnegie-designated Tier One research university