Program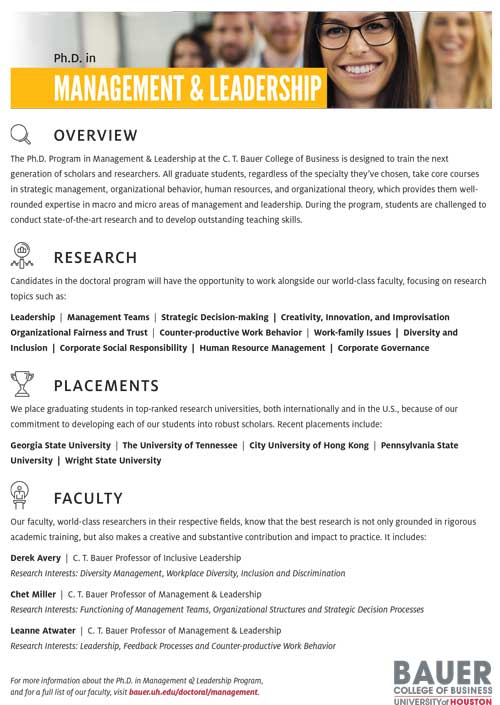 See the Doctoral Management & Leadership flier
Bauer's Ph.D. program in management and leadership gives students the tools for conducting advanced business research, with special expertise in topics such as corporate governance, the energy industry, human resource strategy, technology innovation, and value-based leadership, among many other areas. All graduate students, regardless of the specialty they've chosen, take core courses in strategic management, organizational behavior, human resources, and organizational theory. Both micro and macro areas of management are covered, with students challenged to conduct state-of-the-art research and to develop outstanding teaching skills. An open door policy creates a collegial atmosphere where ideas and collaboration thrive. Our faculty and doctoral students co-author in top journals, and our students are actively presenting their research and winning awards at national and regional conferences . Outstanding teaching skills are honed as doctoral students assume full-time teaching assignments for undergraduate classes. Recent past graduates have found positions with the University of Tennessee, City University of Hong Kong, Pennsylvania State University, Georgia State University, Wright State University, the University of Texas at El Paso, St. Mary's University (San Antonio), and University of Tampa, for example.
Research
Faculty research covers a broad range of Management & Leadership topics including creativity and improvisation, leadership, management teams, strategic decision making, technology innovation, organizational fairness and trust, counter-productive work behavior, stress, work-family issues, and a number of areas in human resources such as compensation, selection and training. Bauer's Management & Leadership Department also works in close collaboration with the UH doctoral program in industrial/organizational psychology, and doctoral candidates often find courses in other disciplines such as psychology, economics and sociology relevant to their research. Students are encouraged to present papers at prestigious management conferences right from their first year in the program. They also learn about the academic profession through invited guest lectures.
Student Support
Accepted doctoral students are hired as Research Assistants for 20 hours a week for four years and receive competitive year-round stipends. The Department of Management & Leadership provides a laptop or desktop for new students and additional funding for students presenting papers at national conferences.
Admissions
We strongly encourage applicants to apply as early as possible. The Department will begin reviewing completed applications after December 1st, and submission prior to the deadline will enable us to consider applicants for the entire range of financial support from both the College and the University.
For more application information, please visit the admissions page here.
Spotlight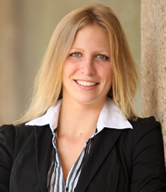 "The Bauer Ph.D. program in Management & Leadership challenged the very boundaries of my intellectual capacity and consistently rejuvenated my intellectual curiosity through meetings with colleagues, guest speaker presentations, an array of interesting classes and programs designed to encourage students to reach their full potential. Being able to meet with knowledgeable professors who are more than eager to hear your ideas and help you grow as a scholar is a truly rewarding experience. This type of open communication, trust and guidance is what sets UH Bauer apart as a premiere research institution and is something that potential candidates can look forward to."
- Rachel Sturm,
Associate Professor, Wright State University