Bauer Excellence Scholars
Shatrav Tej Garla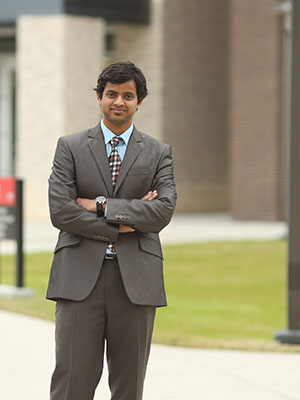 Classification - 1st year full-time MBA
Expected Graduation Year - 2014
Major/Area of Focus - Information Systems
Hometown - Visakhapatnam, India
Undergraduate School - Jawaharlal Nehru Technological University
About Me
Currently I am pursuing my MBA in the Bauer College of Business at the University of Houston. After graduating as a Computer Science Engineer, I have worked as a software developer for Tata Consultancy Services. My workplace was where I got international exposure and a taste of the global corporate world. I was exposed to huge amounts of data and learnt the ease with which data can be handled. My passion for learning new techniques to handle data prompted me to independently learn how to automate data management using Excel Macros. This drove me towards my career choice of pursuing an MBA with a concentration in Information Systems.
I enjoy meeting new people with different backgrounds and to exchange our perspectives. My interests include creating automated tools which can be used in day to day activities. Music, a book or a game of tennis is what I look for after a hectic day of work.
Campus and Community Involvement
Member of the Future Leader Mentorship program. A one year workshop sponsored by the Bauer college of Business which enables current MBA students to meet with experienced industry professionals on a one to one basis.
Member of iVoulnteer. A community development organization which works for the upliftment and education of the masses.
Awards and Honors
'Future Leader Scholarship Award' offered by the Bauer College of Business
'TCS GEMS: On the Spot award' offered by Tata Consultancy Services
'TCS GEMS: Best Team award' offered by Tata Consultancy Services
Bronze Medal in school shuttle badminton championship
Runners up in school cricket tournament
Study Abroad
I have always been keen on pursuing my studies abroad as I believed diversity as the best source of knowledge. This was the reason which made me choose United States as my destination of study and University of Houston which provides me with the right amount of diversity. I am currently not interested in any future study abroad programs as I am in the process of learning more about this country.
Research
Areas of interest for research in the future include SAP BW (Business Warehouse) and Big Data.
Future Endeavors
My immediate goal after graduation would be to work in an analyst role related to data or business. I would then slowly wish to climb up the ladder as a project manager or a database administrator by gaining the proper domain experience required.
Bauer Excellence Scholars
Contact Us:
---
---
See Also
---
Latest News