UH Bauer College Announces Naming of Stagner Sales Excellence Institute
Mattress Firm CEO Stephen Stagner Supports Nation's Leading Sales Program
Published on December 10, 2015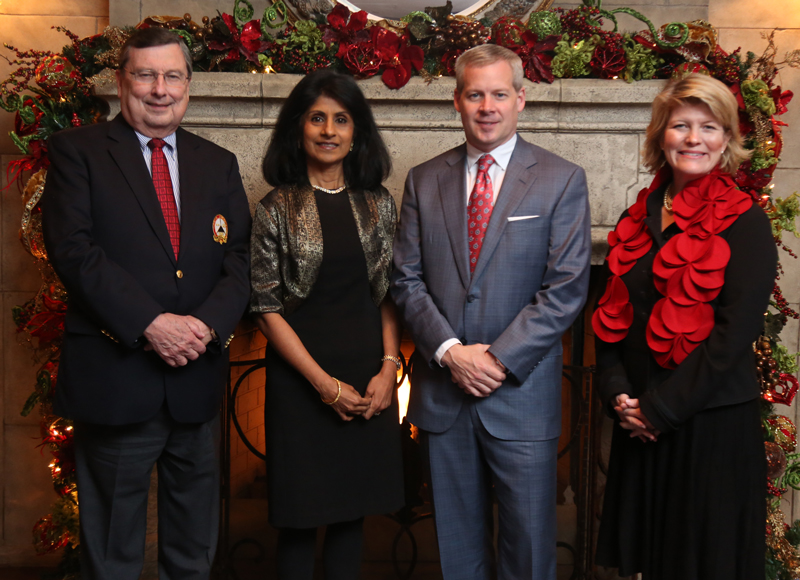 Mattress Firm CEO Stephen Stagner, second from right, has made a gift to support and name the sales institute at Bauer College, which will be known as the Stephen Stagner Sales Excellence Institute. Stagner celebrated with Bauer College students and leaders last week at the college's sales graduation and awards ceremony, including (from left) Executive Professor Randy Webb, Dean Latha Ramchand and Assistant Vice President of Development Maya Houston.
The C. T. Bauer College of Business at the University of Houston has announced that Mattress Firm CEO Stephen Stagner has made a gift to name the college's sales program, now known as the Stephen Stagner Sales Excellence Institute.
The announcement was made during the program's Graduation & Awards Ceremony, which celebrates the achievements of the sales program and its students and faculty each semester. The new class of students in the institute's Program for Excellence in Selling (PES) is also inducted during the event.
"We are uniquely fortunate to have someone who believes that the best investment is the investment in students — an investment in human capital," Bauer College Dean Latha Ramchand said. "Steve believes in what we do, he speaks in our classes, he recruits our students to work for him. In other words he walks the talk."
Stagner's involvement with Bauer College began as a guest speaker in a PES class, where he observed the depth and breadth of the sales curriculum at the college. Since then, Stagner has remained involved with the college as a strong PES supporter, recruiting several graduates of the program and frequently speaking to students, including a keynote address last semester at the Graduation & Awards Ceremony.
"Steve is passionate about the role of sales, but even more importantly, he is passionate about our students and their success," said PES Executive Director Randy Webb. "He shares our vision for making sure the Sales Excellence Institute continues to be the leading sales program in the country. We are excited about working with him to take our program to the next level."
Stagner said his vision for the institute is to build on its history of student success and to help it become the world's foremost authority on the profession of sales.
"Sales was my passion and my life," he said. "If I was going to give an investment, I wanted to give it here because it was going to a great place and help people for a long time."
Stagner added: "I want to help the students be prepared for what's going to happen in real life because sales touches almost every profession. I would like to put the profession of sales on a world platform to where it is perceived and honored as a profession."
As CEO of Mattress Firm, Stagner oversees an organization that operates approximately 2,500 company and franchise stores across the United States. He opened his first franchise location in Atlanta in 1996 with only $1,300 in the bank. Eight years later, he and his business partner had grown their independent franchise to more than 50 stores and $62 million in annual sales. After merging with Mattress Firm in 2005, Stagner and his team have helped Mattress Firm become an industry leader and added more than 2,000 new locations across the country.
"Steve Stagner's gift represents a perfect partnership between the Bauer College Sales Excellence Institute and the donor," said Maya Houston, Bauer Assistant Vice President of Development. "This type of synergy ensures multiple wins – the college, the program, the donor, the community and most importantly, the students. This gift, the third largest in Bauer's history, is transformational. Steve's perspective on leadership and success will add value and vision that firmly establishes the Stagner Sales Excellence institute as a top national program."
Department of Marketing & Entrepreneurship Chair Ed Blair agreed, noting that the sales curriculum offered at Bauer College is unmatched elsewhere in the nation.
"We have a unique curriculum that features live selling, outstanding faculty and staff with extensive sales experience, and wonderful stories of students who have overcome adversity to achieve success," Blair said.
Founded in 1996, the program was built with a mission to become the leading global network for sales knowledge and education through exemplary research, custom executive education solutions and degree programs. SEI strives to make a difference in the world of ideas, in the lives of students and in the college, university and communities.
The institute's undergraduate offering, PES, is a unique and diverse organization with students from varying ethnic and professional backgrounds, experiences and ages. In 2016, PES will celebrate its 20th anniversary, now with over 2,200 alumni and relationships with over 1,000 organizations across the globe.
The Stephen Stagner Sales Excellence Institute is sponsored by more than 25 corporations, including 3M, Citgo, Ecolab, Liberty Mutual, Schlumberger and others, that contribute to the professional development of Bauer sales students by speaking to classes, mentoring students and attending events and meetings.