Program for Excellence in Selling Students Take Top Spots
Bauer Undergraduates Place at International Sales Competition
Published on April 6, 2021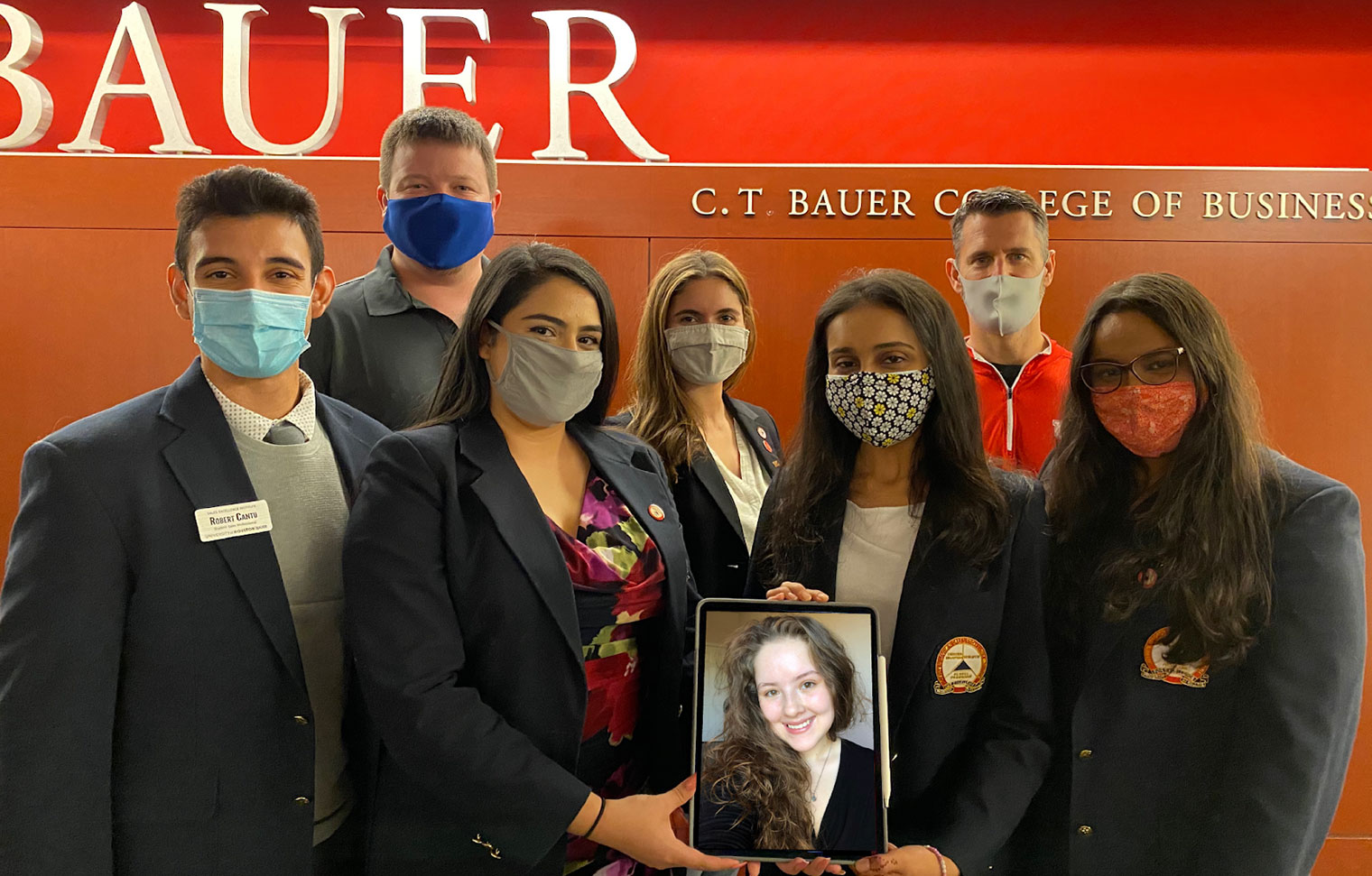 Undergraduate sales students from the C. T. Bauer College of Business recently placed in the top five at the 2020 International Collegiate Sales Competition (ICSC), continuing a longstanding tradition of recognition among the best for the college's Program for Excellence in Selling.
Bauer College students Teresa Garcia, Robert Cantu and alternate Vanessa de la Torre, claimed a top five team finish in the Sales Role Play Competition. Students Jaee Deshpande and Divvya Seernani finished in the top six for the case competition portion. Garcia also placed second overall. "Participating in ICSC was such a rewarding experience. Being able to work closely with talented coaches who were dedicated to my growth was an incredible privilege that pushed me towards excellence," Garcia said. "My team and I put in countless hours of preparation because it was so important to us to represent SEI well at an international level. I am proud to say that we did just that."
The competition, held at Florida State University, drew participants representing 80 colleges. A panel of judges evaluated teams on several factors, including building rapport, uncovering buyer's goals and challenges, and handling objections from the client. Due to COVID, the competition was held virtually.
The opportunity to participate in a sales competition at this level was invaluable, Cantu said.
"My experience in ICSC was better than I expected. The coaches truly care about your growth. They spend just as much time prepping for competition as we do. The team dynamic was always positive and welcoming. Each role-play I did I felt more and more confident because of the feedback our coaches had," Cantu added. "By the end, I felt I had a strong understanding of the SPIN cycle and I learned how to structure it to my personality style. I highly recommend to anyone who is thinking about competing to go for it it's a great experience."
The Program for Excellence in Selling is part of Bauer College's Stephen Stagner Sales Excellence Institute. Students are admitted into the program after a rigorous admission process and gain hands-on experience in live selling and securing event sponsorships and institute partnerships.
This year, Stephen Stagner Sales Excellence Institute Professor of Practice Craig McAndrews, PES Program Director Yara Suki and Citrix Field Sales Manager T.J. Brown (BBA '14), coached the students.
"Sales competitions provide students with a unique opportunity to master the sales processes they learn in PES and apply them to real products and solutions. Companies from around the country understand that participants in these competitions are some of the top talent that universities have to offer and actively compete to recruit them," Brown said.
Without PES and the opportunity to participate in a sales competition, I would never have been able to get to where I am today. I enjoy giving back to PES by coaching these competition teams and watching students develop their skills while finding opportunities to advance their careers."