$1 Million Gessner Gift Supports UH Sales Program
Sales Lab at C. T. Bauer College of Business Named in Honor of Andy and Barbara Gessner
Published on April 21, 2022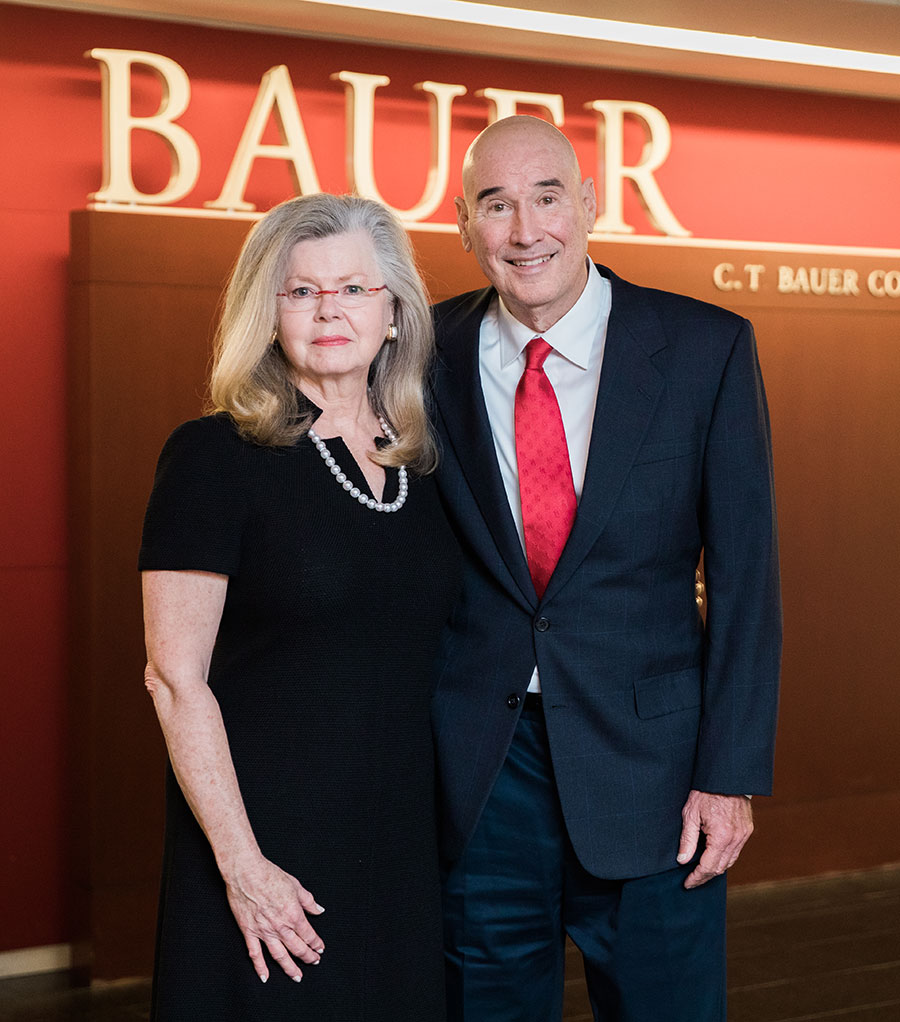 A $1 million gift from Andy (BBA '68) and Barbara Gessner to the University of Houston will support the education of aspiring sales professionals at the Stephen Stagner Sales Excellence Institute within the C. T. Bauer College of Business. In recognition of the gift, the institute's sales lab will be known as the Andy and Barbara Gessner Sales Lab.
Bauer's sales program enrolls more students and enlists more corporate support than any other university sales program in the country. The Gessners' financial support will be critical to elevating student success and research even further, according to Paula Myrick Short, UH senior vice president for academic affairs and provost.
"The institute has had an indelible impact on the business world by training sales professionals prepared from day one to lead and thrive in a competitive environment. This incredibly generous gift from the Gessners will only help take the program to new heights, and for that we are grateful," said Short.
Both Barbara and Andy Gessner attended UH in the 1960s, with Andy earning a bachelor's degree in business administration. He's the former president of Industrial Air Tool, a leader in industrial distribution, and credits his experience at UH for his success in business management and sales, and enjoys "paying it forward" to help future generations. Barbara is a graduate of Texas Woman's University. While raising their daughter, she was an active school and community volunteer and supported Andy in his career.
"Andy's long career in sales led him to believe that nothing happens until someone sells something --- be it a product, an idea, a service or themselves. So Coogs, keep on selling and never stop closing," said the Gessners.
The Gessners have been longtime supporters of UH, previously making gifts to Houston Public Media, the College of Nursing and most recently in 2016, two student initiatives within the Stephen Stagner Sales Excellence Institute – the Andy and Barbara Gessner Sales Program Top Salesperson Awards and the Andy and Barbara Gessner Sales Competition Team Endowment.
Students in the Program for Excellence in Selling (PES) within the institute – designed to give students real sales experience through more than 225 hours of live sales training – have a history of winning and performing well at the national level. Since the program launched in 1996, students have brought home wins in the National Collegiate Sales Competition, State Farm Sales Competition and other national and local sales competitions.
"Donors like Andy and Barbara truly embody the spirit of Bauer College," said Paul A. Pavlou, dean and Cullen Distinguished Chair Professor at Bauer College. "It is through their support we are energized to push ourselves further to provide our students with the best academic tools to help them succeed."
Randy Webb, executive director of the institute, said the impact of the Gessners' generosity through the years cannot be overstated. They provide funds for key account experiential trips each semester and have a full ride scholarship endowment for a PES student every year.
"Because of the continued generosity of Andy and Barbara, our students can continue to build their real-world sales experiences. We are very grateful to the Gessners for making such a huge difference in the lives of our students and for their support."
Story originally published on UH News Alerts.