Bauer College and Deloitte Foundation Commit to Fund Up to 10 Scholarships for Bauer Students Pursuing a Fifth-year Master's Program in Accounting
Published on November 22, 2022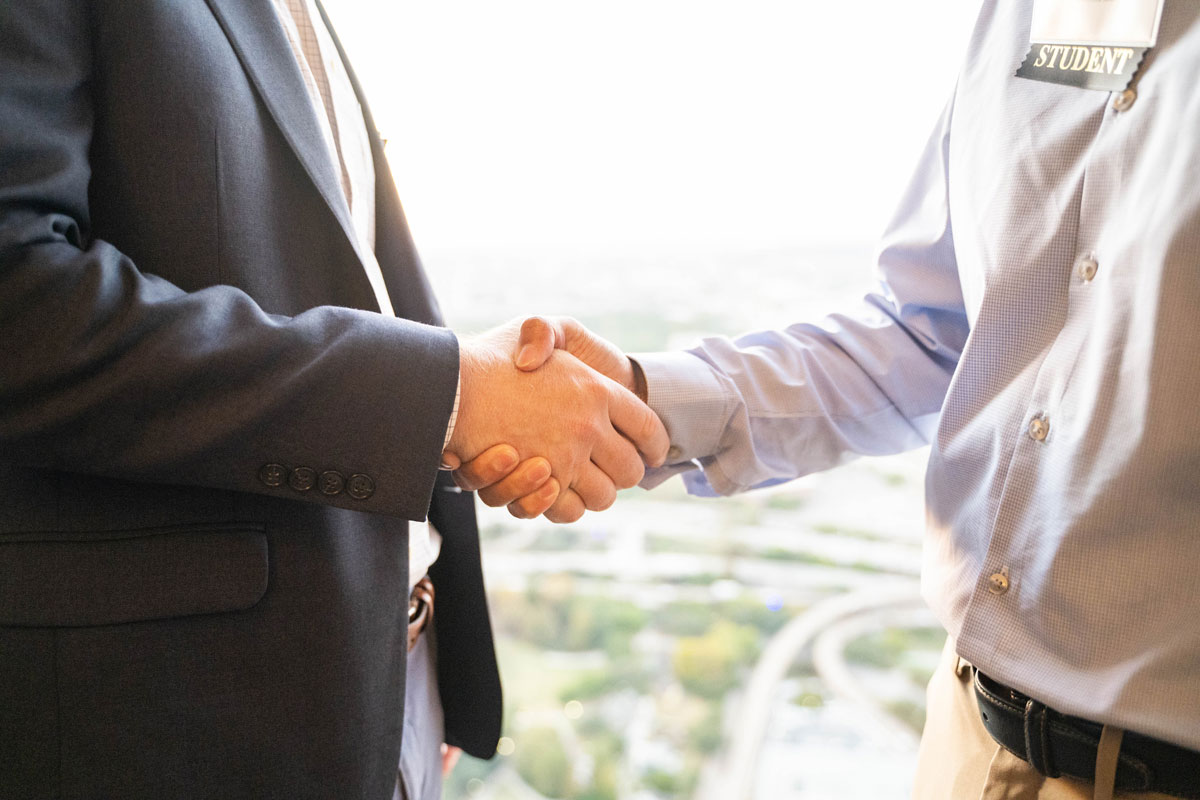 In an effort to support a racially and ethnically diverse student population and help strengthen the pipeline of diverse CPA talent, the C. T. Bauer College of Business at the University of Houston has announced its collaboration with the Deloitte Foundation in the Deloitte Foundation Accounting Scholars Program (DFASP) to fund up to 10 full-ride scholarships for incoming students in the Master of Science in Accountancy (MSACCY) program.
Launched in 2021, the DFASP works in parallel with Deloitte's* MADE (Making Accounting Diverse and Equitable), a $75 million commitment to fuel greater racial and ethnic diversity in accounting and tax and generate more opportunities and leadership pathways for the next generation of certified public accountants (CPAs). The Deloitte Foundation expects to fund $30 million in scholarships for students over the next several years, including students interested in pursuing a fifth-year master's degree in accounting, master's of tax or master's of accounting with a concentration in audit, advisory or tax through the Deloitte Foundation Accounting Scholars Program. The Deloitte Foundation is collaborating with nearly 20 participating colleges and universities across the U.S., including Bauer College, in an effort to increase representation of racially and ethnically diverse students in these programs. Participating schools and the Deloitte Foundation will cover 100% of tuition (excluding books and living expenses) for selected students.
"Bauer College is a leader in the future of business education, following our "The Future is Our Business" motto, and we are excited to build this collaboration with the Deloitte Foundation, specifically because it focuses on the importance of developing a more diverse and inclusive workforce in accounting, one of our key strategic objectives," Bauer College Dean and Cullen Distinguished Chair Professor Paul A. Pavlou said. "We are glad to see that the Deloitte Foundation supports our bold vision and is investing in the future of the accounting profession."
"The Deloitte Foundation accelerates innovation and equity in education to build pathways to opportunity for the workforce of tomorrow," said Erin Scanlon, Deloitte Foundation president. "We are very excited to bring the Deloitte Foundation Accounting Scholars Program to more colleges and universities this year to engage more diverse students in pursuing a career in accounting or tax."
"The Deloitte Foundation's collaboration with Bauer College supports the larger goal of diversifying the accounting profession here in Houston and beyond," said Amy Chronis, managing partner, Deloitte LLP, for Deloitte's Houston practice and vice chair, US Energy & Chemicals leader. "It is exciting to see the DFASP helping to support more students on their academic journeys."
Scholarship applications are now open to those who are currently pursuing an undergraduate degree in accounting, with all degree requirements to be completed no later than May 2023. In addition, applicants must be admitted to Bauer's MSACCY program for Summer or Fall 2023.
For more information regarding eligibility criteria, or to apply, click here.
About the Deloitte Foundation
Founded in 1928, the Deloitte Foundation is a not-for-profit organization that supports education in the U.S. through a variety of initiatives that help develop the next generation of diverse business leaders, and their influencers, and promote excellence in teaching, research and curriculum innovation. The Foundation sponsors an array of national programs relevant to a variety of professional services, benefiting high school students, undergraduates, graduate students and educators. Learn more about the Deloitte Foundation.
*Please see www.deloitte.com/us/about for a detailed description of our legal structure.