Wolff Center's Two Largest Annual Events Raise $536,022 from Wolffest and Wolff Gala to Support Programs for Entrepreneurship Class of 2024
Published on May 19, 2023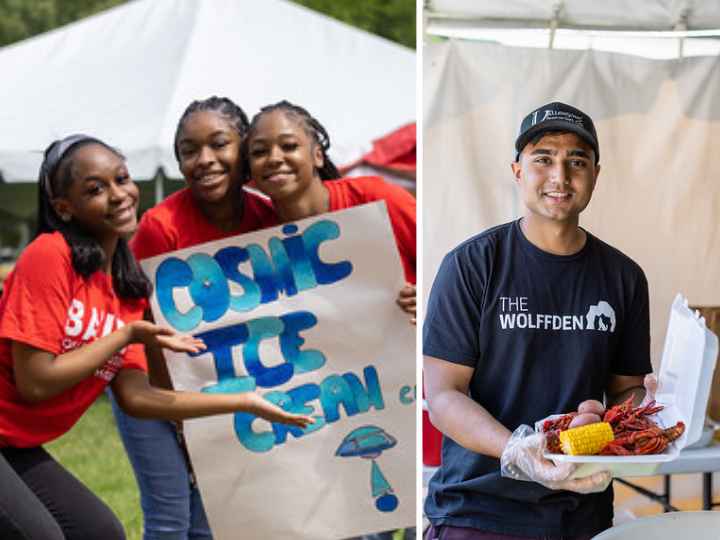 Team Cosmic Ice Cream versus Team WolffDen … which popup food operation won your dollar at this year's Wolffest? Not even rainy weather or muddy grounds kept crowds from the big three-day event, which has become a March tradition at UH. This year's record-setting proceeds from Wolffest and the Wolff Gala will support special projects for the next class of the Wolff Center for Entrepreneurship.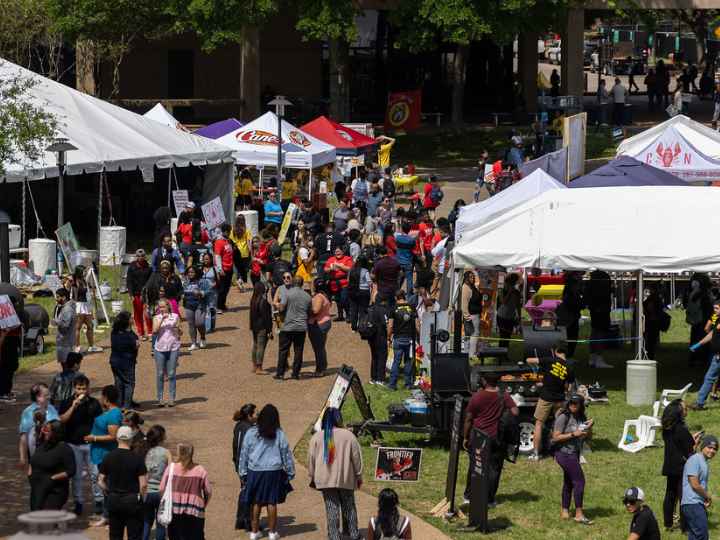 A total of $536,022 was raised this year through Wolffest and, two weeks later, the second annual Wolff Gala. The funds will finance special activities for the next Wolf Center class, beginning with a retreat that kicks off their entrepreneurship journey together. Over the 18-month program, the new class will experience the importance of business skills, vision, community service and determination.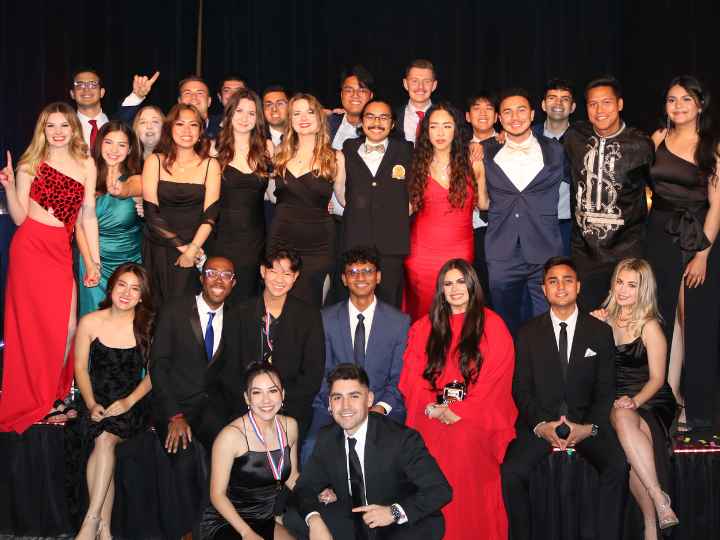 Upon graduation on May 10, members of the Wolff Center for Entrepreneurship Class of 2023 will already be making their marks in the business world. The past 18 months have been a roller coaster of studies and real-world experience, topping off with the capstone project of the annual Wolffest. The class is pictured above during the annual Wolff Gala, on April 15.
Proceeds of more than a half million dollars set a new fundraising record for this year's Wolffest and Wolff Gala – the two largest public events hosted yearly by the Cyvia and Melvyn Wolff Center for Entrepreneurship, part of the C. T. Bauer College of Business at the University of Houston.
"This was an amazing year. The 2023 class has shown impressive talent, and the fundraising total of $536,022 gives us reason to be proud," said Dave Cook, executive director of the Wolff Center. "But financial success is only one measure of our students' performance and where we are going as a program."
Last November, the Wolff Center was named by The Princeton Review as the country's best program for undergraduate entrepreneurs, as published in Entrepreneur magazine. This was Wolff's fourth consecutive ranking in the top spot, and its seventh year overall as no. 1.
"Public awareness of the Wolff Center is rising, drawing students from across the U.S. and beyond who are eager to start their own businesses. Wolffest and other programs showcase unique opportunities in our local community," said Paul A. Pavlou, dean of the C. T. Bauer College of Business.
Wolffest, an end-of-March campus tradition, draws hungry UH students and staffers to Butler Plaza where lunchtime food and fun merchandise are sold at popup sites operated by teams from the soon-to-graduate Wolff class. There's a cacophony of entertainment, too, from teams competing for buyers' attention.
With its reality-check glimpse of the business world, Wolffest provides a capstone project for the students. From the earliest steps of researching products, negotiating contracts and recruiting volunteers, each team decides how to deploy valuable resources and follow business plans.
Plot twists – product shortages, sales slumps, malfunctioning equipment, worker squabbles – can plague any team over the three days. Or challenges can be universal, like the rain and mud that plagued this year's Wolffest.
Still, business goes on thanks in part to a cadre of student volunteers that supports each team before and during the event.
"Volunteers give us an interesting vantage point," Cook said. "As they work under pressure, we're silently spotting a special few who stand out as maybe having potential to thrive as a future Wolff Center student. It goes the other way, too. Some volunteers are sizing up the Wolff program, deciding whether entrepreneurship might be their passion."
Two weeks after the competitiveness of Wolffest '23, a very different vibe was in the air at the second annual Wolff Gala.
"The Wolff Center Gala is a chance to gather the community and celebrate our successes. The larger Bauer community joined Wolff students and alumni, Houston's business and political leaders, and Wolff supporters to honor the amazing progress our students made over the year," Dean Pavlou said.
Proceeds from the gala's silent auction and student-raised donations contributed the largest part of this year's fundraising. Gifts were generous, including $125,000 for an endowed Wolff Center scholarship.
All the student 2023 sales and fundraising (excluding earmarked donations, such as the new scholarship), will fund special activities for students – not for themselves, however, but for the incoming class of 2024. "It's a chain. One class raises the money then passes it on to the next," Cook explained.
The financial resources will enable new students to kick off their entrepreneur's journey with a retreat. Throughout their 18 months with the Wolff Center, it will cover field trips to learn from successful business leaders, as well as transportation to a state correctional facility in Lockhart to mentor participants in the Empowering Women Out of Prison program. It also funds annual end-of-program trips, like a recent visit with technology investors in Silicon Valley. Or the upcoming visit to New York, where new Wolff graduates will visit Wall Street and ring the opening bell of the New York Stock Exchange.
"Each trip is life-changing for the students and perfectly timed for new entrepreneurs embarking on their careers. After their May 10 graduation, it will be fascinating to see what is born from the creative vision and determination of our Wolff students," Pavlou said.
This story originally published on UH News & Events.