Finance senior wins scholarship for writing essay for Ted Bauer Day
Published on March 23, 2023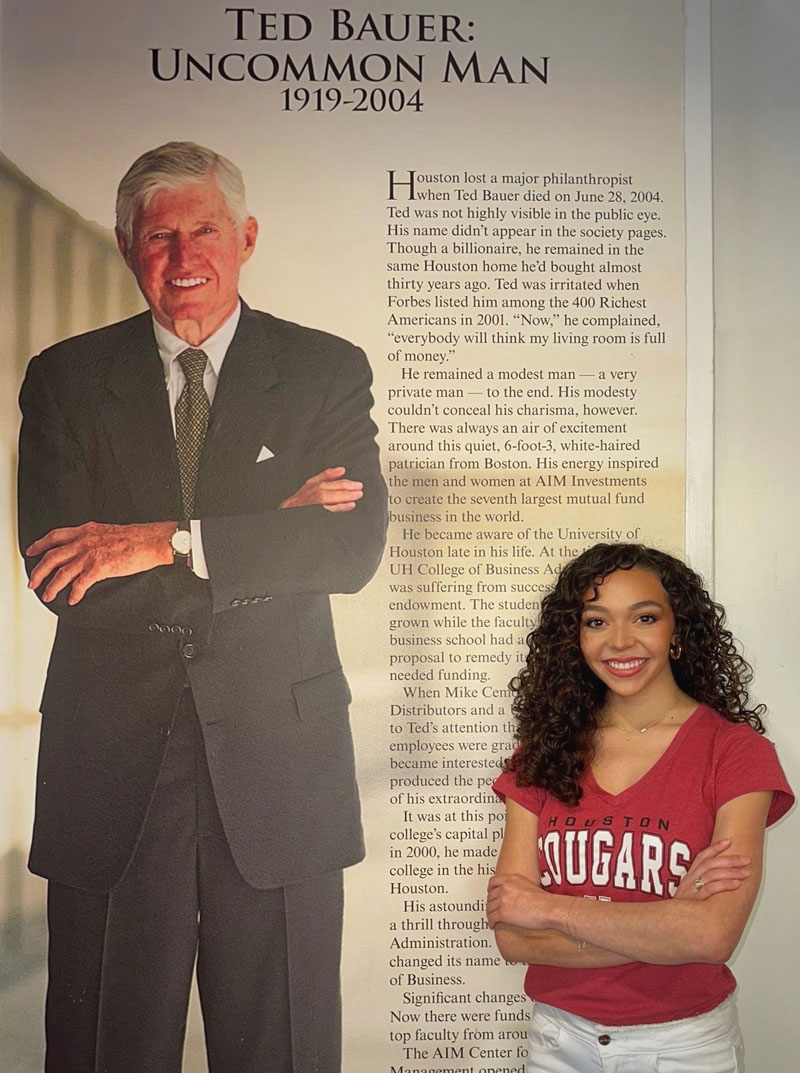 The essay below from finance senior Jessica Pena was chosen as the winning essay for a scholarship as part of Ted Bauer Day. Students were asked to write an essay beginning with "Because Ted Bauer Gave, I ..."
Because Ted Bauer gave, I will do things for the great future as he did. Every student that walks through the doors of the C. T. Bauer College of Business has a unique story with their own set of trials, aspirations, and a sense of purpose. Yet, one thing we each have in common is investing in ourselves for a greater future. It is gracious role models such as Mr. Bauer himself that inspire us to learn and develop as young professionals because students are the great future.
I have always had the desire and ambition to pursue a higher education, but as a first-generation Hispanic college student, things did not come easily as getting my degree required great endurance. Nonetheless, Mr. Bauer's visionary donation of $40 million on July 12, 2000, assisted in shaping the lives of many students by opening doors and providing opportunities for us to capitalize on in order to achieve our goals. His contributions to education have made a significant difference in the lives of many, and his unwavering commitment to helping others has touched the hearts of countless individuals. Mr. Bauer's philanthropic spirit and dedication to creating a better future for generations to come is a testament to the power of giving, and a reminder that one person truly can make a difference. As students of the great future, it is our responsibility to not only pursue our own dreams and aspirations, but to also give back to our communities in the same spirit of selflessness and generosity that Mr. Bauer embodied.
Bauer is a world-class institution with some of the greatest programs in the country that provide students with a high-quality education. The Emerging Leaders Academic Success Program and numerous student groups, including the Hispanic Business Student Association, provide a supportive atmosphere for developing leadership skills and forming long-lasting connections.
Through frequent gatherings, workshops, and celebratory events, these relationships are reinforced, resulting in a deeper sense of belonging within the community. Additionally, these social interactions facilitate beneficial networking prospects with prospective employers who acknowledge the worth of a degree obtained from the C. T. Bauer College of Business.
Mr. Bauer's legacy lives on in the halls of the UH School of Business, where his energy and passion constantly inspire and empower young professionals to be the best versions of themselves. His aspirations continue to live through the thousands of students whose lives have changed because of his selflessness and dedication to supporting future generations. And as we continue to invest in ourselves and work towards a brighter future, we strive to honor Mr. Bauer's by paying it forward and inspiring others to do the same. In his own words "helping people get an education is the finest thing you can do" this simply goes to show that despite not knowing us personally, he believed in each and every one of us to continue on his legacy and be the students of the great future.