Giving
Banking on Bauer
From the Nation's Capital, Bauer Alumnus Supports Fellowship Program
From the Nation's Capital, Bauer Alumnus Supports Fellowship Program
● ● ●
In 1970, Sam Schreiber (BBA '74) left his hometown of New York City to get a finance degree from the University of Houston. Now in his 44th year as a banker, Schreiber's career has taken him from Texas to Georgia to New Jersey to the Washington, D.C., area. Along the way, the former Wells Fargo and Texas Commerce Bank executive lost touch with his alma mater.
In recent years, though, Schreiber — now president of Chain Bridge Bank in McLean, Va. — has taken note of his alma mater's growing reputation. After discovering the Bauer in D.C. Fellowship Program in his own backyard, he decided to make it the focus of his philanthropy. Thanks to a $50,000 pledge from Schreiber and his wife, Ellen, two additional Bauer students will be able to spend a semester interning in the nation's capital for the next five years. And Schreiber, who is on the UH Board of Visitors as well as the Bauer College Board and is a Cougar football season ticket holder, won't have to travel to Texas to maintain a personal connection with his school.
We recently chatted with Schreiber about his career and his commitment to Bauer College and UH.
● ● ●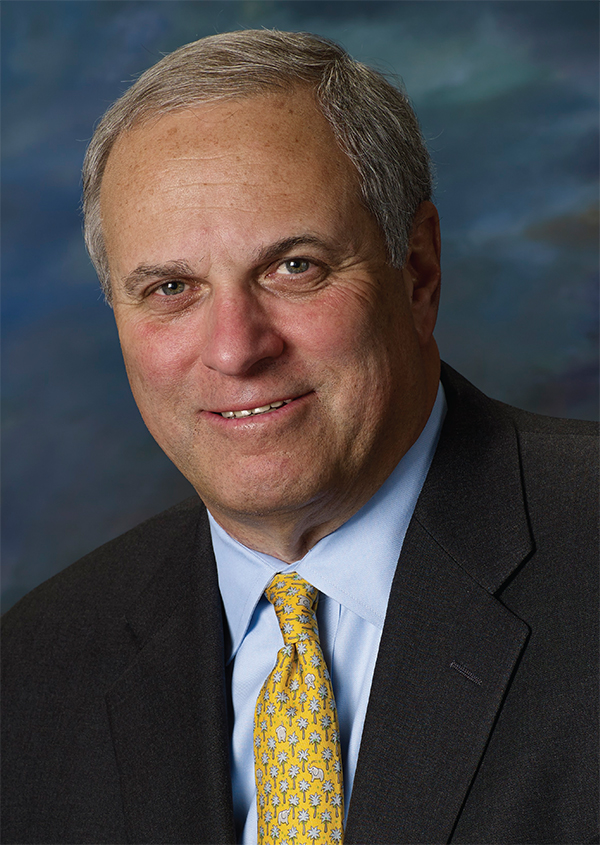 We've got a great story to tell, and we are out there telling it. We just need to keep telling it.
Sam Schreiber
(BBA '74)
LEARN MORE:
Bauer in D.C. Fellowship Program →
Invest in Bauer →
Q: What was the business school like in the '70s?
A: What I remember most was that I made a significant amount of lifetime friends. I enjoyed my education from the business school. I liked the university atmosphere. Obviously back in the '70s, it didn't have the reputation it has today. So things over the last 40-plus years have significantly changed, and quite frankly they have really changed over the last 10 years since Dr. Renu Khator has been on board.
Q: What about the business school?
A: Over the last couple of years I've gotten very impressed with our Bauer in D.C. Fellowship Program. I think it's one of the great things we do. I've met the students. I've talked to the students. I've had dinner with the students. I really like what they do and how they go about doing it. You get a great group of diverse students who want to be here. It takes a lot of work, so I decided to put my philanthropic effort into that, which is tangible, so I can see and touch and watch the progress.
Q: What do you think of the students?
A: They are fantastic. It's the cream of the crop because it's an application process. … They are very focused, and they are from different parts of the world, different parts of the country. And they are getting to do some things that most people would never get to do.
Q: Why did you want to invest in the program?
A: For a few years now, I have been discussing something that was more than just an annual gift, something that would be meaningful. I looked at a couple of different scenarios, and I was most impressed with Bauer in D.C., because first, I'm here. Second, I feel like I can provide some added value when the students are here. And third, unlike maybe donating money to other pieces of what's needed, I could actually see the tangible results of what's occurring through the students. So it's somewhat of a natural fit.
Q: Do you think UH helped you succeed?
A: At the time, I didn't think so, probably because I was too immature. And now, later on in life and through the years, absolutely. That's one of the reasons I support the university and support the business school, because they believed in me. ... I'm proud of my affiliation with the University of Houston. I'll always be proud. I think we are doing so many right things today, that our brand is better than it's ever been before. People know who we are. We are earning more respect, and respect for me is real important. It's a key quality. I want our university to be respected all over the place, and for years, we weren't.