Community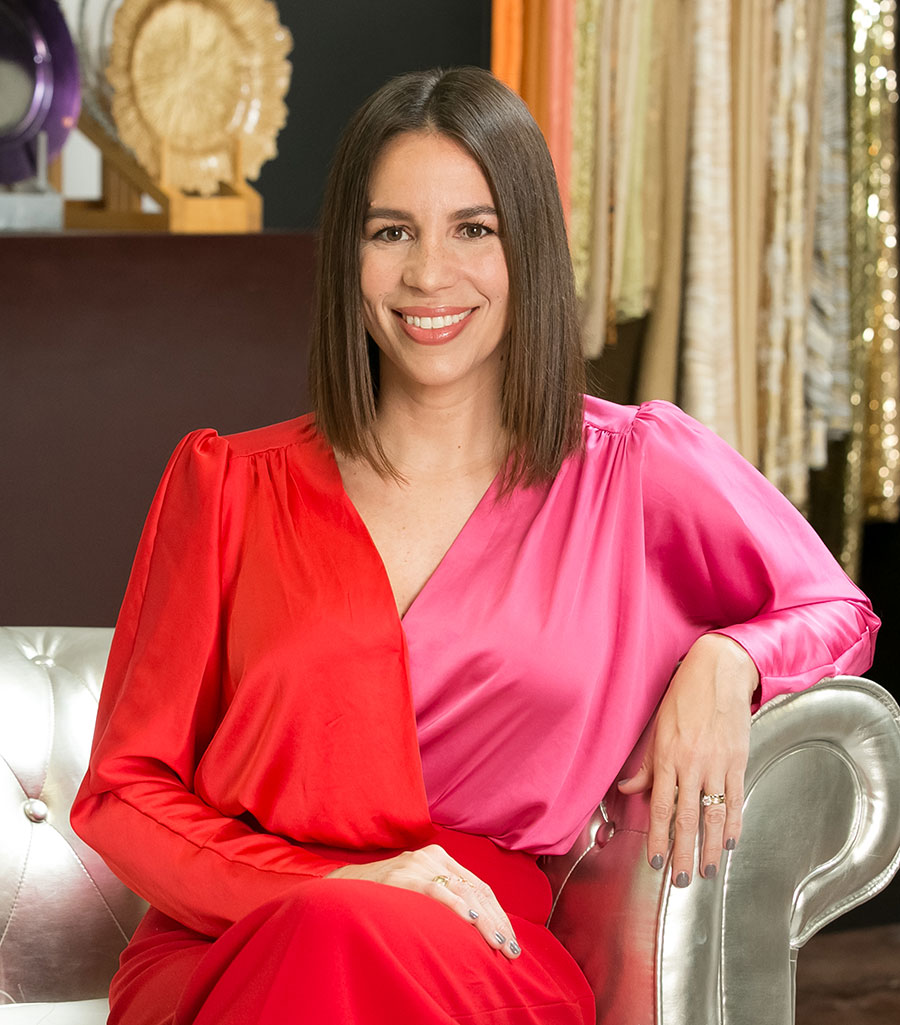 BAUER ALUMNA CLARA HOUGH (BBA '02) IS THE OWNER AND PRESIDENT OF HOUSE OF HOUGH, A LINEN RENTAL BUSINESS THAT ALLOWS HER TO COMBINE HER LOVE OF TEXTILES WITH PARTY PLANNING. SHE IS THE RECIPIENT OF THIS YEAR'S RISING STAR AWARD FROM THE UNIVERSITY OF HOUSTON ALUMNI ASSOCIATION.
It doesn't matter how much you know or how good you are. You have to be out there in front of people 24/7.
Clara hough
(BBA '02)
Style Star
Bauer Alumna Uses Network to Grow Fine Linen Retail Business
When Clara Hough (BBA '02) started her business, it was just her and a bunch of swatches.
She'd go to bridal shows looking for clients who might want to rent her special occasion linens, then arrange to meet up with them later, maybe at a Starbucks or their chosen venue, to talk about napkins, tablecloths and runners for their big day.
"I had all my inventory in my garage and my dining room, and then it started taking over the entire house," she recalls of the early days of Over the Top Linen, which later changed its name to House of Hough. On top of it all, she also laundered all the linens at home.
That was 13 years ago.
Today, Hough has 12 full-time employees, plus another 10 part-timers. Her company — which maintains a lovely, sunlit showroom and expansive warehouse on West 25th Street in The Heights neighborhood of Houston — provided linens to 1,110 events in 2017.
And Hough, a Venezuela native who came to Houston at 17 and earned a degree in marketing from Bauer College, is at the top of her game: running a business that custom-tailors linens for people who want to add an extra layer of luxury to their most cherished occasions.
A stylish figure who is obsessed with fashion and textiles, Hough made the Houston Business Journal's 40 Under 40 list in 2014 and has appeared multiple times on the Cougar 100 list of fastest-growing alumni-owned businesses.
She is an honorary alumna of the UH Hilton College, where her knowledge of the hospitality world has been a gift to students. She served on the board of the Houston chapter of the National Association for Catering and Events (NACE) for 12 years. And she is the 2018 recipient of the Houston Alumni Association's Rising Star Award.
Hough attributes much of her success to her time at Bauer College, where she earned a degree in marketing and met her husband, Christopher (BBA '00), an accountant who now manages House of Hough's finances while working full-time as a chief financial officer for Westside Lexus & Northside Lexus.
Hough says she chose to study marketing because it allowed her to combine her creative energy and business smarts.
"Marketing is always something that's been super dear to my heart. I like to be very creative, but I also like the business aspect of things. And I think that's a difficult combination to find, especially in the field I'm in right now."
While at Bauer, the Honors College student worked part time in the professional MBA program office. "So my whole life revolved around Bauer," she says. After graduating, she got a job as catering sales manager at Sheraton Suites Houston near the Galleria.
"Everything I was able to learn at Bauer, I felt like I was able to apply at this job, but also they were the ones that really taught me what I now know about hospitality and working for a hotel company."
At Sheraton Suites, she helped plan weddings, bar mitzvahs and other special events. The thing she loved most was when someone brought in thoughtfully selected linens. The beauty and elegance of the fabrics captured her imagination, and she knew she'd found her business.
Because her work is so reliant on networking and referrals, Hough says her UH contacts have been invaluable.
"This industry is like 100 percent networking," she says. "It doesn't matter how much you know or how good you are. You have to be out there in front of people 24/7."
Her strong relationship with her alma mater has been a marriage made in heaven. It not only helps her build business, but also helps her find people who want to work with her.
As a female entrepreneur, she gives high marks to UH President and UH System Chancellor Renu Khator.
"I think she has completely transformed the university," Hough says. "I will talk about her for two hours instead of my own business. She's definitely a role model for me."