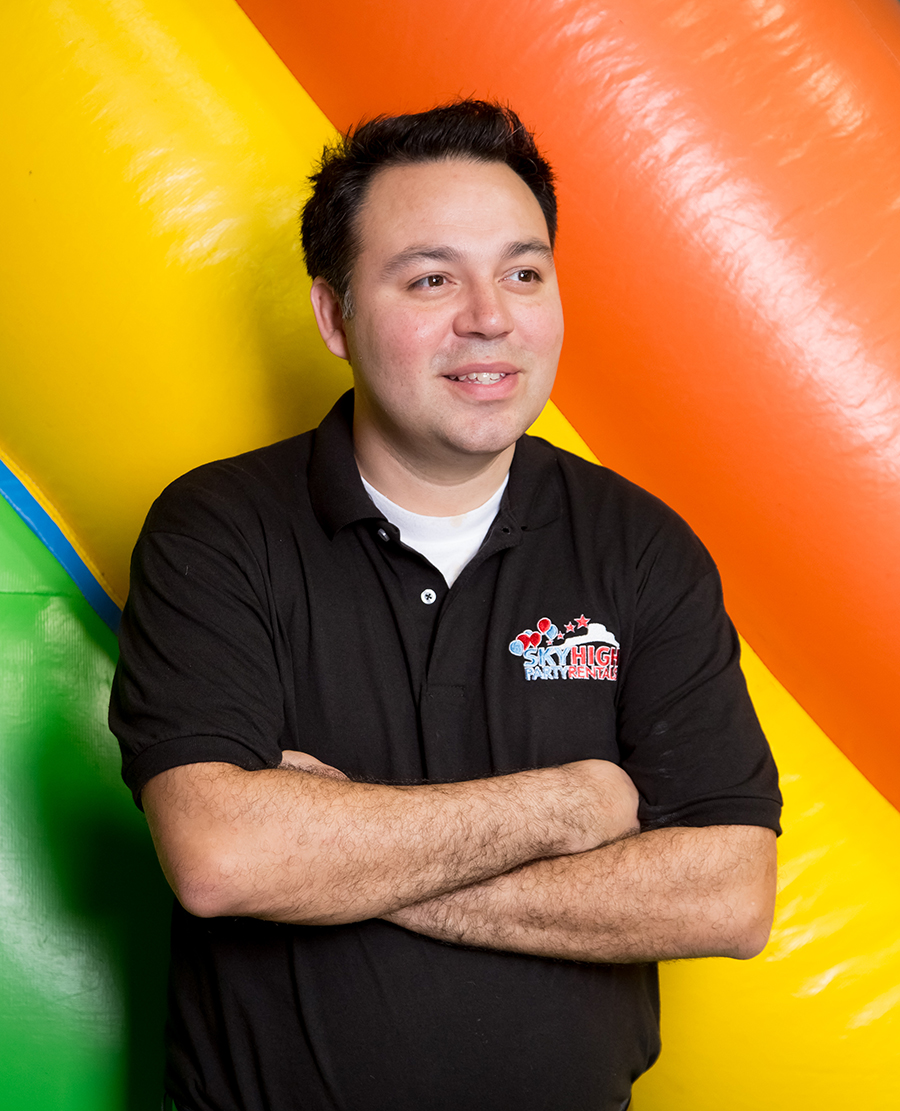 SKY HIGH PARTY RENTALS FOUNDER AND CEO ROBERT DE LOS SANTOS (BBA '10) HAS BUILT HIS BUSINESS INTO A MULTIMILLION-DOLLAR SUCCESS IN THE HOUSTON AREA.
---
WEBSITE: Sky High Party Rentals →
LEARN MORE: Wolff Center for Entrepreneurship →
---
Community
High Flyer
Bauer Entrepreneurship Alumnus Leads Multimillion-Dollar Bounce House Business
Robert De Los Santos spends his days jumping from one idea to the next — literally.
As founder and CEO of Sky High Party Rentals, De Los Santos leads one of Houston's premier companies for moon bounce house rentals, with a huge line of themed bounce houses that transform the average backyard into a dream playground for children's birthday parties. The company also provides inflatables for football parties or other gatherings, as well as water slides, tables, chairs and other concessions.
"I love what I do because I've found a huge opportunity to affect how thousands of people enjoy their kids' birthdays each year," said De Los Santos, who earned his undergraduate degree in business from Bauer College in 2010.
He added: "I love being able to bring something new, such as an intricately designed spaceship inflatable to something even more unique and peculiar, like virtual reality or mechanical shark riding — how cool is that?! My young daughter believes I go to work every day to jump on inflatables."
De Los Santos founded Sky High Party Rentals shortly before becoming a Bauer student in the college's Wolff Center for Entrepreneurship, where he learned the basic skills needed to grow his business into a successful company that would have a positive impact on people's lives and the local Houston economy.
Just over 10 years in business, Sky High Party Rentals has seen remarkable growth — each year, gaining new employees and inventory, servicing over 7,000 parties a year. The business has been featured in Entrepreneur magazine, The Huffington Post, Mashable and the Houston Business Journal. In addition, De Los Santos and Sky High have earned a number of awards, including the Emerging 10 Houston Minority Supplier Development Award, Angie's List Super Service Award, the United Nations Empact 100 Award, a place on the Houston Business Journal's Fast 100 List, and has won a place on the Cougar 100 Awards year-after-year. In 2016, after seeing an increase in demand, the company moved to a 35,000-square-foot facility in Houston's Oak Forest area.
Find a component in a business where you can provide customers better service, create value for someone and be very persistent.
Robert De Los Santos
(BBA '10)
All the accolades might seem like De Los Santos dreamed of a life in business from an early age, but the pieces didn't fall into place until he was in his 20s.
"I had zero interest in entrepreneurship," he said. "After high school, I got a job at a call center, and then I started working at a bookstore."
De Los Santos made just $7.50 an hour at that job, but the time proved to be valuable in other ways — he found a copy of Rich Dad Poor Dad: What The Rich Teach Their Kids – That The Poor and Middle Class Do Not by Robert Kiyosaki, a book that ultimately led him to rethink his financial future.
"I grew up in a middle class family," De Los Santos said. "I didn't have any money. I was living in Montrose, and all my money went to rent, so I decided to move back home so I could save money with each paycheck."
Fate intervened yet again when De Los Santos attended a family party, which featured a bounce house.
"I saw that the guy who owned the bounce house made $200 in 30 minutes, and it took me at least a week to earn that much," he said. So, he took his savings and invested in the most affordable bounce house he could find — one featuring the cartoon character SpongeBob SquarePants.
"I was trying to figure out then how to get the word out to start renting it to people," De Los Santos said. "I just printed off some postcards and put them in different neighborhoods, I made a website, and people started calling."
The problem? Potential customers were asking for products that De Los Santos didn't have.
"I quickly realized I needed to figure out what people actually wanted in order to grow my business," he said.
De Los Santos slowly began to add inventory to Sky High Party Rentals and built a customer base, making $50,000 in his first year of business and doubling that the next year. He was also a University of Houston student at the time, thinking the business would help to fund his degree, and then he'd move on to his career.
"I was walking in the Bauer building during Rush Week and passed a table for the Collegiate Entrepreneurs Organization (CEO) — a club for people who wanted to start a business," he said. "They told me about the Wolff Center for Entrepreneurship."
In his third year of business, De Los Santos applied for admission into the program and was accepted. He eventually became president of CEO and part of the WCE class ranked by Entrepreneur and The Princeton Review as No. 1 in the nation.
"Entrepreneur reporters were interviewing students (for the feature in the magazine's ranking list that year), and I told them my story," De Los Santos said. "There was a two-page spread on my company in that issue, and it really set the momentum for us." Although De Los Santos seemingly stumbled into a business degree and the Wolff Center program, he now recognizes the impact it's had on his career as a CEO.
"It introduced me to the secret world that I never knew existed, with these successful businesses thriving and sharing experiences," he said.
The bonds De Los Santos formed as a Bauer student remain strong, from mentors who helped to guide his company to students who he now mentors.
"I mentor and hire interns from UH each year, and currently recruiting for the Entrepreneurs' Organization Global Student Entrepreneur Awards Competition," he added. "This yearly competition is for student entrepreneurs that balance running a business, while pursuing their education. I participated in this competition while in college, and it was a great experience."
The guidance he shares with Bauer students reflects the strategy De Los Santos used to change the course of his life and grow his business.
"I tell them, 'don't think you have to recreate the wheel,'" he said. "Find a component in a business where you can provide customers better service, create value for someone and be very persistent."