Community
Fast Lane
Bauer MBA Alumnus Steers Luxury Car Brand Marketing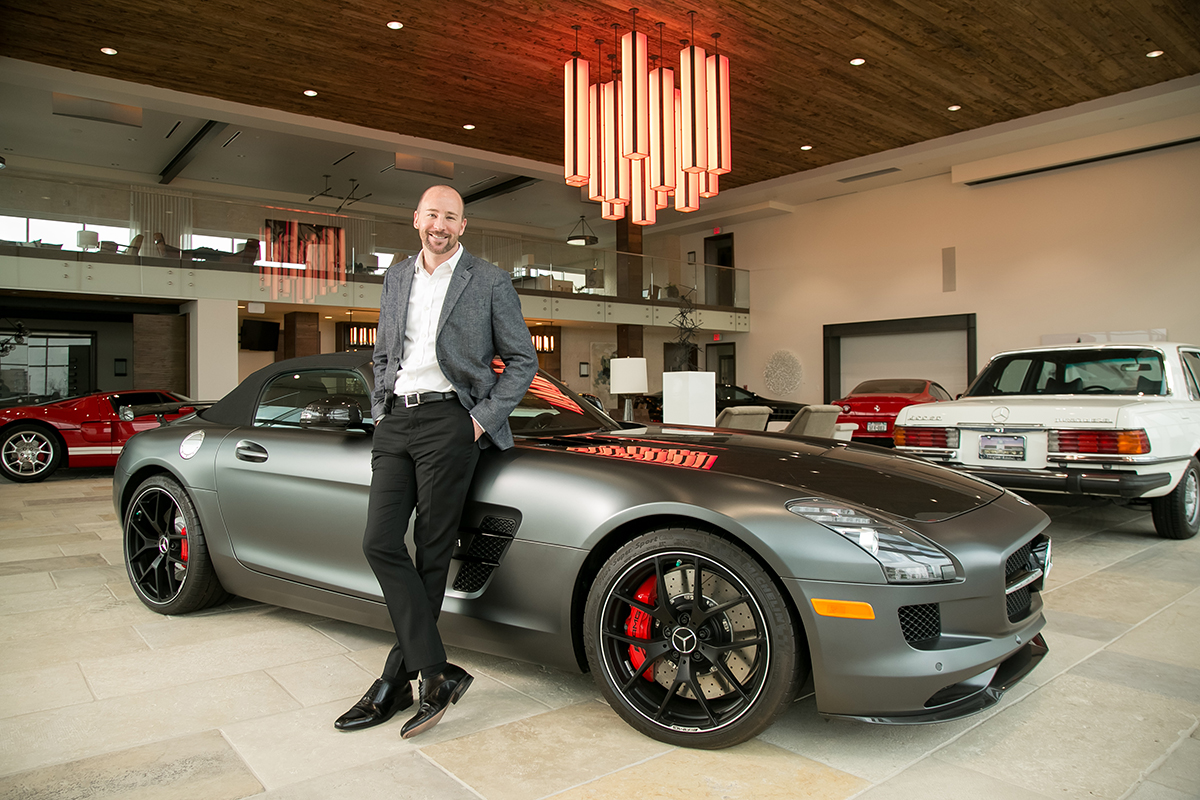 "MY FATHER GAVE ME GREAT ADVICE. HE SAID. 'FIND AND INTERVIEW PEOPLE IN POSITIONS THAT YOU WANT TO BE IN ONE DAY,' SAYS DEREK BROWN (EMBA '11), A HOUSTON LUXURY CAR DEALER EXECUTIVE WHO MENTORS STUDENTS AS A WAY OF GIVING BACK TO A COMMUNITY THAT HELPED HIM FIND HIS PATH."
When Derek Brown (EMBA '11) was a kid, his dad would make videos during family vacations and then edit in action sequences from his son's favorite films.
"We couldn't jump off a waterfall, but Butch Cassidy and the Sundance Kid could," Brown says. "So we'd splice a clip, and it would look like we were jumping off a cliff."
The technology was clunky — Brown recalls his father, an advertising executive for the Houston Chronicle, lugging around a camcorder the size of a "rocket launcher" — but the process was fun, and formative. Today, Brown sees a direct connection between that childhood activity and his work.
As vice president of business development and marketing at Mercedes-Benz of Sugar Land and McLaren Houston, Brown wears many hats, from marketing and public relations to advertising and event planning. One of his coolest projects is creating a digital web series, "Hot Laps," in which professional racecar driver Kory Enders interviews celebrity guests while zooming around a track in a sexy Mercedes - AMG or McLaren at speeds of well over 100 mph.
We are totally immersed in digital storytelling, but it's got to be authentic.
Derek Brown
(EMBA '11)
"It's storytelling, and it's technology," says Brown, who likens the production of "Hot Laps" to those vacation films he made with his dad. Posted on YouTube and promoted on his dealerships' social media channels, the series has helped accelerate Brown's marketing, sales and community outreach endeavors.
At the same time, his social media wizardry has made Mercedes-Benz of Sugar Land an Instagram star.
"We have built the largest Instagram following of any Mercedes-Benz dealer in the United States," Brown says of his company's 35,000 followers, "and we are proud of that digital footprint."
When he engages social media influencers who in turn share his company's stories with their own followers, the pay-off gets even bigger.
A Houston native, the executive has been interested in the intersection of marketing and media for almost as long as he can remember. He attended the University of Houston for one semester, then followed a buddy to Utah Valley University, where he volunteered at the campus newspaper.
"I was a beat writer," he says. "I did broadcast, and then started selling advertising so I could feed myself."
After earning a bachelor of science in business management and communications, he figured he'd either follow in his dad's footsteps and go into advertising — or pursue broadcast journalism.
Returning to Houston in 2006, he was market manager for an online job-search startup company.
"That's where my appetite got whet for video content and digital marketing." Brown says.
While at the startup company, he made a cold call to Mercedes-Benz of Sugar Land. The car dealership became a client and eventually approached him about interviewing for a job. But, the timing wasn't right, because Brown had just started a position leading the sales team of Houston media company The Greensheet. Shortly after, he made the decision to enroll in the executive MBA program at Bauer College.
Brown says: "At that point, I made the decision to go back to grad school because I wanted to be more marketable. I knew the job was a Band-Aid. It wasn't a career, it wasn't my passion."
And, Brown's family was also expanding — soon after starting his MBA, his wife gave birth to their third daughter.
While in the Bauer MBA program, Brown participated in the college's International Business Residency in China and took up Mercedes-Benz of Sugar Land's offer to become business development manager. He graduated as a well-rounded, well-connected business leader with a deep network of classmates and friends he still keeps in touch with.
Though the experience of work, grad school and a growing family was "grueling," it was also career-making for Brown.
"When you sit in a room with people that are smarter than you and have more experience than you, you can't help but just absorb and soak it in," he says. "It's nothing a textbook was going to teach me. That why I did it. That's what I invested in — to play with the big boys."
Today, when Brown is not filming another episode of "Hot Laps" or otherwise building the Mercedes-Benz of Sugar Land/McLaren Houston brands, he enjoys giving back by mentoring Bauer MBA students, speaking to classes at the college and participating in Career Day at his daughters' schools.
To students trying to figure out their profession, he offers this advice: "You don't have to be a doctor or an engineer, if that's not what you like to do. That's not necessarily for everybody. Find your passion."
And Brown is speaking from experience — he's gone from making vacation videos with his dad to applying those same tools to sell cars. As Brown puts it: "It's the arc and power of a great story."