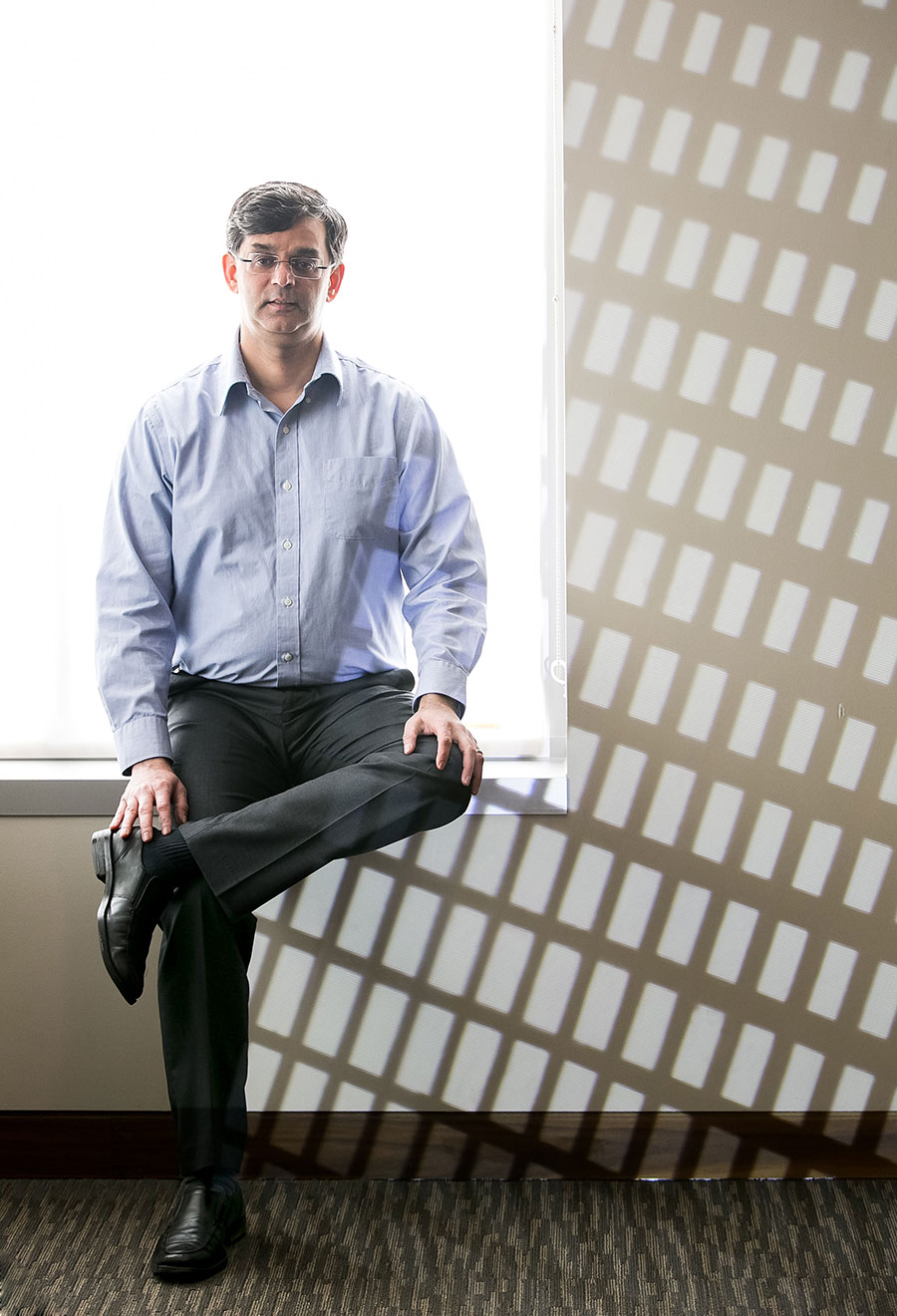 NIKHIL CELLY IS A CLINICAL ASSISTANT PROFESSOR OF MANAGEMENT AT BAUER COLLEGE, BRINGING HIS EXPERIENCE WITH STARTUPS, INTERNATIONAL BUSINESS AND ENGINEERING TO THE CLASSROOM AND HIS RESEARCH.
LEARN MORE: Bauer Department of Management →
---
Faculty
Emerging Research
Bauer Clinical Assistant Professor Examines Economies on the Rise
Nikhil Celly's first forays in the field of emerging markets came accidentally: unplanned, unscripted and unintended. Which, come to think of it, is one of the defining characteristics of operating a business in a place where infrastructure, rules and regulations and other factors are still evolving.
The clinical assistant professor of management at Bauer College left his native India to embark on a career in electrical engineering. He earned a master's degree in the field from the University of Rochester.
But Celly fell ill and went home to convalesce. India, in 2000, was "just opening up to the world," he says. Celly, once he became well, drew on his experiences in the United States and began applying technology to start an educational consulting business while "getting excited about the prospect of international business."
His path eventually led him to join the country's first online provider of educational services, a high-profile startup funded with venture capital. When the company was purchased by a second round of investors and began changing course, Celly left.
"It kind of shook me up a little," he says.
After another position at a startup and work as a software consultant, he decided to return to North America. This time he earned a doctorate in business at the University of Western Ontario, Canada. Celly's research focus is in strategic management in emerging markets, such as the one where he got his start in business.
Successful leaders have the kind of mindset you need to respond to a volatile environment better.
Nikhil Celly
Clinical Assistant Professor of Management
He has taught strategy, emerging markets and competitiveness courses in the United States, Canada, China and Hong Kong. Prior to joining Bauer, he taught for six years in the globally top ranked MBA program at the University of Hong Kong. Celly has also conducted executive education courses on strategy and emerging markets for Sothebys' UK, various non-profit organizations and banking executives, and has consulted for select organizations, including Cisco and The World Bank.
While the challenges of emerging markets are daunting — varying levels of corruption and rapidly changing regulations, lagging infrastructure, lower income and education levels in general and ever evolving consumer preferences, and more — the potential for growth and profits, of course, can outweigh concerns about expanding into countries where development is a work in progress.
By the year 2050, six of seven of the world's largest economies (GDP at purchasing power parity) are projected to be from today's emerging markets. The United States is projected to be third, led by China and India. But significant growth in Mexico, Brazil, Nigeria, Indonesia and Vietnam is expected to raise incomes and buying power in those and other parts of the world as well.
Celly's current research examines the best strategies for success in some of these emerging marketplaces. Among his findings: having centralized leadership while providing autonomy to employees and being capable of planning long-term strategy while handling day-to-day operations are important. But assets that may not immediately be identifiable on a résumé are also critical, he says.
"How do you network, what are the external resources you draw on? A successful manager may not have all the business experience we would look for on paper, but may have grown up facing the kinds of challenges typical to emerging markets," Celly says.
He adds: "Those leaders have the kind of mindset you need to respond to a volatile environment better. That can also impact how the firm performs."
Research by Celly and colleagues has found such influences are most critical during the early days of an entrepreneurial organization. In leading Bauer MBA students on International Business Residencies, Celly has been able to demonstrate the realities of emerging markets and business in these markets operating in places as Hong Kong and China in a way that textbooks and case studies can't quite live up to.
By talking to employees, CEOs, and political figures and seeing for themselves how emerging markets compare to the United States, students are able to make informed choices about their interests going forward.