Community
The Wonderful Kind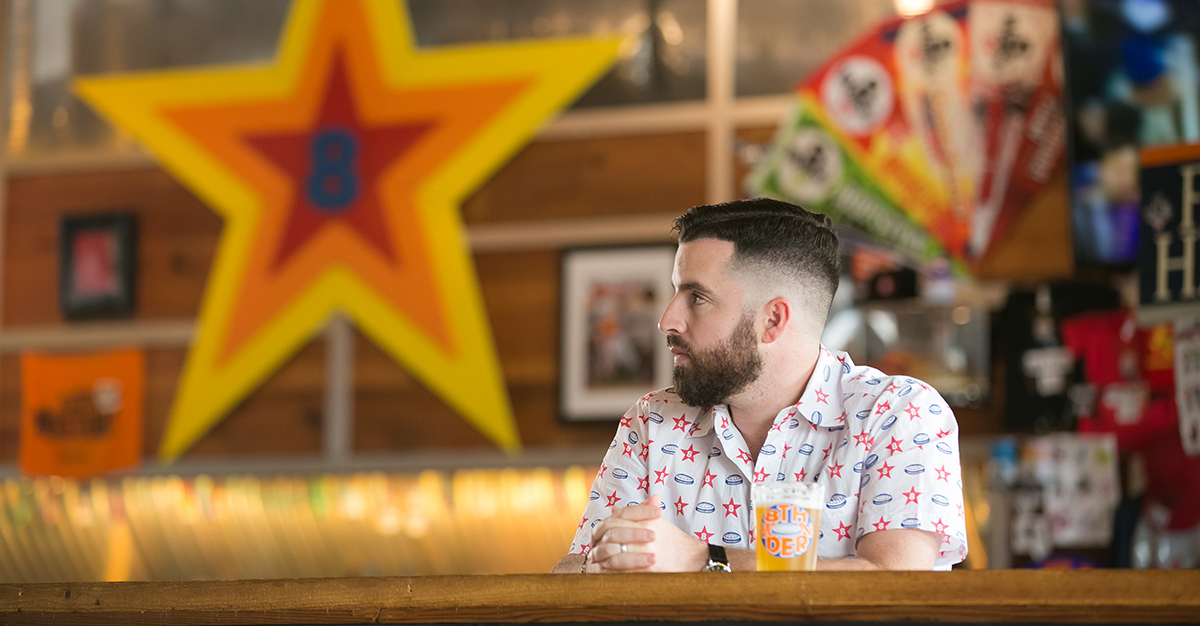 Bauer Alumnus Sees Big Small Business Success with Local Brewery
---
LEARN MORE: 8th Wonder Brewery →
---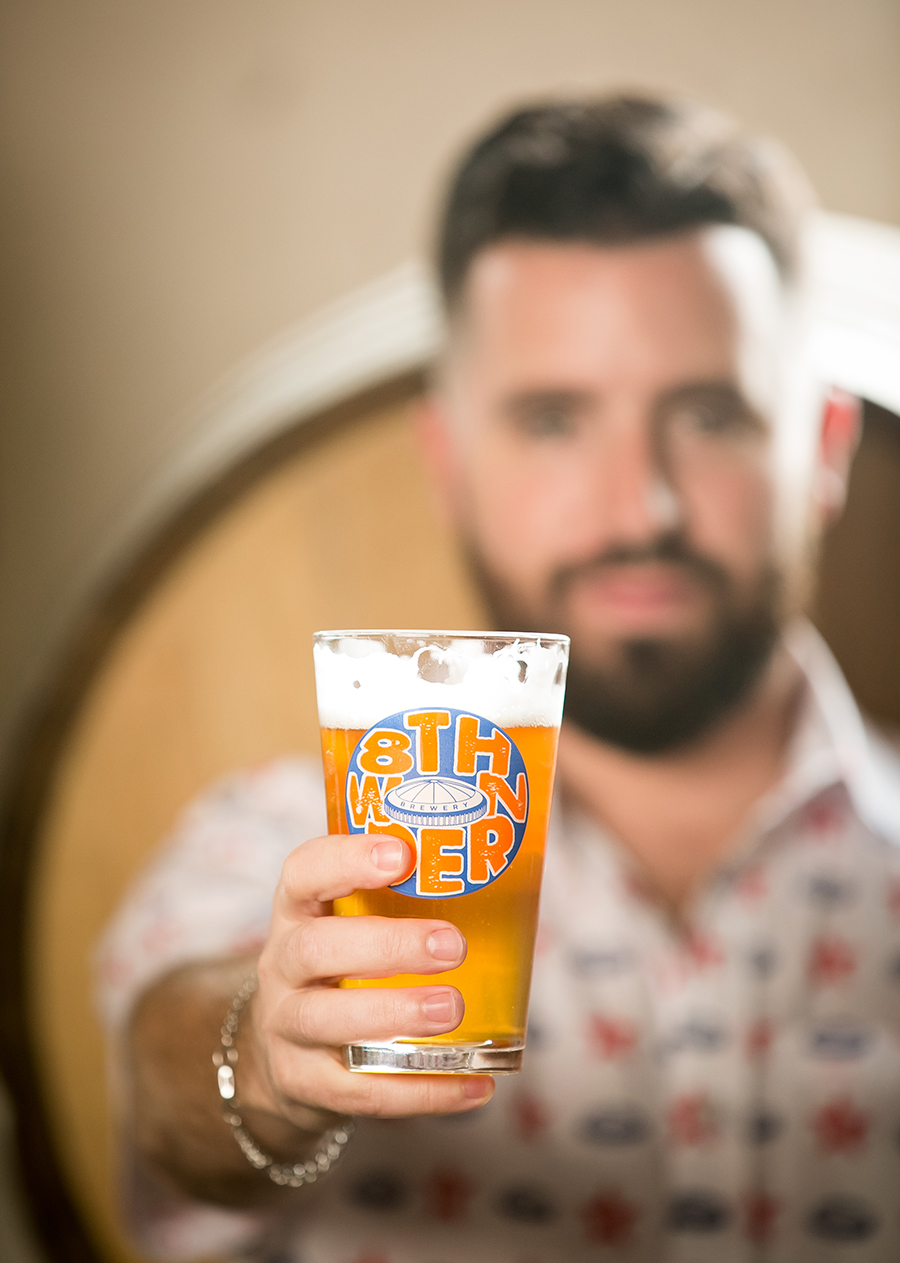 AS PRESIDENT, CO-FOUNDER AND HYPE MAN FOR 8TH WONDER BREWERY, RYAN SOROKA IS HELPING TO USHER IN A WAVE OF QUIRKY SMALL BUSINESSES ACROSS HOUSTON.
Just beyond the Houston skyline, in an unassuming East Downtown warehouse surrounded by street art and parking lots, sits one of the city's biggest small businesses — 8th Wonder Brewery.
The brewery is more than just a taproom. Co-founded in 2013 by Bauer College MBA alumnus Ryan Soroka, 8th Wonder has scaled rapidly into a craft beer brand that can be found in supermarkets, bars and restaurants across Houston, with plans this year to open a nearby distillery for gin, vodka and whiskey.
Soroka, who earned a MS in Hotel/Restaurant Management at the University of Houston while completing his MBA, is helping to lead 8th Wonder's growth, serving as president, co-founder and self-described hype man — and there's a lot to hype when it comes to the business.
MEET THE ENTREBREWNEUR
NAME:
RYAN SOROKA
EDUCATION:
TULANE UNIVERSITY (BSM, FINANCE & MARKETING, 2006) UNIVERSITY OF HOUSTON (MBA/MS, 2011)
FAMILY LIFE:
MARRIED WITH ONE CHILD AND ANOTHER ON THE WAY
FAVORITE THING ABOUT HOUSTON:
"THE PEOPLE. EVERYONE'S SO FRIENDLY, AND THE CITY IS SO DIVERSE. IT'S A BIG CITY WITH A SMALL COMMUNITY FEEL."
FAVORITE BREW:
8TH WONDER'S HATERADE, A GOSE ("IT'S A SOUR GERMAN WHEAT BEER BREWED WITH CORIANDER AND SEA SALT.")
FAVORITE HOUSTON ATHLETE:
"GROWING UP, IT WAS HAKEEM 'THE DREAM' OLAJUWON, AND NOW, JOSE ALTUVE ALL THE WAY — MVP, WORLD SERIES CHAMPS!"

"It's been a fun ride," Soroka said. "We've seen a lot of growth over the past few years. We started in draft only with our product available in kegs at bars and restaurants, open on-site once or twice a week, and we've got a lot of beer in cans now, available in supermarkets and independent stores across Houston."
In 8th Wonder's first year, Soroka and his partners produced just under 1,000 barrels. Last year, after only four years in business, they produced around 12,000, making 8th Wonder one of Houston's largest craft breweries.
"When we opened our doors, we were the sixth brewery to open in Houston, and now there are almost 50," Soroka said. "It's exciting, and we're happy to be part of the local craft beer scene."
8th Wonder is also part of the developing revival of Houston's East Downtown (EaDo, if you're talking to the locals). The choice of location, while now seemingly ideal, wasn't entirely intentional, Soroka said.
"We signed our lease in 2011, and I assure you, this was not a neighborhood people were hanging out in," he added. "We were looking for a warehouse in an urban, center part of town, and we started our search in East Downtown, but we also looked up north, out west and down south before circling back to find this spot."
We Love Houston. It's amazing to create a business that pays tribute to the city.
Ryan Soroka
PRESIDENT, CO-FOUNDER & HYPE MAN FOR 8TH WONDER BREWERY
Months after securing the space, Dynamo Stadium announced it would be joining the neighborhood, making 8th Wonder just steps away from many of the city's sports and entertainment destinations, including Toyota Center and Minute Maid Park. In fact, one of Houston's original sports destinations ultimately inspired the brewery's name.
"Our original name was not 8th Wonder," Soroka said. "We walked into the building, and the landlord was really trying to upsell us on the space. Let me tell you, this is a 1940s, barebones building, not a whole lot going for it. But he says, 'Look up, we've got these original whiskey barrel ceilings.' So we look up, and say, 'Wow, it looks like the Astrodome in here.' And boom, 8th Wonder was born."
Soroka and his partners have paid homage to the city's history and future with the business, now employing around 40 people and partnering with other organizations around town for events and fundraisers.
"We love Houston," Soroka said. "My partners and I were all born and raised here, and we've seen a lot of growth and change. It's amazing to create a business that pays tribute to the city and to see all the support we've gotten from people here."
Look around 8th Wonder's taproom, and you'll quickly see that Soroka's early influences of sports, music and friends have found their place in the décor. The space feels a bit like a college student's garage, but in the best way — groups of friends casually weave from here to there, with posters advertising upcoming concerts and festivals lining the walls, and kitschy sports memorabilia dots the tabletops and bar counter.
The menu is of course mainly comprised of craft beer (six year-round varieties with plenty of seasonal and limited releases, all with clever names that no doubt provide customers a laugh or two when ordering — Brewston, Dome Faux'm and Weisstheimer are just a few). But customers can also find non-alcoholic selections, like kombucha and cold brew from local partners (Kickin' Kombucha and Greenway Coffee, respectively).
The open floor plan inside, coupled with the ample outdoor beer garden and fun zone, allows for 8th Wonder's signature slate of events, including live music, cook-offs, markets with local vendors and even a workout class that combines yoga with hops.
"We pride ourselves on making fresh, flavorful and high-quality beer, and we also pride ourselves on offering something for everyone, both with our beverage offerings and the events we host on and offsite," Soroka said.
He added: "We want to be a brewery where everyone can come in and feel at home and connect with what we're doing here."
8th Wonder's devoted customer base seems to be connected, filling the taproom on a daily basis and supporting the brand in retail locations across Houston. For Soroka, it feels like a definite move back to the idea of small, neighborhood businesses thriving.
"We're in a time in our society where people really want to be able to support someone who's in their backyard, from their town and contributing to the local economy," he said. "It's a nice paradigm shift where customers get to see the personality and character of who's providing their services and products. Small business really drives local economies."