Students
Inner Strength
For Bauer Senior, Success is Mental & Physical Game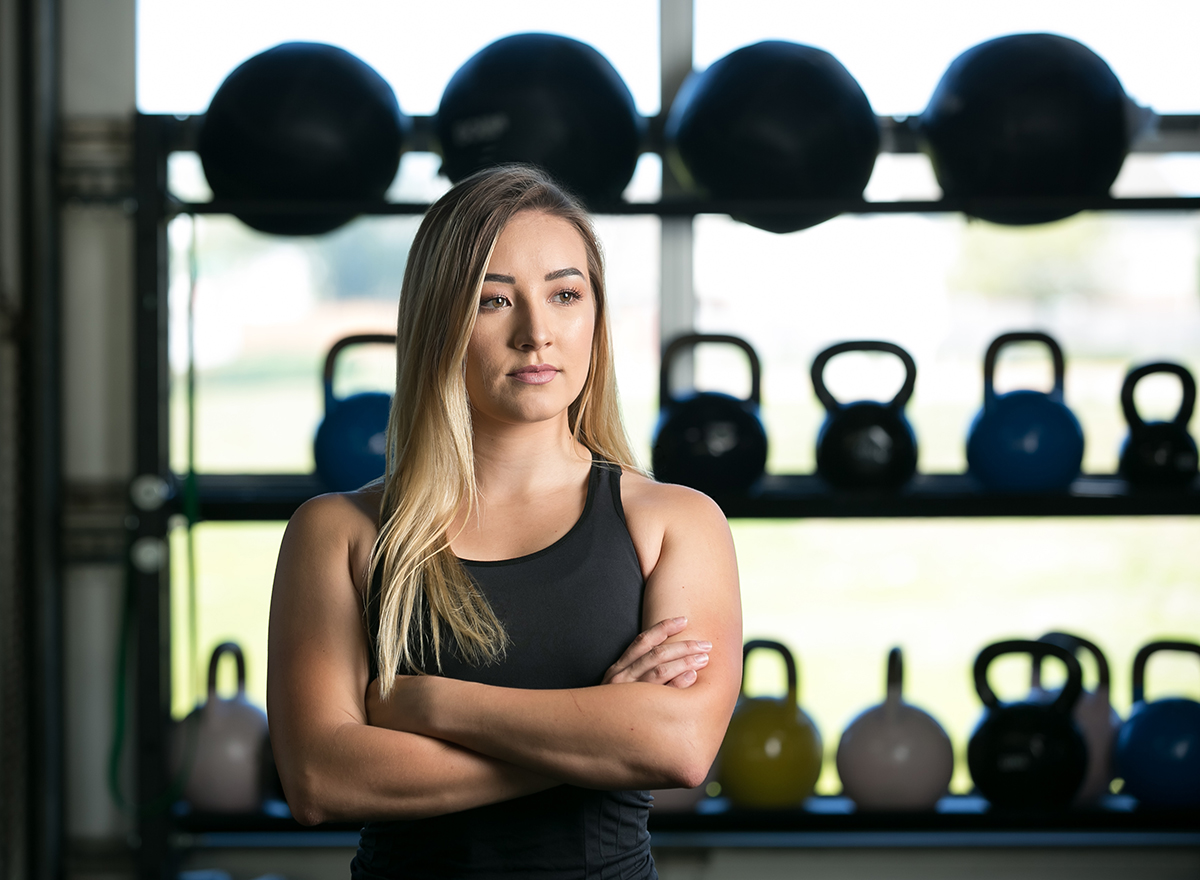 MARKETING SENIOR SOPHIA PIERCE IS AN ACTIVE STUDENT LEADER, PARTICIPATING IN THE PROGRAM FOR EXCELLENCE IN SELLING AS A KEY ACCOUNT TEAM MANAGER AND IN THE BAUER BUSINESS HONORS PROGRAM, WHILE WORKING FOR LOCAL SMALL BUSINESS ALPHALETE ATHLETICS.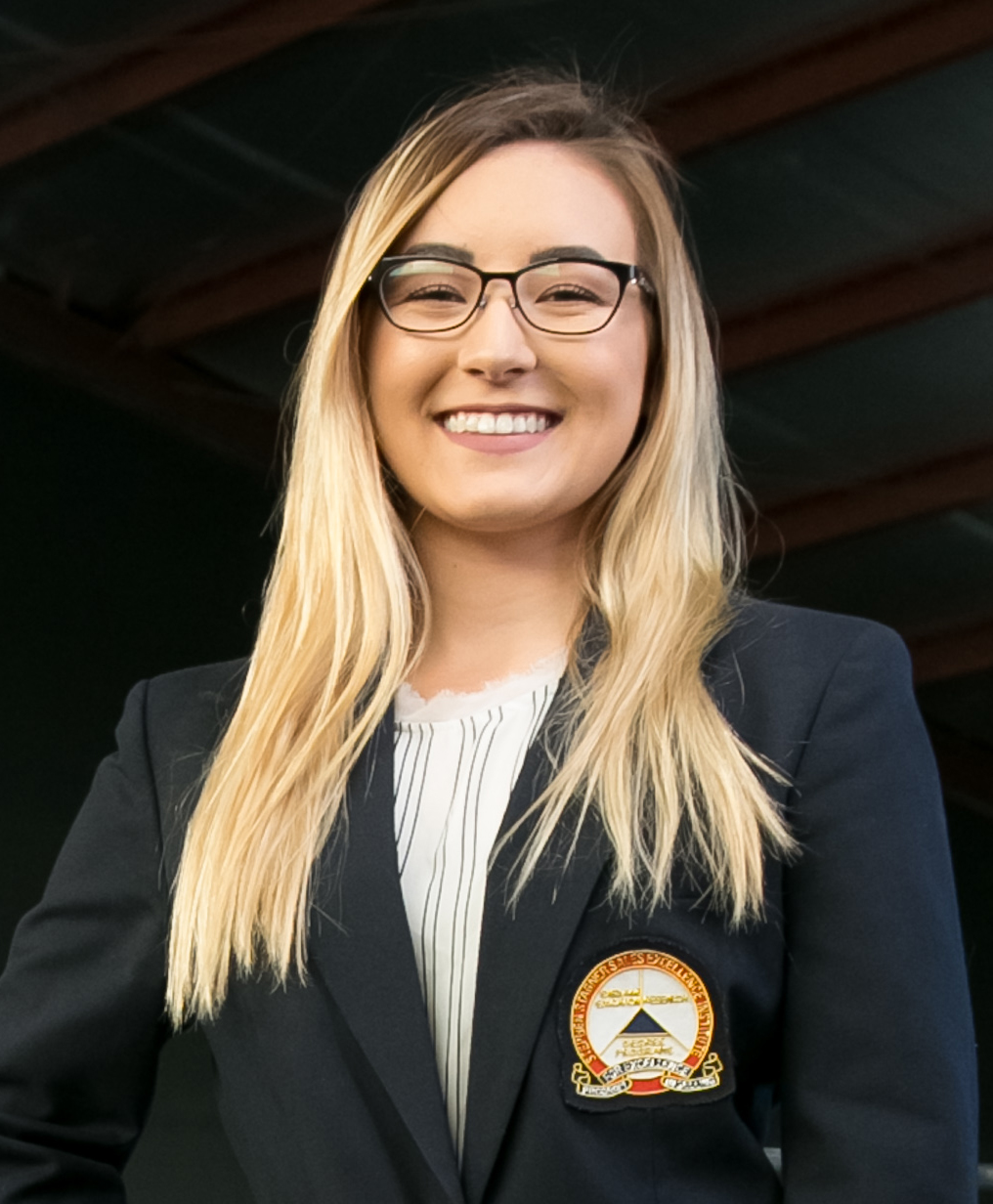 I'm a firm believer in starting where you are, not where you were.
Sophia Pierce
Marketing Senior
LEARN MORE:
Program for Excellence in Selling →
Bauer Business Honors Program →
Looking at her glasses and crisp blazer, you might think you know Sophia Pierce.
You might see her as a sales student (indicated by the patch on her jacket), with a personality that's equal parts serious and bubbly.
All of that is true, but you're only seeing the surface of this 21-year-old Bauer College marketing senior. She's also an accomplished athlete who has overcome adversity at a young age and has a dream to one day share her experiences to help others.
Oh yeah, and she can squat 200 pounds.
"I'm a firm believer in starting from where you are, not where you were," Pierce said. "The world is full of opportunities, and being able to see that isn't always easy, but know that something will come of it to make you a stronger and better person."
She's applied that perspective to seemingly every aspect of her life, from redefining herself to setting fitness and academic goals.
"I come from a divorced family, so when I was really young, I framed a lot of things in a negative mindset," Pierce said. "When I realized I was being a person I didn't want to be, I decided to try to grow myself and better prepare for my future, and then help others do the same thing."
She has the opportunity to do that now as a Key Account team manager in Bauer's Program for Excellence in Selling and through a job with local small business Alphalete Athletics, a Stafford-based gym and online fitness clothing company.
Pierce has shared her journey in bodybuilding with a global audience through videos on YouTube, and she's applying her Bauer experience to do the same at work.
"It's a small company with only seven employees, so you become like a family, but you also have to learn what each person responds to and adjust," she said. "It's like in PES when there are 60 people in one room, and you're working with groups of four in Key Accounts, you adapt as you go and learn how you can all work together to achieve the same goal."
It's that ability to adapt that prepared Pierce for the path to success as a business student and fitness competitor.
"I was not athletic as a kid — I was so clumsy, so uncoordinated," she said. "At the end of high school where a lot of people are self-conscious, I had really low confidence."
At that time, Pierce's boyfriend shared with her a passion for weightlifting, something that helped him develop confidence.
"He has been a huge supporter in helping me figure things out," she said. "It might have started for me with an idea that I could be thin, but then I fell in love with the idea of being super strong. It's empowering to be a woman who lifts."
Pierce has since tried powerlifting, muscle shows and competitions, but for now, she's focused on maintaining her fitness goals while completing the last year of her undergraduate program, with plans to eventually combine the two in a future career.
"I love to coach and help people," Pierce said. "I want to help people grow, physically and emotionally, like I did. I want to support people in everything from your mind to your body." The skills she's gaining in the Program for Excellence in Selling at Bauer are helping to get her closer to that goal, she said.
"The courses at Bauer are helping me to develop a broad skillset that fits into who I am and what I want to do," Pierce added. "PES has helped me learn how to frame things, pitch ideas, find and then solve problems. It's had a huge impact on me."