Students
Show Business
Bauer Management Junior Shines in Family Dance Company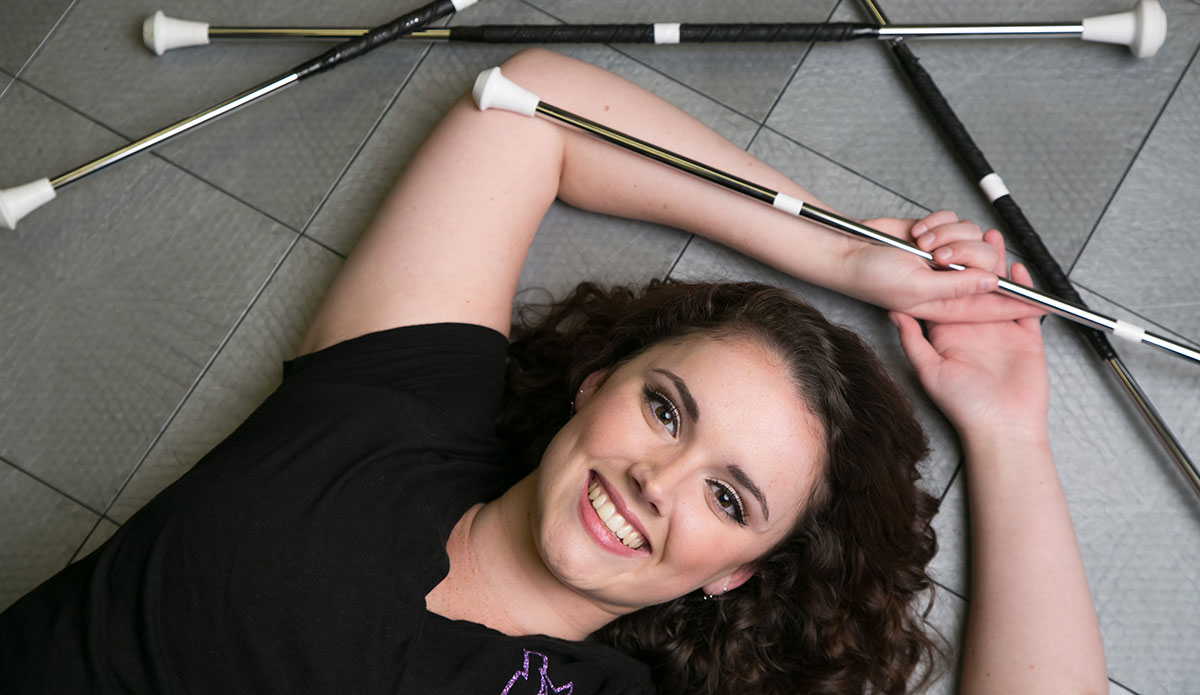 BAUER COLLEGE JUNIOR MORGAN BULL GREW UP SURROUNDED BY SMALL BUSINESS IN HER MOTHER'S DANCE STUDIO, AND NOW, SHE IS AN INSTRUCTOR AND COMPETITIVE BATON TWIRLER WITH ASPIRATIONS TO ONE DAY WORK IN THE BUSINESS SIDE OF THE DANCE INDUSTRY.
Going to the studio for me is like going home.
Morgan Bull
Management Junior
Morgan Bull grew up with small business at her fingertips — her mother opened a studio to teach dance and baton twirling, something that Bull took to naturally.
The business side of things came later, according to the Bauer College management junior.
"I started off as a chemistry major at a small school away from home," Bull said. "Then I declared a nursing major before moving home and taking education courses. But none of it felt right."
As she navigated her undergraduate education, Bull immersed herself in the world of competitive dance and twirling, both as a teacher and a competitor herself. It didn't occur to her until a semester into her studies at Bauer College that she could connect her creative passions with what she was learning in the classroom.
"I wasn't sure what I wanted to do," Bull said. "I was doing business because you can do anything with it, and my mom has a business degree, so that's what I did. It wasn't until a couple months ago that I figured out that dance and business go together."
Courses with Bauer faculty, including Jamie Belinne and Carlos Ortega, inspired Bull to find a way to marry her passion for dance and twirling with a future career. She has also had the opportunity to learn hands-on business skills from birth, as her mother has run Vicki Michelle Dance Studio, a successful small business in Spring, TX, since 1994.
Now, Bull said, it seems that her future could look a bit like her past.
"When I was a kid, I remember that dancewear companies would send reps to our studio," she said. "They'd bring a motorhome filled with clothes and leotards and tutus, and it was my favorite thing. It was so fun. So now, it's like, why don't I do that? I'd love to be a part of all of it, finding things to mass produce and put into catalogs, getting to present new lines to all of the studios."
Bull is learning on the job at her mother's studio, which has a retail store in addition to classes for dancers age 2 through adult.
"We have our own logo leotards and bows and things," Bull said. "I've had to learn about marketing from that experience. What we've picked out is so adorable, and that's great, but the way you present it and talk about it and price it, all works together to sell the product."
It helps that she speaks from experience — Bull is classically trained in ballet, hip hop, jazz, lyrical and tap dancing, as well as twirling. She was a Feature Twirler for the Spirit of Houston Cougar Marching Band for the 2016 and 2017 football seasons and in 2017 was the NBTA SW Regional Collegiate Pageant X-Strut Champion and second runner-up for Collegiate Miss Majorette of the Southwest.
Even with those accolades, Bull is quick to point out that she didn't get there easily.
"I have a natural knack for baton, but when I started competing, I wasn't motivated and didn't practice," she said. "I got more into it in high school, and by the end, I really buckled down to win a regional title in my sophomore year."
And through it all, Bull added, her mother taught her skills that are valuable in both competition and business — patience, dedication and perseverance.
"I'm really thankful she pushed me to continue, even when I wasn't being serious about it," Bull said. "It helped me to keep up my skills so that when I decided to be serious about it, I could pick things up and continue through my journey."
That journey led her to advance in the competitive twirling world from novice to beginner and now advanced, the highest level that can be achieved. Bull also worked to progress at her mother's studio from an intern to an instructor with young dance students of her own.
"When I'm having a bad day and get to go in to teach, it changes everything," Bull said. "It lightens my spirit to be with these kids and watch them grow in their technique and skills. There are times when my life is hectic and overwhelming, trying to keep up with grades and assignments while we're working on all of the costumes for competition and teaching, but going to the studio for me is like going home."