Programs
Hype-ing Houston
Bauer MBA & MS Programs Partner with Houston Young Professionals and Entrepreneurs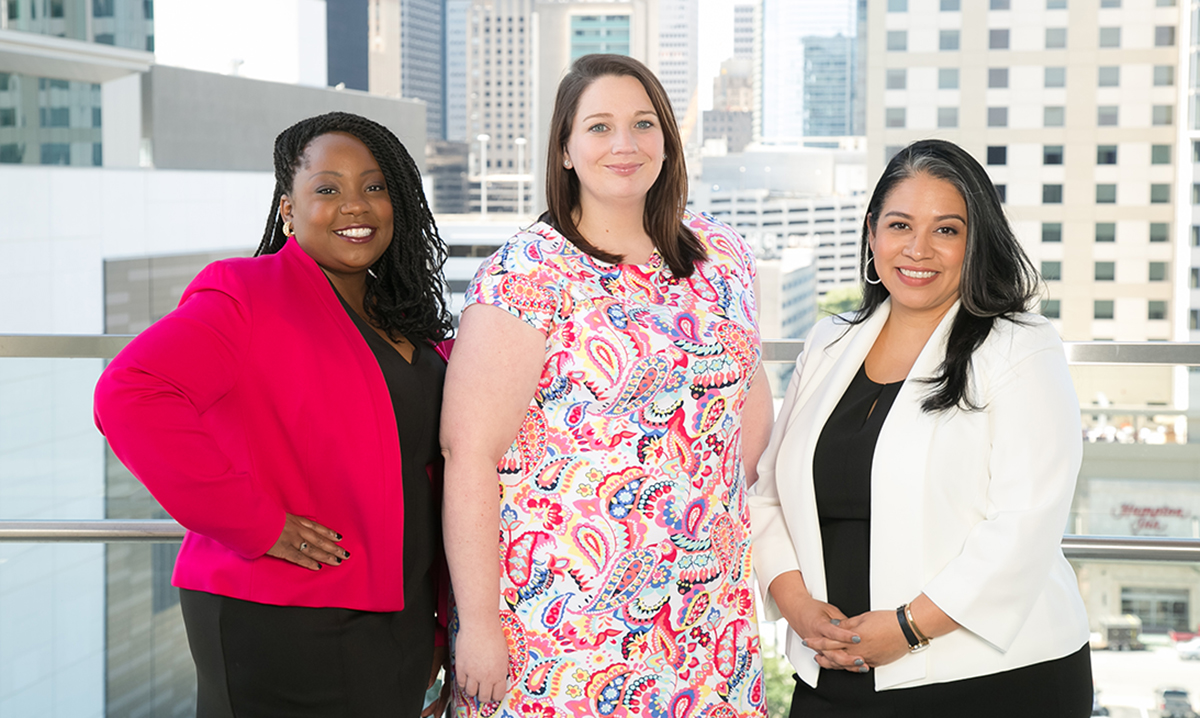 AS AN EDUCATIONAL PARTNER, BAUER COLLEGE'S OFFICE OF GRADUATE & PROFESSIONAL PROGRAMS IS CONNECTED TO THE GREATER HOUSTON PARTNERSHIP'S YOUNG PROFESSIONAL CHAPTER, HYPE.
"It is an exciting time to be at the University of Houston…" is the phrase that I use to open most of our welcomes, introductions and events. Even after serving the University of Houston community for 16 years, I don't think the phrase will change too much, because being tasked with marketing and recruiting for the dynamic world of business education for one of the most diverse universities in the country is, indeed, exciting.
"Houston's MBA" is not just a slogan — this is our city, and our purpose is to serve its residents and beyond through education and leadership. When we build a partnership, we ensure it not only serves us to market to their members and beyond, but also to be a resource to them. Years ago, our dean asked me to represent Bauer College at a Greater Houston Partnership event. In one luncheon room, I instantly felt the buzz of the city, and I knew this was a group we needed to connect with further, so that we could be in tune with Houston and get our candidates from around the world in tune with it, too.
Fast forward — and the GHP has expanded their efforts on the unique needs of young professionals, and we have been with them from the beginning as educational sponsors. Bauer College's associate director of graduate admissions Lenay Johnson has carefully cultivated our relationship with the GHP's Young Professional Chapter, HYPE, not only as Bauer's representative, but as this year's vice chair for the organization. I sat down with her recently to talk more about the collaboration and connection between GHP's HYPE and Bauer College's Graduate and Professional Programs.
Q: Tell us about HYPE and your role.
A: The goal of HYPE (Houston Young Professionals and Entrepreneurs) is to provide Houston-area young professionals with developmental, networking and volunteer opportunities. Within the past year, innovation has become a hot topic. We have linked many of our events to innovation and the new innovation centers within Houston, such as TMCX and Accenture. While partnering with HYPE, we are able to see young professionals from very diverse backgrounds and connect with them at different levels of their career. The leadership team is made up of individuals from sponsoring companies with the purpose of promoting HYPE and being a resource for companies and members.
Q: How is your role as an educational sponsor representative different from corporate sponsors?
A: I am able to bring in an academic and consultant prospective to the group regarding young professionals. Instead of looking for client or business opportunities, I bring in ideas for those that are more directly related to engagement and personal interaction, and provide insight based on the conversations that I have with our prospective and current students.
Q: As an educational partner, what is the biggest benefit for us and our students?
A: Each year we attend the State of the Economy meetings and learn about where our city is going, allowing us to promote why Houston is the best place to meet educational and career related goals. The second takeaway is networking. Current and prospective students join us to network with peers, meet mentors and learn more about industries outside of their own.
---

FRONT ROW (FROM LEFT): MELISSA KNIGHT, MBA & MS ACADEMIC ADVISOR; SHAROMA SCURRY-GRAVES, MBA & MS PROGRAM MANAGER; HISHAM TALIB, DEPARTMENT BUSINESS MANAGER; MEAGAN CHANG, ASSISTANT DIRECTOR OF MBA/MS ADMISSIONS; AND CASEY MUELLER, MARKETING MANAGER. BACK ROW (FROM LEFT): MARIAN NEWMAN, MBA & MS ACADEMIC ADVISOR; ISMAEL VEGA, GRADUATE ADMISSIONS COORDINATOR; DALIA PINEDA, DIRECTOR, GRADUATE ADMISSIONS AND RECRUITMENT; MICHELLE POULLARD, DIRECTOR, GRADUATE ACADEMIC OPERATIONS; EMILY CLARK, MBA & MS ACADEMIC ADVISOR; CRYSTAL LUGO, GRADUATE ADMISSIONS COORDINATOR; TANIEKA YOUNG, ASSISTANT DIRECTOR OF PROFESSIONAL/EXECUTIVE MBA ADMISSIONS; JESSICA WILLIAMS, OFFICE ASSISTANT; RAMONA TAYLOR, EMBA PROGRAM DIRECTOR; SHIRLEY SHIFLET, SECRETARY 2; WHITNIE SANDERS, EMBA PROGRAM COORDINATOR; KARINA GALVAN, FINANCIAL AID ADVISOR; AND LENAY JOHNSON, ASSOCIATE DIRECTOR OF GRADUATE ADMISSIONS AND RECRUITMENT. Not Pictured: Steve Koch, Assistant Dean, Graduate & Professional Programs.
---
Q: What makes HYPE different than other groups we sponsor?
A: Most groups that we sponsor are exclusive to one industry or function. HYPE membership is much more diverse. We have the benefit of networking across industries within one organization.
Q: How is HYPE good for our MBA and MS students?
A: They join us for a wide range of HYPE events. This has been very beneficial for us because it allows the students to see connections that we have outside of the university. It is always great to hear the students speak of the executives that they meet and to learn about the round table discussions or to hear more about how they are building their network. It also allows prospective students to see the relationships Bauer has in our great city.
Our role is far more than rendering admissions decisions. Our job is to connect strong people who want to work hard and carry Bauer's brand, representing not only Houston's diversity, but the world's — the teachers, the nurses, the engineers, the businessperson, the artists and entrepreneurs and techies, and groups like HYPE — and make them part of the Bauer family. What could be more exciting?