Greg Bean
Executive Director, Gutierrez Energy Management Institute
Greg Bean was appointed as the Executive Director of GEMI in January 2018. He has a passion for education and its impact on students and economic development in Houston. Greg was previously an oil and gas strategy and organization consultant as a partner in several management consulting firms. In those roles, he served international, independent and national oil companies for over thirty years, leading numerous projects, including major corporate, business unit and capital investment strategy assignments and organization-restructuring efforts. He also provided consulting services to several large non-profit organizations in Houston. Greg is a graduate of Texas A&M University.
---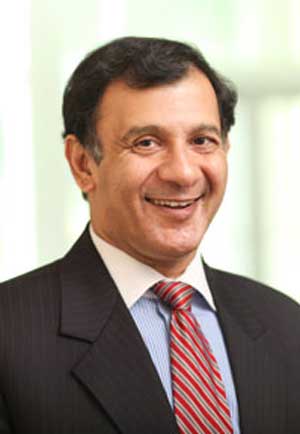 Praveen Kumar
Faculty Director, Gutierrez Energy Management Institute
Praveen Kumar is the Cullen Distinguished University Chair and Professor of Finance, Chairperson of the Department of Finance, and Faculty Director of the Gutierrez Energy Management Institute (GEMI) at the C.T. Bauer College of Business at the University of Houston. Professor Kumar received his Ph.D. in Economics from Stanford University and his A.B. and M.P.A. from Princeton University.
He is the recipient of:
University of Houston Excellence Award for Research and Scholarship
University of Houston Teaching Excellence Award
Dr. Kumar's research interests focus on the role of information in financial markets, corporate finance and governance, financial market microstructure, energy finance and risk-management, and industrial organization. His research has been widely published in the top scholarly journals in finance, economics and management, such as the Journal of Finance, Review of Financial Studies, Journal of Financial Economics, American Economic Review, Journal of Accounting and Economics, Journal of Accounting Research, Management Science, Rand Journal of Economics, Journal of Financial and Quantitative Analysis, Strategic Management Journal and the Journal of Monetary Economics. It has also been discussed in major business publications like BusinessWeek, the Wall Street Journal and the Financial Times.
He has received numerous awards for his research such as the Best Paper in Options and Futures Award by the Western Finance Association, the Best Corporate Finance Paper Award by the Financial Management Association, and the Best Finance Paper Award by the Association of Business Disciplines. Dr. Kumar is the past Co-Editor-in-Chief of Corporate Governance: An International Review, a leading interdisciplinary and international journal of corporate governance.
Dr. Kumar has taken a leading role in the establishment of the Gutierrez Energy Management Institute at the Bauer College of Business. He is an expert in the evaluation and financing of energy projects, especially in the valuation of embedded options, and in the analysis of industry structure and competitive advantage in the oil and gas industry. Most recently his research in energy finance has focused on the valuation of and risk-management approaches to the development of unconventional sources in oil and gas. He is a co-developer of one of the first graduate courses on the practice and future of carbon and emissions trading to be offered in business schools. He has also lectured for top executives in major energy corporations and consulted with leading investment banks, international lending institutions such as the World Bank, and regulatory agencies such as the CFTC.
---
Connor Davies
Graduate Assistant, Gutierrez Energy Management Institute
Connor has a degree in Economics from the University of Oregon, and have four years of experience in energy consulting. He was trained as an Energy Scheduler and has experience in pricing analysis and congestion trading. His interests include pricing analysis and commercial trading and is currently an MBA candidate (to be conferred 2021) with focuses in energy and finance.