History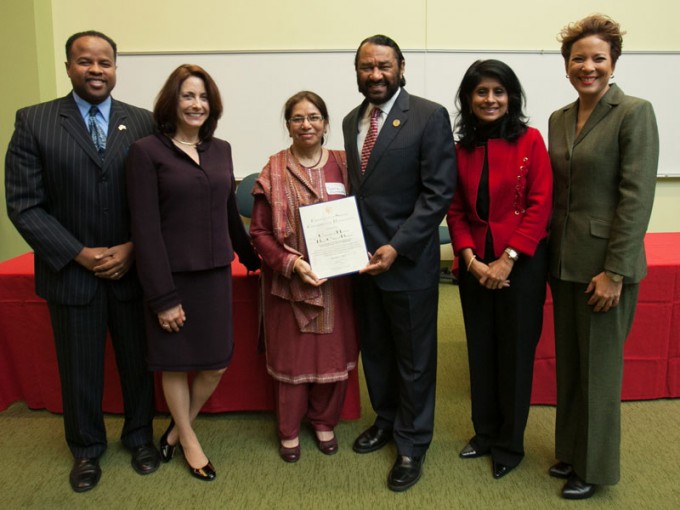 The SURE℠ Program was launched in Fall 2012 with a mission to enable economic stimulation by serving aspiring local entrepreneurs from underserved communities and Veterans in the Houston area. The SURE℠ Program provides FREE financial and business education, ongoing business consulting and prepares entrepreneurs to access capital.
While the SURE℠ Program has supported microfinance efforts in Africa, India, Mexico and China, Robert Grinaker Professor of Accounting and SURE℠ Founding Director Saleha Khumawala has recognized that there is a need here in the Houston area. Almost 20 percent of Houstonians live in areas designated as high poverty neighborhoods and over nine percent live on less than $2.00 per day.
Housed at the Bauer College of Business, the SURE℠ Program offers education modules and mentorship for businesses in their beginning stages of development. By partnering Bauer business students with aspiring entrepreneurs, the program has developed a unique model of experiential learning. It consists of three active components: SURE℠ Entrepreneur, SURE℠ Boot Camp for Veterans and SURE℠ Incubator.
The SURE℠ Program offers the 13-week class twice a year (Spring and Fall), which were formerly housed in local community centers, including:
Mission Milby
Wheeler Avenue Baptist Church
Baker-Ripley Neighborhood Center
Independence Heights Neighborhood Center
Leonell Castillo Neighborhood Center
Ripley House Neighborhood Center
Due to the rising demand and success of the SURE℠ Program, we moved to the University of Houston to accommodate the increased number of participants. Since its inception, the SURE℠ Program has educated and trained over 1,000 entrepreneurs.
The goal of the SURE℠ Program is to grow local small and medium sized businesses in the Houston area using the principles of Microfinance. By empowering Houston families through financial and entrepreneurship education and encouraging financial independence, the SURE℠ Program strives to address the root causes of poverty.