Undergraduate Professional Sales Curriculum
The Sanchez Program for Excellence in Selling is a 2-semester program. If accepted into the program, you will complete 5 required classes — 3 in your first semester and 2 in your second.
Students are awarded Professional Selling certificates upon completion of MARK 4373, MARK 4376, MARK 4379, MARK 4374, and MARK 4380, in addition to the MARK 3337 prerequisite. To complete an advanced certificate, students must also apply to and complete MARK 4375.
*MARK 3336 is REQUIRED for a Sales Minor (regardless of major).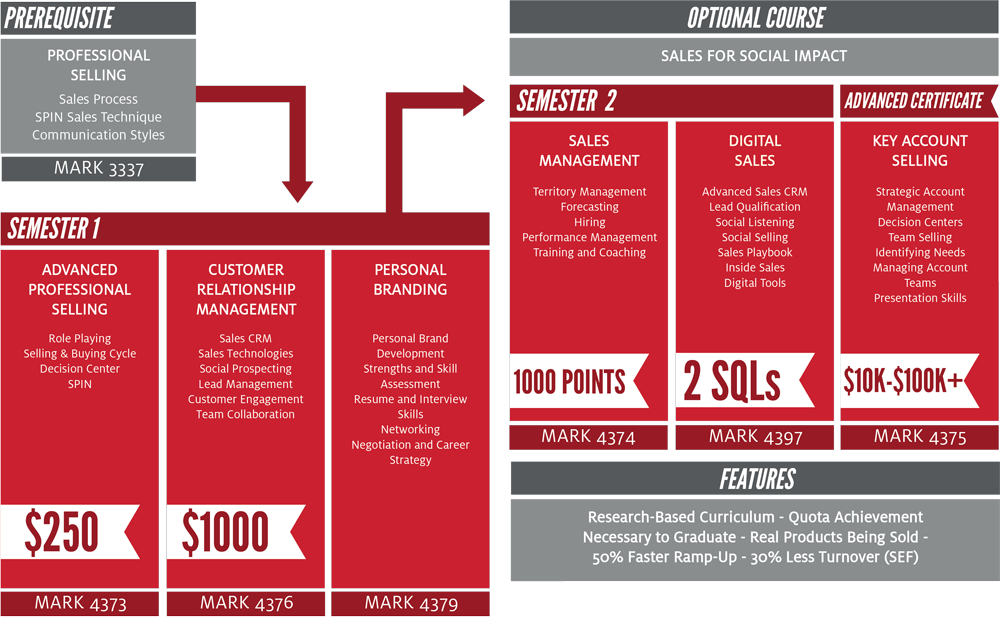 Prerequisite

MARK 3337 - Professional Selling

The only requirement is that you complete (with a B- or above) or are currently enrolled in MARK 3337 Professional Selling to be eligible to apply.

Unfortunately, we cannot accept transfer credit for MARK 3337 Professional Selling.

Semester 1

MARK 4373 - Advanced Professional Selling

What You'll Learn: Role Playing, Selling & Buying Cycle, Decision Center, Objection Handling and SPIN Selling

Selling Project: Find a Mentor!

Sales Quota: $250

MARK 4376 - Customer Relationship Management

What You'll Learn: Sales CRM, Sales Technologies, Social Prospecting, Lead Management, Customer Engagement, and Team Collaboration

Selling Project: PES Open Golf Tournament

Sales Quota: $1,000 & Four Golf Player

MARK 4379- Personal Branding

What You'll Learn: Personal Brand, Development, Strengths and Skill, Assessment, Resume and Interview Skills, Networking, Negotiation and Career, and Strategy

Final Project: Personal Brand Website or Video

Semester 2

MARK 4374 - Sales Management

What You'll Learn: Territory Management, Forecasting, Hiring, Performance Management, and Training & Coaching

Selling Project: PES Sales Career Fair

Sales Quota: 1 Recruiting Booth

MARK 4380 - Digital Sales

What You'll Learn: Advanced Sales CRM, Virtual Sales, Social Listening, Social Selling, Sales Playbook, and Inside Sales

Selling Project: PES Executive Education

Sales Quota: 2 Sales Qualified Leads

Optional Classes

MARK 4375 - Key Account Selling

What You'll Learn: Strategic Account Management, Decision Centers, Team Selling, Identifying Needs, Managing Account Teams, and Presentation Skills

Selling Project: Corporate Partnerships, Executive Education and Sales and Sales Management Research

Sales Quota: $10K-100K

MARK 4380 - Sales For Social Impact

What You'll Learn: Social Responsibility, Market Analysis, Presentation Skills, and Client Management

Final Project: Marketing & Sales Plan for a Real Non-Profit Organization
Click here to see our upcoming events.
For more information about PES, visit our Frequently Asked Questions.